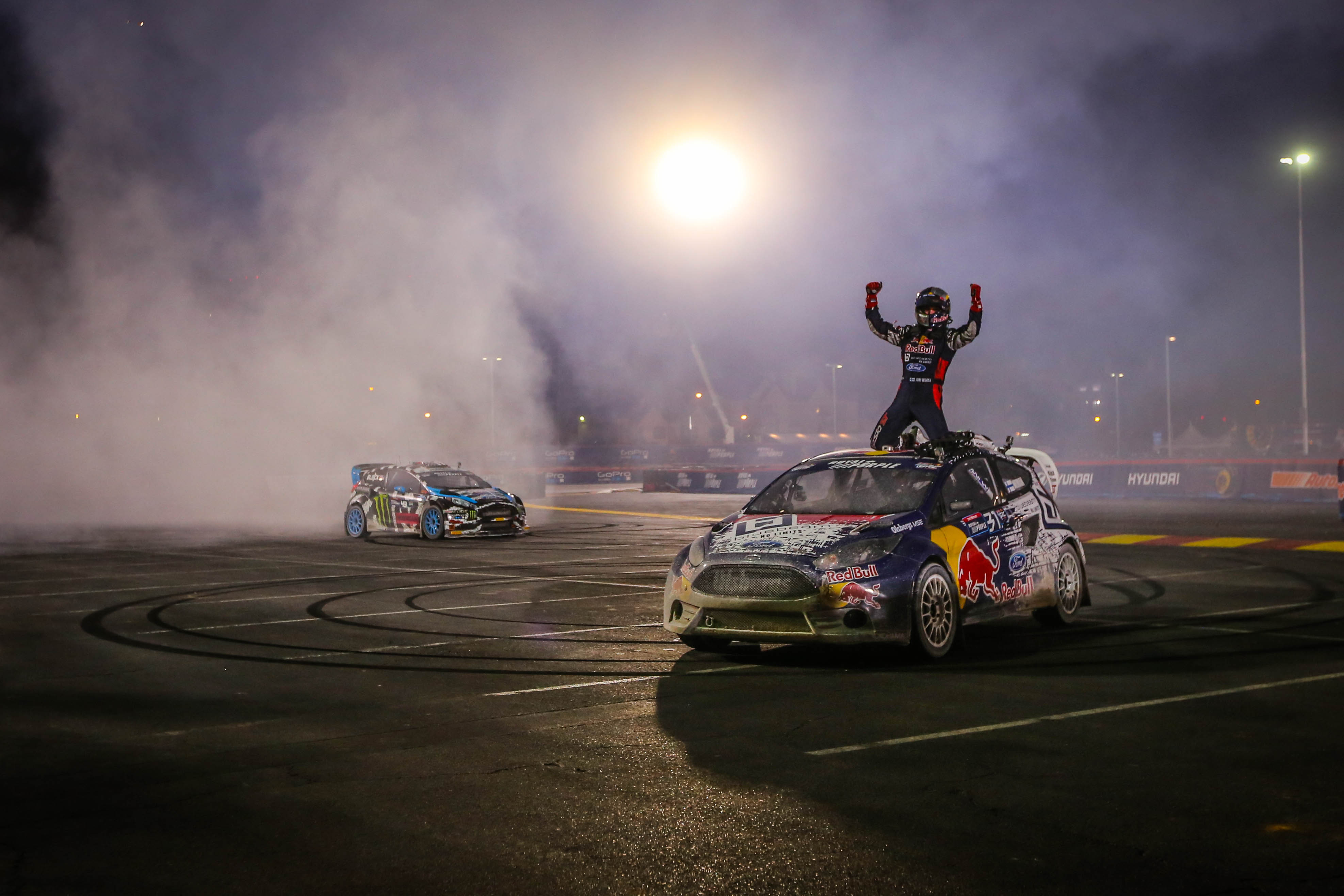 The following is the second of a two-part series involving new Red Bull Global Rallycross champion Joni Wiman. You can check out Part 1 here.
—
Two years ago, Joni Wiman could have taken a different path.
The young Finn had started out in go-karts at the age of 7, and at 14, he won the European Karting Championship. From there, he continued on into open-wheel competition with runs in the UK and Northern European Cup off-shoots of Formula Renault 2.0.
But in 2012, Wiman found himself on the verge of giving up on the sport – until his mentor, two-time World Rally Champion Marcus Gronholm, stepped in.
"Marcus has been helping me for many years in my career…I was about ready to quit racing and he said to me: 'Let's just try one more year and if it's not working, then we'll stop,'" the new Red Bull Global Rallycross champion said recently from his home in Finland.
The 2014 Red Bull Global Rallycross season finale from Las Vegas will be broadcast this Sunday, Nov. 16, at 1:30 p.m. ET on your local NBC station. It will also be streamed online and on your mobile device through NBC Sports Live Extra.
Wiman decided to stick it out. And sure enough, he did take a different path after all.
That year, Wiman made his rallycross debut in the FIA European Rallycross Championship round at Belgium, running a two-wheel-drive car in the Super 1600 category.
He finished on the podium with a second-place result. Additional glimpses of Wiman's potential followed with a pair of pole positions across three more ERC rounds that season.
With Gronholm teaching him a precise and calculated driving technique, Wiman's rallycross education soon shifted from the Continent to America, where he would compete in Global Rallycross' newest class for up-and-comers like himself – GRC Lites.
Unlike their Supercar brethren, Lites cars are strictly spec. Able to produce about half the power of the Supercars, the all-wheel drive machines are designed to be more manageable for developing racers.
And even better for Wiman, he would be racing for Olsbergs MSE, the team that was behind the development of the Lites car itself. It was a perfect scenario. So, naturally, Wiman turned in a perfect season – sweeping all six Lites races in 2013 and clinching the Lites title with one race to go.
A promotion to Olsbergs' Supercar team for this season soon followed, and you know what happened next: A Red Bull GRC crown and history as the first Supercar driver to earn both the series title and rookie of the year honors in the same season.
Wiman owes it all to his initial year in the U.S. with the Lites class.
"Racing in Lites helped to build a foundation for everything I did this year," he said. "It was invaluable experience for me in getting used to the American style of racing and the tracks that they use in the U.S. In Europe, the tracks are mostly permanent. In the GRC, almost all of them are built into a parking lot and that's quite a big thing to adjust to.
"It also helped that we had almost the same people on the Olsbergs MSE team as I worked with last year in Lites. It's always easier to begin a season when you know almost everybody from before, than it is to start with a completely new team.
"Finally, the cars are quite similar. Lites cars have less power, but they give you the basic idea of how to drive a Supercar. And with the tires they're using this season in Supercars, they're even more similar. Whether you're in Lites or Supercars, it's about driving really smooth and always finding the right line."
So what's next for Wiman now? Naturally, he says that he's fine with winning the Supercar championship without having claimed a single race victory, and indeed, consistency like his remains the essential element in any run to a title. But getting that first Supercar victory is surely on his 'to-do' list for 2015.
And as champion, he'll be called upon to be a good ambassador for a sport that's still finding its way here in the States. Wiman feels that the current GRC format is essentially a good one that helps keep fans interested. Still, he says he "might like it" if there were more points at stake in the preliminary heats "so we can fight harder from the beginning"; as of now, points are awarded in second and third round heats – three for a win, two for a runner-up, one for the rest.
But after four years, it's clear that GRC is progressing nicely. This year's direction toward more urban settings and away from massive NASCAR speedways is one that suits the series better. Multiple manufacturers are all in on full-time programs. Races get regular weekend showings on NBC. And at the center of it all: The almost-but-not-quite forbidden thrill of seeing otherwise humble hatchbacks transformed into 600-horsepower monsters.
Wiman can be the face of all of that. Time will tell if that's what he becomes. But no matter what, he's ready to enjoy the ride.
"Red Bull Global Rallycross is the series that really started rallycross for the first time a few years ago, and it's grown so much since then," he said. "Even from last year to this year, I feel like rallycross has moved quite a bit forward in the U.S. with Red Bull Global Rallycross and I'm looking forward to seeing what happens next."