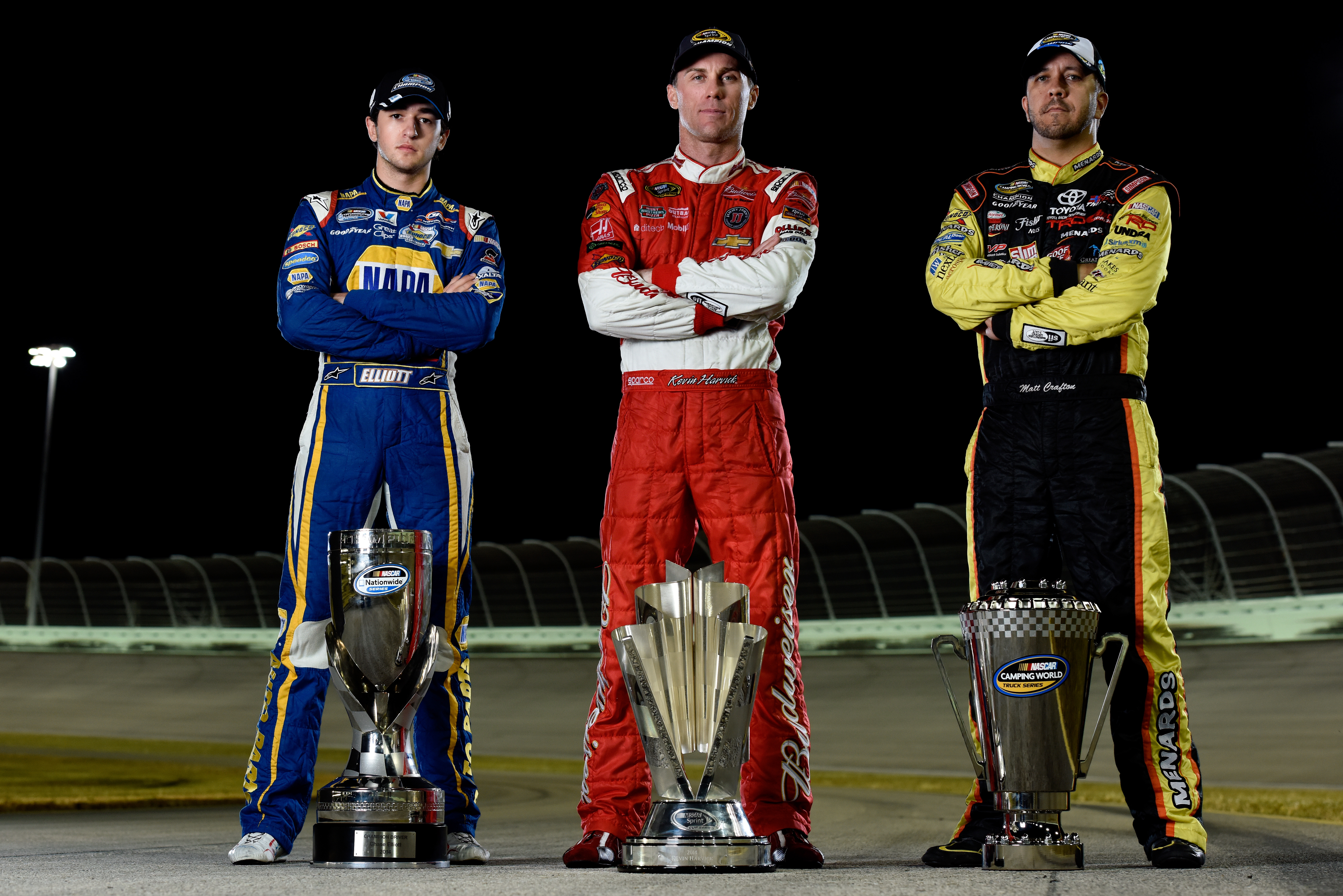 If this year's NASCAR Championship Weekend at Homestead-Miami Speedway was a movie, then it's clear that the ending saved it.
All Matt Crafton had to do to secure the NASCAR Camping World Truck Series title was finish 21st in their season finale on Friday. He came home a steady ninth to become that division's first-ever back-to-back champion.
The next day's finale for the NASCAR Nationwide/XFINITY Series ended with Matt Kenseth winning in green-white-checkered, but much of the buzz had already been sapped since super-rookie Chase Elliott had already clinched the series title at Phoenix the week before.
However, the third act – Sunday's Ford Ecoboost 400 and the final battle for the Sprint Cup between Kevin Harvick, Ryan Newman, Denny Hamlin, and Joey Logano – was sensational.
Every member of that Championship 4 ran strong with all of them running in the Top 5 at one point during the race. But everything changed following a caution flag with 20 laps to go.
During the subsequent pit stop sequence, Hamlin stayed out to take the title lead, Newman took two tires to beat everyone out of the pits, Logano's car fell off the jack and ruined his hopes, and Harvick took four tires and dropped to 12th.
But multiple late yellows doomed Hamlin and crew chief Darian Grubb's gamble – and eventually allowed both Harvick and Newman to settle the issue among themselves in a three-lap sprint.
With the outside line having been the preferred one all night long, Harvick chose it for the last restart and was able to hold off Newman on the inside.
That was effectively the ball game as Harvick went on to win the race and his first Cup championship in style. It was also a just reward for his crew chief, Rodney Childers (who made the late four-tire call), and perhaps a balm for winning team owner Tony Stewart after what has been the most difficult year of his life.
But most importantly, it was a validation of Harvick's faith in Stewart-Haas Racing that they would give him all the resources he'd need to win the title as well as the fate that brought him together with Childers and the 4 team, which basically built itself up on its own.
Meanwhile, Brian France and Co. can look back and smile at how their new Chase format fared in its first year. The opening Challenger Round basically played out as we thought it would, but from there, the drama and intensity continued to grow with each race.
And Sunday's outcome was ideal for the sport. Harvick, who won five times and had been regarded as the fastest driver throughout the season, got the championship.
It's also worth noting that if Newman – who, it must be noted, showed a remarkable amount of restraint at the finish and class in defeat – had beaten Harvick, he wouldn't have been the dreaded "winless champion" that could have created a completely different memory of this Chase.
Some purists will continue to howl, no doubt. And a sense of purity is important to have. But we all knew that when the new Chase was rolled out, entertainment was the main goal.
Were you not entertained?
If so, then that's all NASCAR needs to know.
MORE FROM HOMESTEAD: 48 crew chief Chad Knaus gets in trouble – or not … Brad Keselowski "best of the rest" …
—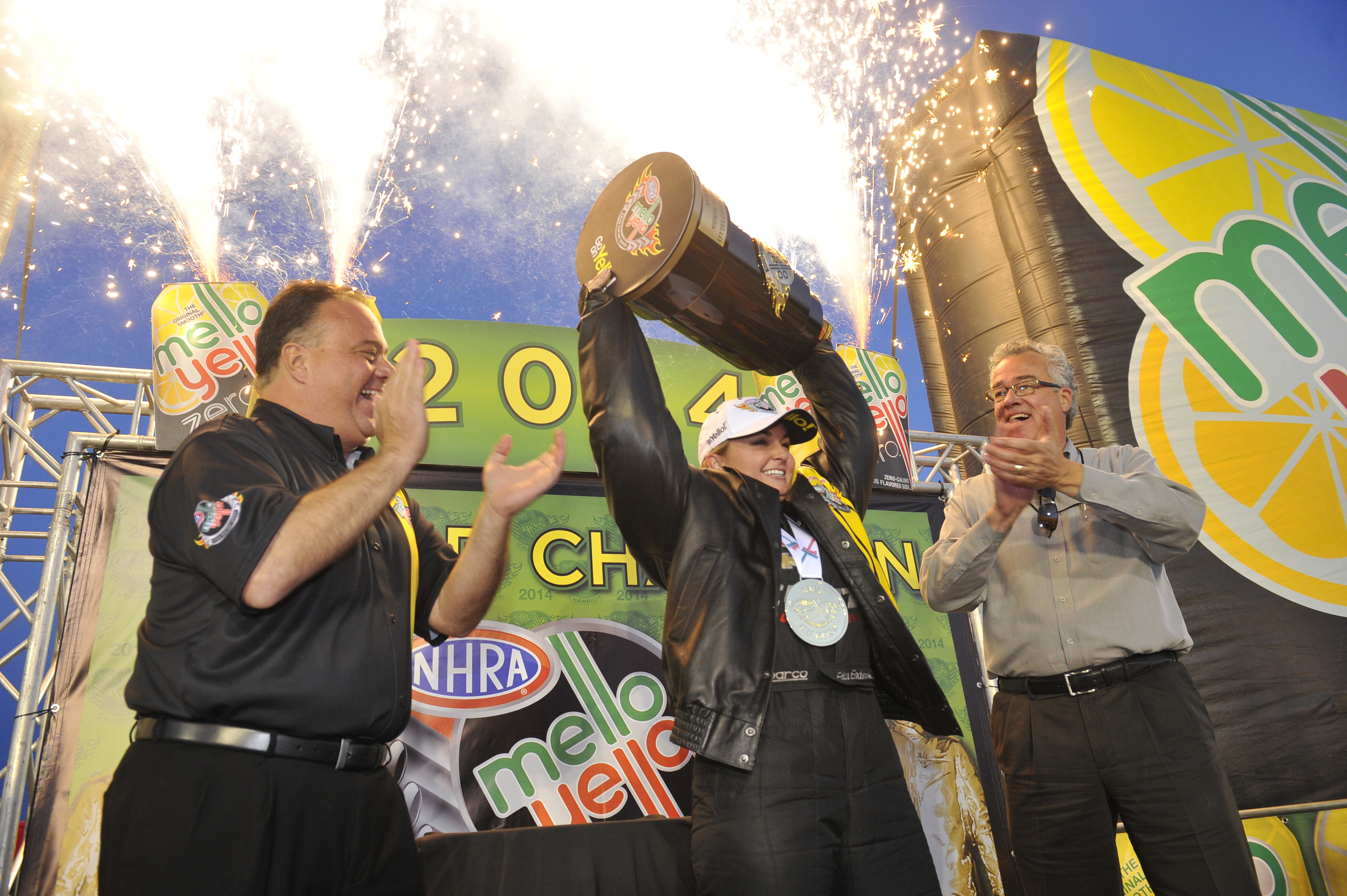 Also crowning its champions this weekend was the NHRA Mello Yello Drag Racing Series in Pomona, California. The quartet of eventual class victors was headlined by Erica Enders-Stevens, who became the first female to take the NHRA's Pro Stock class title and just the third female overall (Shirley Muldowney – Top Fuel, Angelle Sampey – Pro Stock Motorcycle) to win an NHRA pro-level title.
In Funny Car, Matt Hagan denied John Force a 17th FC title in the elimination races before dispatching the legend in the final to take the Pomona race win. Tony Schumacher locked up the Top Fuel title on Saturday but was denied a race win by Morgan Lucas in Sunday's TF final, and in PSM, Andrew Hines secured the crown over teammate Eddie Krawiec.
Check out Jerry Bonkowski's full report on Sunday's Pomona action here.