For former Formula Atlantic champion Markus Niemela, poor timing and a lack of a suitable opportunity in either Formula One or IndyCar ultimately stunted his open-wheel path.
He won the 2008 Atlantic title over Jonathan Bomarito and Jonathan Summerton, and the field also included drivers such as James Hinchcliffe, Dane Cameron and Simona de Silvestro among others.
The talented Finn, who raced in GP2 before moving to America, didn't give up on his racing dreams though.
Shortly after his last Atlantic season in 2009 – the series' last before coming back under different sanction several years later – Niemela made the switch to dirt racing and running sprint cars.
He was in the news last week after having a scary accident at Perris Auto Speedway, where a freak parts failure led to him somersaulting into the wall. Niemela emerged largely unscathed with only minor injuries.
But it's worth noting the incident came after a year when Niemela had his best season yet in four on dirt.
He finished second in the USAC West Coast Sprint Car Championship behind Matt Mitchell (659 points to 631), which marks the best season result ever for any European driver in USAC.
That's no small accomplishment, and that's very impressive to note for the now 30-year-old native of Rauma, Finland, who has since moved to Santa Barbara, California.
MotorSportsTalk caught up with Niemela over the weekend to touch base on his career shift and to help further explain why dirt racing is so tantalizing, and how he's developed over four years.
"Shifting to dirt was in all honesty much harder than I thought and I might have started off with a bit too big ego to start with," Niemela admitted. "I was quite fast right away when the track was in a good shape and logical to drive, but honestly after four years of dirt tracks I still haven't quite figured out in how many ways the track changes throughout the night. You just can't have 'a driving style' in dirt racing because you need to adapt in so many different things. Almost every lap is different."
And with that, Niemela admitted there is still plenty that he can keep learning as he continues to grow and develop.
"I think the biggest thing I've learned, and the one thing I still need to learn the most, is to change my driving fast enough to keep up with the track, other cars, lapped traffic, etc.," he said. "Also you need to be very aware of your surroundings all the time because there are cars all over the place, and you don't have mirrors nor spotters."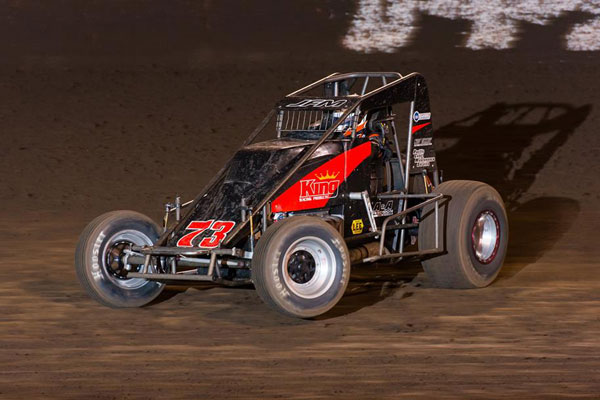 Coming from formula cars, Niemela discussed the excitement of dirt racing and how seriously different it is. He spoke of the rawness of the arena, as well.
"Dirt racing is exciting because there is something going on the whole time and the race is not determined by the qualifying result," he said. "Anything can happen and you always need to be awake. Dirt racing's biggest plus and minus for me is the same thing: it's just so raw form of sport. It's good thing because there's no bulls—, and also the danger element is kind of exciting for someone coming from formula cars that are very safe in general.
"But on the other hand, the biggest negative is the danger element too," he added. "When I was racing formula cars I thought the stupidest question to ask a race car driver was about their fears – honestly since I started racing at the age of 6 in karting through all the formula car classes I had not once been afraid or thought I might get hurt or die doing it. Pretty soon after I started racing sprint cars the s— got real very fast and all of the sudden I didn't feel immortal anymore…"
Unfortunately for sprint car racing, and dirt racing in general, safety has been a hot-button issue the last two years in the wake of Jason Leffler's fatal accident last June, Tony Stewart's crash and leg injury last August, and Stewart's car striking and killing Kevin Ward Jr. earlier this year.
Niemela discussed safety and what dirt racing can do moving forward to continue the improvement.
"The risk for big crashes is in the very nature of our sport and that cannot be eliminated without changing the very fundaments of it and we definitely should not do that," Niemela said. "The key is to learn to keep the drivers alive despite a big crash.
"Comparing to European racing and formula cars, in dirt racing the safety is left more for drivers and teams to take care of than the sanctioning body to babysit. I can understand it though since it's the drivers who get hurt if something goes wrong. The safety goes forward and we learn from each crash but unfortunately price for this learning curve can be very high (and I'm not talking about money here).
"That's why I feel it would be nice to get information from what went wrong and what went right with each crash so that those (drivers and teams) willing to educate themselves could do so. That's why I find also the posting of my own crash video to be a good thing. We should definitely not push the responsibility to any third party authority but expect the teams and drivers work with safety gear manufacturers and make things even better. We've come a long way, but there's still room for improvement."
If there's one thing Niemela would want to see cleared up about dirt racing, it's that the talent and passion in the sport is immense.
"The biggest misconception is that this dirt racing is just bunch of rednecks having fun and drifting in random, easy circles," he said. "This is actually a really, really hard sport to be good at. Some of these guys race 120 times per year and have done it all their life.
"Their faces might be dirty, they aren't sponsored by Rolex and some of their necks might be a little red, but that's not the point; point is that these guys are the best at what they do, no questions asked.
"I was quite close to landing a F1 deal after my Atlantic title in '08 and I very much overlooked all the oval track racing and thought it was just plain dumb and easy. After getting constantly lapped by not-so-athletic, old sprint car veterans in local shows during my first year on dirt, my respect has grown a lot and still is growing.
"I think it's been an big honor to lead the USAC championship most of the season here on the west coast and even if we ended up second in the points I still consider that as a personal achievement; which I never did when I finished second in my previous life in formula cars (or karting)."
We're happy to see Niemela's career come to the point where he's now a bona fide title contender on dirt, and we thank him for his time and candid insights.