In the wake of Red Bull's double exclusion from today's Abu Dhabi Grand Prix qualifying, Sahara Force India team owner Vijay Mallya has taken a massive shot at them on his Twitter account.
Referencing Red Bull principal Christian Horner's recent comments that smaller, more cash-strapped teams like Force India should not "turn up to a gun fight with a banana," Mallya tweeted the following series this afternoon: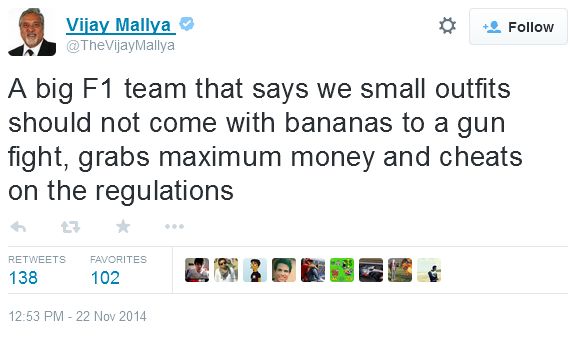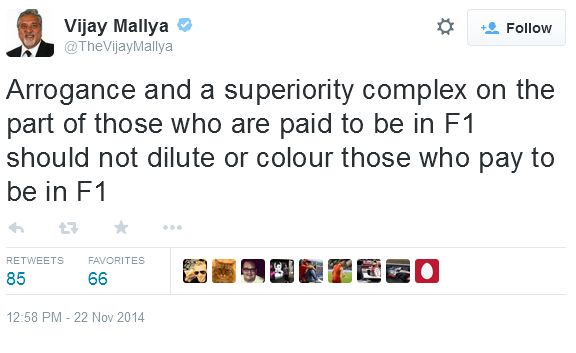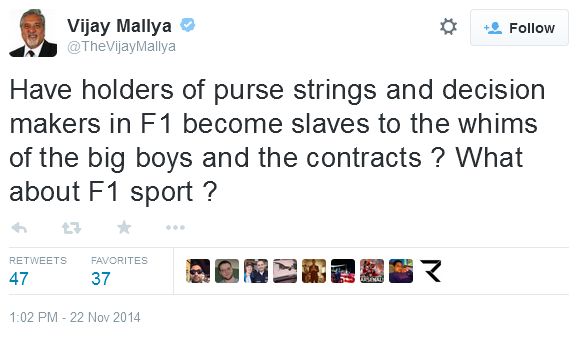 Mallya then retweeted a BBC news story on Red Bull's qualifying penalties, making sure everyone who didn't get the Horner reference knew what he was talking about.
Following the recent financial woes that have struck both Marussia and Caterham (the latter needing a successful crowd-funding venture to even get to Abu Dhabi), teams like Mallya's Force India, Lotus, and Sauber have stepped up their calls for more equal distribution of the sport's money between all squads on the grid.
A cost cap that was set to be implemented in 2015 by the FIA was instead shot down earlier this year by the sport's big teams, including Red Bull. But now, the sport can no longer deny a state of financial crisis with Marussia and Caterham's respective plights.