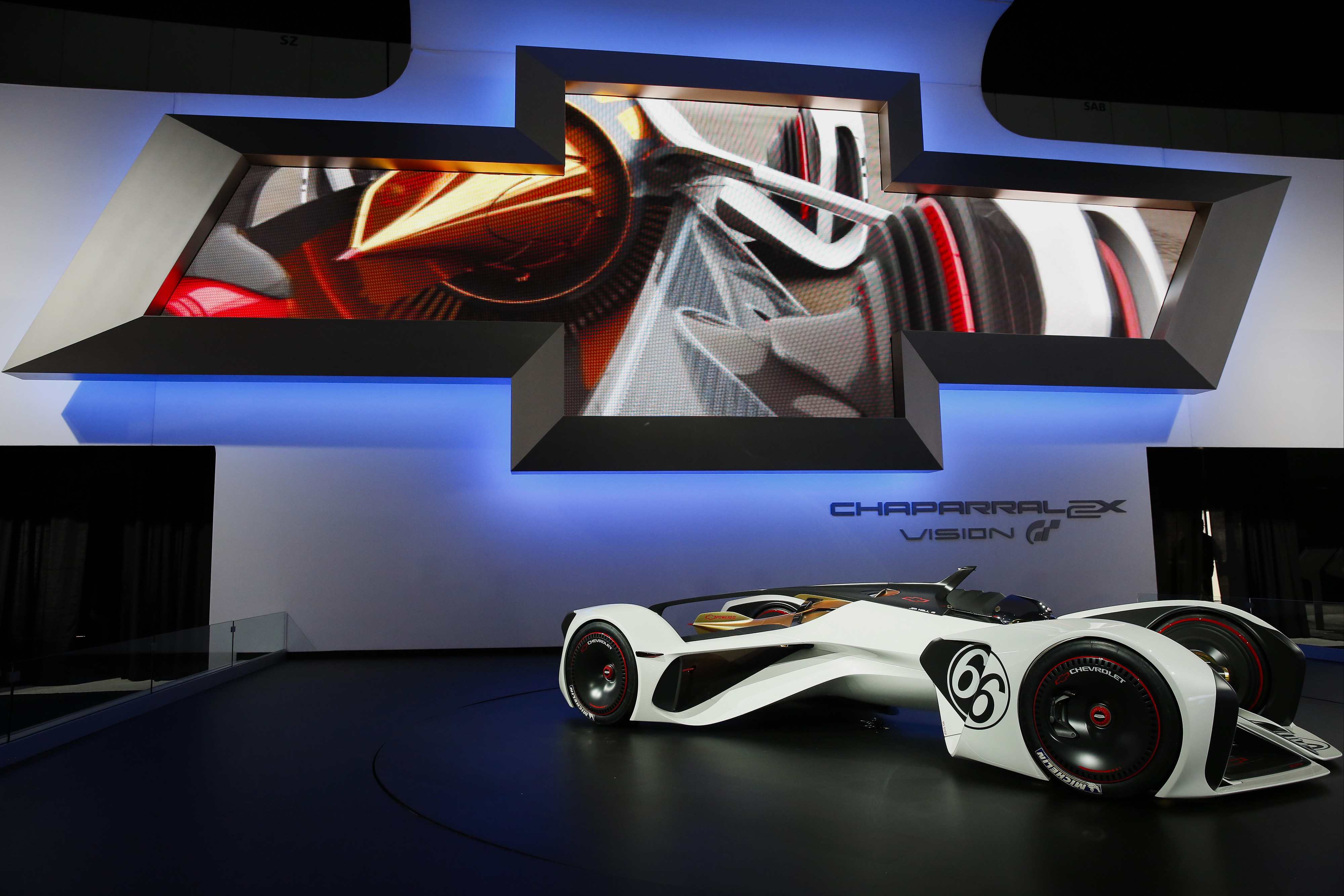 In honor of the 15th anniversary of the Gran Turismo racing video game franchise, Chevrolet and famous race car builder Chaparral have revealed perhaps one of the wildest concepts to ever bear the Bowtie.
The Chevy Chaparral 2X Vision Gran Turismo will be playable in the upcoming Gran Turismo 6 via an online update. In the game, the 2X Vision will feature a laser-based propulsion system and an air-powered generator that gives the car 900 horsepower, a top speed of 240 miles per hour, and a 0-60 mph speed of 1.5 seconds.
However, as you can see above, Chevy and Chaparral have produced a real-life concept of the machine for the Los Angeles Auto Show, which runs through November 30.
"It was created in a no-rules atmosphere to challenge designers and test engineers to deliver the most exhilarating sensations. This is a fantasy car by design," said Frank Saucedo, who oversaw the 2X Vision concept team. "Like the original Chaparral race cars decades ago, the Chaparral 2X VGT weaves advanced aerospace technologies into the design to help achieve its performance goals."
Another aspect of the 2X Vision that jumps out at you is that the driver is lying face-down inside the car with arms and legs pointed toward the wheels. The car's propulsion and suspension is built around the driver, and allows him or her to adjust the aerodynamics.
Saucedo likened the car to a wing suit, and with the driver controlling the aerodynamics, there's no need for the typical wings and aero bits you find on modern-day machines. Additionally, all instrumentation is projected on the driver's visor.
"The Chaparral 2X VGT is a vision of how advanced technology may shape the look and driving experience of racing," Saucedo adds. "Chaparral's race cars and methods were seen as outlandish four decades ago, and with the innovative spirit still burning at Chevrolet, the Chaparral 2X Vision Gran Turismo concept might just be a harbinger of motorsports in the next four decades."
Chevrolet becomes the latest manufacturer to contribute to the Vision Gran Turismo project, joining the ranks of Subaru, Toyota, Nissan, BMW, and more.