Ferrari's year of change continues even after the checkered flag in Abu Dhabi, with confirmation Monday that Marco Mattiacci's brief tenure as team principal has come to an end.
Maurizio Arrivabene, a longtime Marlboro man, will replace Mattiacci as both team principal for the F1 team and as managing director of Gestione Sportiva.
Arrivabene's career was primarily with Philip Morris, Marlboro's parent company, which he joined in 1997. So he's well versed in the Ferrari culture as the company has been Ferrari's longtime sponsor – even if Marlboro itself cannot be publicly displayed on the cars anymore.
Arrivabene has served as Vice President of Marlboro Global Communication & Promotions for Philip Morris International, and Vice President Consumer Channel Strategy and Event Marketing in the company.
"We decided to appoint Maurizio Arrivabene because, at this historic moment in time for the Scuderia and for Formula 1, we need a person with a thorough understanding not just of Ferrari but also of the governance mechanisms and requirements of the sport," Ferrari Chairman Sergio Marchionne said in a release.
"Maurizio has a unique wealth of knowledge: he has been extremely close to the Scuderia for years and, as a member of the F1 Commission, is also keenly aware of the challenges we are facing. He has been a constant source of innovative ideas focused on revitalisation of Formula One. His managerial experience on a highly complex and closely regulated market is also of great importance, and will help him manage and motivate the team. I am delighted to have been able to secure his leadership for our racing activities."
"We would also like to thank Marco Mattiacci for his service to Ferrari in the last 15 years and we wish him well in his future endeavors," Marchionne added.
It's the latest change in a year where Mattiacci has come in and now been replaced, where Fernando Alonso has finally left the team, and where Luca di Montezemolo is the outgoing president.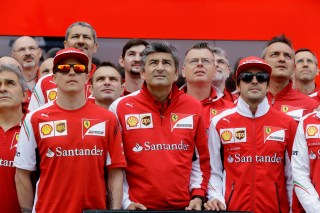 Rumors of a Ross Brawn return to the team, which also popped up over the weekend, haven't gone away in lieu of this news. Per NBCSN's F1 pit reporter and insider Will Buxton, arrangements still could be made for Brawn to come back part-time: