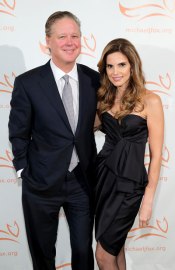 The NASCAR racing season may be over on track but with the holiday season forthcoming, NASCAR Chairman and CEO Brian France and his wife Amy are actively involved in various charitable causes following the last checkered flag of the year.
On Saturday night, they attended The Michael J. Fox's Foundation's annual evening of comedy and music entitled, "A Funny Thing Happened on The Way to Cure"Parkinson's Gala at the Waldorf Astoria Hotel in New York City.
The event, which helps raise funds for Parkinson's research, typically raises nearly $5 million each year.
About 1,000 guests attended, including Michael J. Fox's friends from television and film. They joined New York's business, social and financial leaders as well as members of the community battling Parkinson's disease. Paul Simon was the musical headliner.
That was the most recent event. Earlier this month, they were the winning bidders for a homemade lasagna dinner at Bruce Springsteen's house, that also includes a personal motorcycle ride andguitar lesson from "The Boss."
Brian and Amy donated $300,000 for that prize at the Stand Up for Heroes event in New York City in support of post-9/11 injured service members, veterans and their families through the Bob Woodruff Foundation.
This year's donation followed $50,000 given by the Frances at the 2013 event.
In October, Brian and Amy donated $50,000 at the Angel Ball event at Cipriani Wall Street in New York City, supporting Gabrielle's Angel Foundation forCancer Research.
Proceeds from the Angel Ball directly benefit America's best and brightest scientific investigators conducting research in the fields of leukemia, lymphoma and related cancers.
In recent years, the Frances have also been very involved contributing to notable causes including Operation Smile, Autism Speaks and others behind the scenes.