First off, a Happy Thanksgiving from us to you here at MotorSportsTalk.
We're thankful, most of all, for your watching of the first season of NASCAR AMERICA on NBCSN, the home of open-wheel racing with Formula One and IndyCar on NBC, CNBC and NBCSN, and your readership and support of MST throughout our second season.
As to the rest of what we're thankful for? See below.
NASCAR
We're thankful for an entertaining, dramatic, at-times controversial but ultimately successful first year of NASCAR's new Chase, where Kevin Harvick emerged as a long overdue, deserved first-time champion over Ryan Newman, Denny Hamlin and Joey Logano.
We're thankful Logano blossomed into the potential megastar Mark Martin and others pegged him to be years ago, and for he and Brad Keselowski delivering Team Penske's most successful season in terms of race wins.
We're thankful for all the emotion that boiled over surrounding Keselowski this year. Did we know Matt Kenseth had that in him at Charlotte? Or that Brad and Jeff Gordon would be in a dust-up, semi-triggered by Harvick at Texas? No, but we were talking about it for days afterwards.
We're thankful for Dale Earnhardt Jr., in so many ways. We're thankful for his incredible excitement and emotion after he won the Daytona 500 and his first race ever at Martinsville. We're thankful he and crew chief Steve Letarte had such a successful final season working together before Letarte joins NBC's broadcast team. Most of all, we're thankful Dale Jr. joined Twitter.
We're thankful Gordon had one of his best seasons in years, with four wins and what, in any other year, could have been a championship-winning season. Such was the format structure that Gordon didn't make it to Homestead with a shot, but at 43, he remained one of NASCAR's best.
We're thankful for the emerging glut of mega talented young stars, such as Sprint Cup rookie-of-the-year Kyle Larson, Nationwide champ Chase Elliott, Truck stars Ryan Blaney and Darrell Wallace Jr., and so many more who will feature prominently in NASCAR's future.
And honestly, we're thankful Jimmie Johnson didn't win another title (how many more superlatives can we come up with for "six-time?") and that Ryan Newman didn't win the title without winning a race (NASCAR likely dodged a bullet there).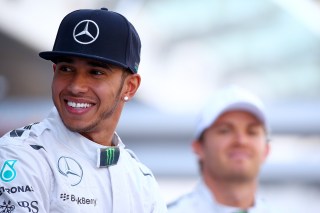 Formula One
We're thankful Mercedes AMG Petronas, on the strength of an all-conquering W05 chassis, allowed drivers Lewis Hamilton and Nico Rosberg to race tooth-and-nail all year for the World Championship. Lewis prevailed, Nico was a close second, and both had everything to be proud of in a year where they delivered Mercedes' first Constructor's World Championship.
We're thankful for the emergence of Daniel Ricciardo and Valtteri Bottas.
We're thankful for Williams' resurgence in 2014.
We're thankful for Fernando Alonso continuing to outperform his machinery (and Ferrari teammate), even if this year, that wasn't as noticeable given the lack of wins or podiums.
We're thankful Jenson Button has remained all class until the end, if this was in fact his final season in F1.
Most of all, we're thankful we're not writing about losing Michael Schumacher and/or Jules Bianchi after their respective devastating accidents in the last 12 months. We continue to wish the best for both the seven-time World Champ and the rising French star in their recoveries.
IndyCar
ELSEWHERE
Although the tragedy involving Kevin Ward Jr.'s death after being struck by Tony Stewart's car was the racing story of the year, there didn't seem to be as high a volume and frequency of fatality stories this year compared to 2013, so we can be thankful for that.
We're thankful for Erica Enders-Stevens' emergence as Pro Stock champion in NHRA after a long career of trying.
We're thankful to have witnessed Tom Kristensen's racing career. "Mr. Le Mans" hangs up his helmet after nine 24 Hours of Le Mans wins, six 12 Hours of Sebring wins and the 2013 FIA World Endurance Championship after this weekend's season finale in Brazil.
We're thankful that at long last, Indy Lights has a new car to look forward to. Interest is up and many seats remain to be filled as that series looks for a rebirth in 2015, but has more buzz entering the offseason for the first time in years.