For more than 30 years, Mark Gallagher has been a staple in Formula One paddocks. From working with Marlboro, then onto Jordan before joining Jaguar, then Red Bull, and frequently being involved on the commercial side, Gallagher has some of the best inner understandings of how things work in terms of F1 business.
More recently, he has moved into team ownership over the last decade with Status GP, which has seen its stature grow over the last several years. The team takes over the Caterham GP2 operation for 2015, which adds to its GP3 platform. Status has also raced in A1GP, where it won the championship with A1 Team Ireland and driver Adam Carroll, and in sports cars.
The above intro is to give some insight into Gallagher's new book, The Business of Winning: Strategic Success from the Formula One Track to the Boardroom, published by Kogan Page, released in the last month.
With F1's financial situation one of the major story lines in the back half of the season, we had the opportunity to check in with Gallagher on that and other lessons from the book in a wide-ranging Q&A. We thank Mark for his time, and here's the insights below:
—
MotorSportsTalk: The business aspect of this book is particularly timely now given the financial situation that appears to be hitting. Do you think the evolution of Caterham/Marussia owes to a lack of poor leadership, poor finances, poor branding, a poor understanding of what they were getting into or the combination of the four?
Mark Gallagher: You could pick three of those headings; Leadership, Branding and understanding of the challenge, and apply them to a greater or lesser extend in each case.  I don't think Caterham or Marussia suffered from a lack of finance; in fact I know the shareholders concerned put a great deal of money into their teams.
This was not about a lack of investment, but either the leadership did not have a realistic business plan, or have the capability to make one work.  There was insufficient revenue – you need to develop revenue streams in any business, and be resolutely focused on being profitable.
I do think the branding did not help – Caterham lost a lot of valuable time, and money, battling over the Lotus name.  Marussia was Virgin, which started as Manor, and I think that also didn't help them – to begin with the proposition seemed to be all about licensing the Virgin brand and trading on the fame of Richard Branson's reputation, but that concept was never going to work.  Marussia was very 'Russian' – I know that's obvious, but nationally-branded F1 teams really struggle to gain traction with global brands; F1 sponsors want to be global, not national, in my view.
Finally the challenge – F1 is very exciting for about 1% of the time, the rest of it is about knowing the sport inside out, knowing all the key people and having fantastic relationships with FOM, the FIA and all the other stakeholders.
MST: F1 has survived other roller coaster periods of transition before, but perhaps the biggest change now comes from Bernie's potential for departure in the next few years. Considering what he has done for the sport and considering how most inside the beltway praise it, is there another individual that can carry the torch forward? Or might a collective form of leadership be a better option?
MG: F1 needs a strong CEO going forward, not matter what kind of a structure is built around him or her.  The business benefits enormously from having a clear leader, although there are significant opportunities for FOM to develop a broader-based management across the business's various functions.
My personal view is that the new CEO of F1 should come from outside of the sport, as they will have an opportunity to start with a clean sheet of paper and not be burdened by previous associations or reputation.  Peter Brabeck, who has been Chairman of F1, would have been ideal a few years ago, but someone of his experience (he ran Nestle) who knows how to run a big, complex, multi-national business would be ideal.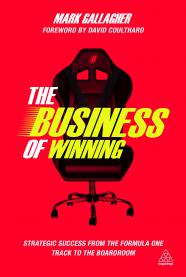 MST: F1 has had distinct business eras, with the tobacco demise of course leading to the technological revolution of backers coming in to replace. Do you see the technology companies as being a viable option to sustain the teams given the increased level of investment?
MG: No.  The days of purely sponsor-funded F1 are most likely in the past; it is much better to operate to a different business model where you can develop revenues and profitability from diversifying into other areas such as McLaren and Williams have done.
F1 also need to sells itself to commercial partners in a very different way; not just 'marketing', but as a resource for research & development, leadership training, joint-venture businesses and so on.  F1 also has a lot of scope to develop better links with technology companies because it is a data-driven sport which creates fantastic digital content; audio, video, data.  Content is so important to tech companies, including social media, I think the sport has a huge opportunity lying ahead.
MST: Do you think budget caps are achievable in F1? Why or why not?
MG: They are difficult to police because of company structures, and also because there will always be someone pushing the system further than expected.  For example, when a team is a subsidiary of a car company, how do you apportion cost that the car company may absorb but yet benefit the F1 team?
My view is that the FIA could cap costs by creating technical regulations which make it impossible or pointless to spend more than a certain amount of money.  Everyone knew the new powertrain regs were going to triple the annual costs, so the flipside is that you could equally proscribe certain technologies to limit future spend.
One example might be having no specification changes permitted to the cars from race to race – perhaps upgrades only 4 times a year.  You could even – at the risk of upsetting the aero community – expect teams to fix their aero for a season. Radical, but an example of how you could stop development running away with budgets.
MST: Is there a company that you feel you could do what Red Bull has done – a team that had been in F1 first from just a pure sponsorship/branding element that has then brought its leadership, in the form of Dietrich (Mateschitz), and the people, (David) Coulthard, (Adrian) Newey, on down the line – and change the game in F1 once more? Or do you feel this is a once-in-a-generation type of story?
MG: Benetton did it, Red Bull replicated that and frankly any global brand who wanted to do what they have done could do so.  However in both these case they made sure they got the very best people involved – think Brawn & Byrne at Benetton, or Horner & Newey at Red Bull Racing.
There is no reason why a Samsung, Google, Tesla or Apple could not do F1 in the way Benetton and Red Bull have, but it would have to be run by people who understood the industry, and with the business plan that enjoyed the benefit of both a correct level of up-front investment as well as a clear focus on turning it into a profit-centre with third-party sponsorship attracted by the opportunity to work alongside the host company.  It has to be run like a business, otherwise if everyone thinks there is a patron writing the cheques each month the culture is wrong from the start.
MST: With good leadership and good communication so vital, which teams on the grid besides Red Bull and Mercedes are doing the best job of that now?
MG: Williams has rediscovered its capability on several fronts; technically, operationally and commercially.  Much of that is down to management changes so that the leadership is much more coherent than a few years ago.
MST: Were you at all surprised to see Mercedes win the title without Ross Brawn? How much did he and Michael Schumacher's development over the three years play into the title, you mentioned it in the book.
MG: In my view Mercedes won because of Ross Brawn, and Bob Bell, who are responsible for this year's car and put together the team that delivered it so magnificently.  Toto Wolff has been very clear about Ross's contribution, and by implication Bob's too, and no one should lose sight of the fact that the 2015 car was the result of the work done by Ross's team in 2012-13 particularly in association with Mercedes HPE on the power train front.  A brilliant conceived and packaged car.
MST: Does it feel as though F1 is lacking for characters like an Eddie Jordan or Eddie Irvine? Part of the reason there's a nostalgia element there is because to some outsiders, on the surface anyway, it appears many of today's stars are corporate automatons devoid of much in the way of personality… to me anyway, it's why Daniel Ricciardo is such a big hit because of his smile.
MG: I think there is a tendency to look at the past through rose tinted glasses.  I do it too!
I remember that in the 1980's everyone was talking about the '60's, and then in the 90's I used to meet guys telling me that the 70's were great. Now we think the late 80's and 90's were a glorious time!
The drivers are very professional these days, but there are good personalities all around, and the media should maybe do more to uncover them;  it's a relentless schedule for drivers with huge demands on their time, so it becomes very difficult to let your hair down.
I think Claire Williams is a fascinating new team boss, and looks set to carry the Williams forward as a family owned business; what a great story.  Sooner or later Ferrari will find a strong team boss to take them on to great things – maybe Christian Horner should consider it.  Why not?
I can tell you that if you had a glass or two of wine with an Eric Boullier, Bob Fearnley or Franz Tost, you would find very interested characters with a passion for F1 that burns just as brightly as it ever did in an Eddie Jordan or Colin Chapman.