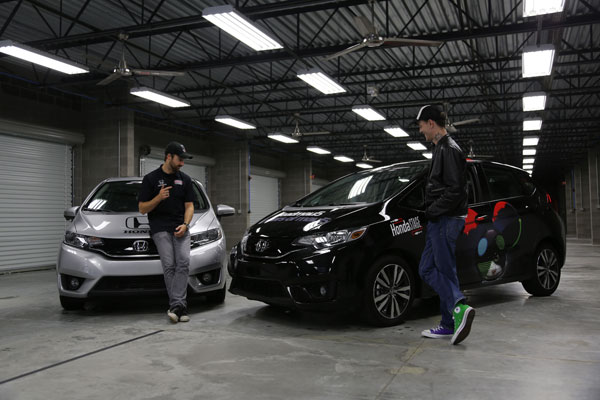 The pulses rise. The crowd awaits. The cameras are ready.
No, this isn't Joel Zimmerman – better known as electronic dance music (EDM) artist, superstar and producer Deadmau5 – about to start a show.
It's Joel about to race his Canadian countryman James Hinchcliffe, of Oakville, Ontario in a pair of Honda Fits around the Putnam Park road course outside Indianapolis.
But don't tell him the rush isn't any different. If anything, it's amplified.
"I just like that control – you know what I mean?" Zimmerman told MotorSportsTalk in an interview. "It's great feedback between you, the car and the road.
"It's one thing to be a passenger, and one thing to not have control, like you are in a roller coaster. But to have that kind of response, where you're going, turning and staring, it puts you in the zone. And having the more high-performance vehicles intensifies it."
How he got to this point is a story in itself. Intensity and passion are two words that describe Zimmerman's increased interest in cars, and in motorsport over the last few years.
First off, his introduction to motorsports came via the Gumball Rally, in a Ferrari 458.
"It was all pretty circumstantial or coincidental," he says. "(Others) do the Gumball as their yearly recreational thing. That's how I got introduced to the community; you ask who's the 'who's who of racing?' What else is there to talk about with supercars? You talk about cars. It opened up the world for me. It's such a great community. We all talk to each other after the rally. It's extended family."
Zimmerman lived in Toronto, where public transit is king and driving can be akin to listening to a bad record depending on the time of day – utterly grinding. But a move to Los Angeles meant Zimmerman finally got his driver's license and would have to learn the nature of L.A. traffic jams (as this author can attest, living in L.A./Orange County area requires a wealth of patience).
"The first time I drove a Ferrari, a year or so ago, was maybe 3-4 weeks after I just got my drivers license," he explains. "So I have no idea how to drive this car. They just give you the keys and say, 'Have fun!'
"So the first 5 minutes was terrifying, in L.A. traffic. You're not even going over 30 (mph). It's terrifying. You don't want to hit a kerb, or a car. Then you get used to it. Once you lift the veil of the type of vehicle you're driving, you start getting it, and after 2 minutes, you're good."
The aforementioned Ferrari is one of a host of ultra exotic high-performance cars Zimmerman's sampled, whether it's a McLaren 650S, a Bentley Continental GT Supersports or a BAC Mono, the latter of which is the first open-wheel car he'd driven.
But each car provides a different driving experience, and the variety offers great appeal.
"I've definitely seen the whole spectrum, from the Honda Fit to the LaFerrari. It's so different to see that every car offers something different new, regardless of price or quality.
"Nothing to me is more fun than an e-brake on a Honda Fit. But you don't get that in a McLaren 650S. That would be a bad idea all around. Or the way a Mono handles on a track, versus a Ferrari 458. You can come full stop, you can whip around it in the mono, because there's a low center of gravity, it's perfectly balanced and the thing's on rails. In a Ferrari you'd try that and be in the grass."
As for the Fit, it fits into the equation as part of Zimmerman's run up to the launch of his new album – 5 years of mau5 – and a performance in New York on the Honda Stage.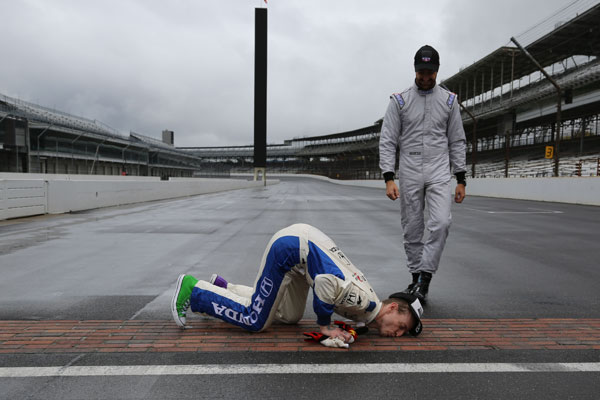 This leads us to Hinchcliffe, who besides hailing from the same area in Toronto is a Honda-powered driver in the Verizon IndyCar Series and took Zimmerman on a rainy two-seater ride at the Indianapolis Motor Speedway road course. It was cool, Zimmerman said, except "if there wouldn't have been a stupid inch of water… but we still hit a buck 80."
The two hit it off on social media prior to that and have struck up an obvious, and chill, friendship.
"I like to say I have a talent for reading people," Zimmerman says. "With Hinch, you just see how he spends time and cares about something he specializes in. So that's where I hit it off. Doctor, landscaper, whatever it is, you look for the passion and seeing the detail in one thing."
The two-seater ride came after the two toured the IMS museum. Zimmerman couldn't believe his eyes.
"Looking through that museum, I walk away realizing how fortunate I am to have 50-plus years of car development experience in my favor," he says. "Dude, I wouldn't drive 20 feet at 10 mph in fear of blowing up!
"And yet guys were racing these things, with legit jet engines on the back or the transmission running between their legs."
Zimmerman took his own shot at racing Hinchcliffe in the Fits – the two half-jokingly riffed pre-race about seeing who would be first to roll it. Fortunately, neither did. This was part two in the run to the Honda Stage.
Part three followed shortly thereafter, for the show itself. See below for the third and final installment:
Would Zimmerman consider racing himself, as others from the world of entertainment such as Paul Newman and Patrick Dempsey have?
"Not in a professional capacity," he confirms. "Only because I understand, to be up there with the (Lewis) Hamiltons, Hinchtowns and Conor Dalys, you gotta start karting when you're 7 years old. You have to put all your eggs in that basket so to speak. There's so many intricate details.
"When I'm going into racing and stuff like that, it's for personal enjoyment."
Asked whether he had a favorite form, Zimmerman said he "loves it all," granted some more than others – ranging from F1, watching Hamilton win the World Championship, to as localized as demolition derbies.
What he does do and continue to do to keep his car presence going is performing a series of "Coffee Runs" – where Zimmerman drives around, sees random people or celebrities on the streets and just lets the camera roll.
"It's so ad hoc – we don't produce or schedule these," he says. "We wire up, literally, whoever's around; the Mayor (Rob Ford) was the only one we had to schedule.
"But short of that, it's who's in the neighborhood, stick a GoPro and do it all in one take. I don't condense it down to 30 seconds and fast-paced. I hate the quick editing. It's a discussion."
And to bring this full circle back to IMS, would Zimmerman ever consider playing the Snake Pit, which has grown in stature in recent years since its revival?
Sadly not for 2015, as the timing conflicts with the Gumball. But it's obvious that racing and IMS have made an impact on the talented artist, and if one day Deadmau5 does play there it will be a massive get for the Speedway.
As it is, Zimmerman's been struck with the car and racing bugs, and that's perhaps the biggest "get" of all.