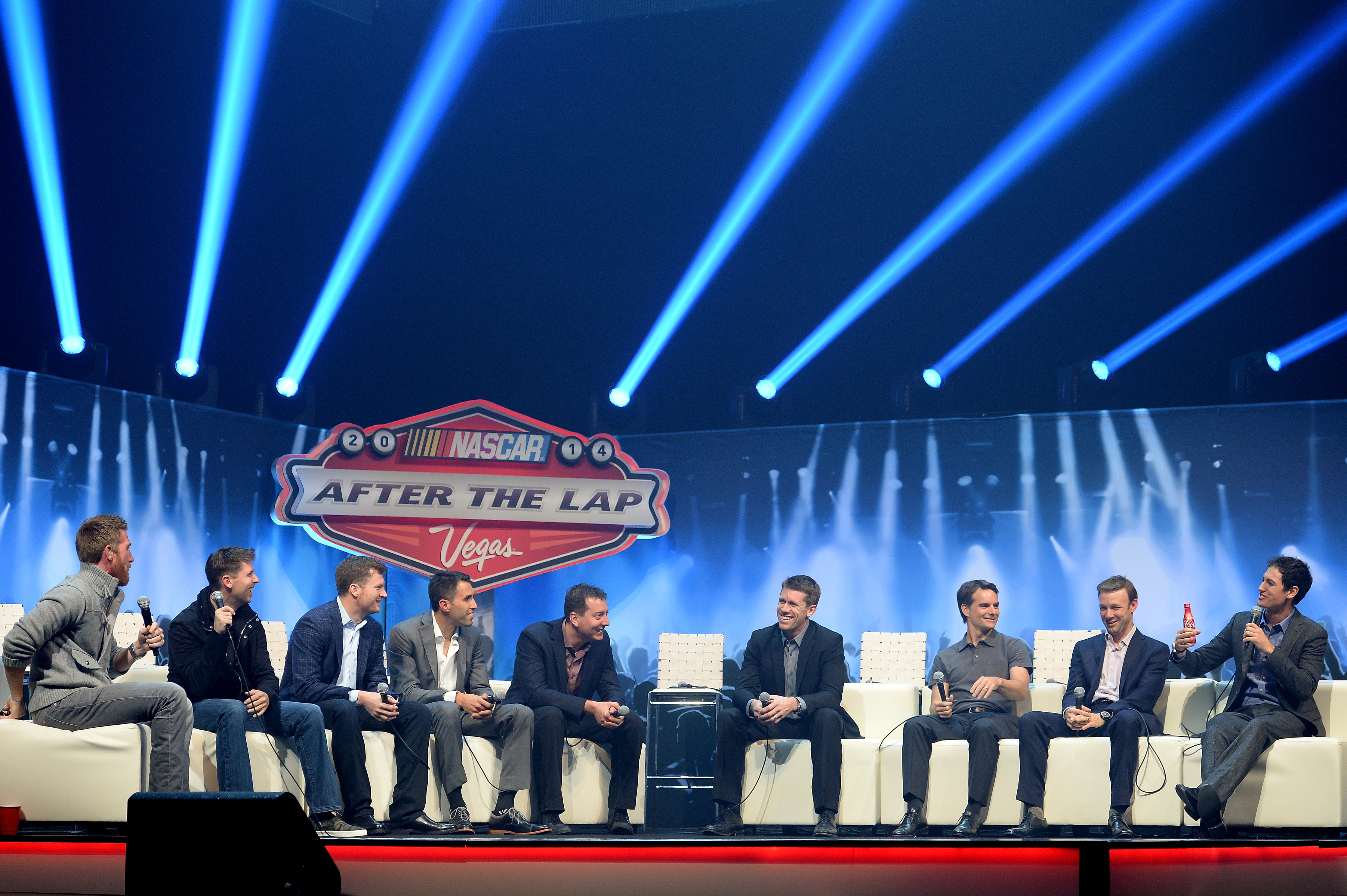 With a pressure-packed Chase for the Sprint Cup finally over, the 16 contenders for this year's title got to cut loose a bit tonight in Las Vegas at NASCAR After The Lap.
The "ultimate driver tell-all" has produced some interesting moments in the past, perhaps the most interesting being the revelation of Jeff Gordon's break dancing skills in 2011.
We didn't get another boogie from Gordon or anybody else tonight, but there were still some really funny moments.
New Sprint Cup Series champion Kevin Harvick started the evening with a flashy entrance before speaking with host/ESPN reporter Marty Smith about winning a title in his first year with Stewart-Haas Racing (credit to Jeff Gluck of USA Today for the clip below):
"I think we expected to race for wins and be competitive, but I don't think you can ever imagine it coming together like it has this year," Harvick said. "I think with the format and winning early in the season and being able to really get a lot of our new team problems out of the way in the first half of the season – for us, it was important.
"As we got further into the year, we started proving to ourselves that we could win in pressure situations and that's what it came down to with a couple of those at the end."
That led into the first big group segment of the night, which included Smith asking about drivers' specific 'Welcome to NASCAR' moments.
Jeff Gordon, who was pushing for a career in IndyCar racing in his early years, talked of how running a Busch Grand National car at Rockingham (N.C.) showed what NASCAR could hold for him.
Denny Hamlin (whose No. 11 car lost an engine during the afternoon's Victory Lap parade down the Las Vegas Strip) spoke of getting a tongue-lashing from Tony Stewart at Chicagoland after racing door-to-door with J.J. Yeley early in the race.
"I was like, immediately, 'Okay, I'm sorry, sir,'" Hamlin recalled.
Dale Earnhardt Jr. also had a great tale involving the first time he raced against his father, seven-time Cup champion Dale Sr., in a 1998 exhibition race in Japan.
After the two tangled on the track toward the end of the race, the Earnhardts had to share a trailer afterwards to change into street clothes.
Junior was feeling good about his efforts, but those vibes quickly disappeared.
"I had my head down taking my shoes off, and he threw a shoe at me," he said. "He didn't say a word the whole time I was in there, and he threw a shoe at me, and it must have been going 100 miles an hour. It hit the wall behind me and knocked a hole in the wall."
As it turns out, the Intimidator had another reason to be mad.
"We had stole a set of tires from his pit stall in the middle of the race," Junior explained, triggering a wave of laughs from the crowd. "Me and Tony [Eury] Jr. needed tires. Nobody could pit that last stop. A bunch of guys had used all their tires up and [Dale Sr.] had an extra set.
"…They didn't come and get that last set of tires, and we stole them out of the pit, put 'em on our car, passed him and ran him in the wall, and he was really pissed off about that. We didn't sit next to each other on that 13-hour [plane] ride home."
Another memorable moment came when NASCAR's current wearer of the black hat, Brad Keselowski, made his entrance for the second group segment to a chorus of boos.
Afterwards, the conversation settled on drivers' first jobs. Keselowski replied that he washed motor homes for his father at the track, which led Kyle Busch to cut in and ask Gordon if he would let Keselowski – his sparring partner in last month's post-race fight at Texas – wash his.
"Yes, I would," Gordon said. "I'd have him start underneath."
That was when Harvick, who had now returned to the stage, spoke up.
"Has anybody else noticed how happy Kyle is?," he said. "He's the one that's been doing all the stirring. He's so happy that they boo Brad more than him. He can't hardly get over it."
After a loud round of applause, Busch replied: "I feel like Dale Earnhardt Jr. anywhere I walk in now."
Needless to say, a fun time was had by all.