It's always interesting to look back on the racing season that was – to think about which drivers rose up and fell back, as well as the moments we wish to remember fondly and those we'd perhaps like to forget.
Myself and my colleague, Jerry Bonkowski, had NASCAR as our main focus for the majority of weekends this year on MotorSportsTalk. And based on what occurred this season, we can tell you that we weren't lacking for news.
But now it's time for each of us to recognize certain people and events in particular. We've chosen our Most Improved Driver, Most Disappointing Driver, Best Race of the Year, and Worst Race of the Year.
We also invite you to share your own picks in these categories below in the comments section. As always, just keep it clean. And so, without further ado, here's our Bests and Worsts from the 2014 Sprint Cup season…
Chris' Best and Worsts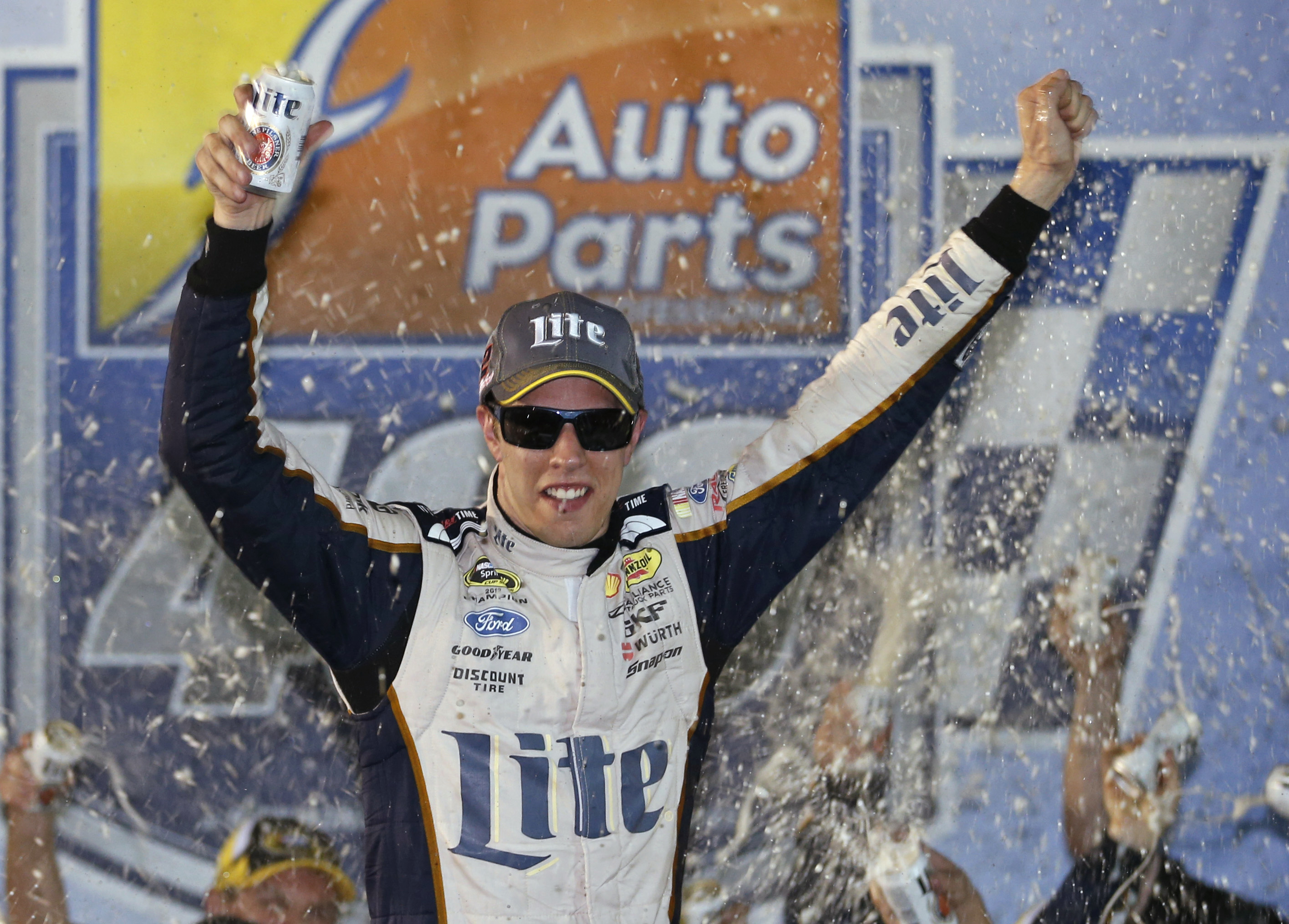 Most Improved Driver: Brad Keselowski, Team Penske
You can make a good argument for Keselowski's teammate, Joey Logano (which my colleague will oblige you with in his picks below), and it's definitely valid. But the driver of the Blanco Deuce had himself a superb bounce-back season in 2014 even though he was unable to make the Championship 4 in the end.
After capturing his first NASCAR Sprint Cup championship in 2012, Keselowski failed to qualify for the Chase in 2013. Bent on making sure that wouldn't happen again, Bad Brad quickly punched his ticket to the 2014 Chase with an early-season win at Las Vegas.
He would go on to get a half-dozen victories altogether (the most of any driver in the series), and along with Logano, he often rivaled those from the Hendrick Motorsports/Stewart-Haas Racing juggernaut on pure speed from week to week. And if he had been able to avoid the mechanical failure at Martinsville in the Eliminator Round, he likely would have been fighting for his second title at Homestead.
—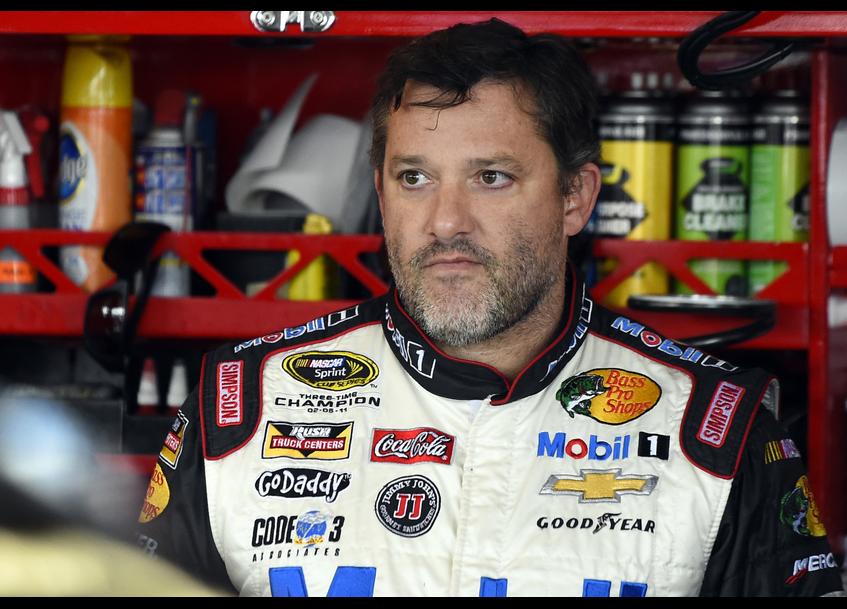 Most Disappointing Driver: Tony Stewart, Stewart-Haas Racing
We figured that Stewart would have at least some difficulties getting back to his old self after coming off a broken leg that ended his 2013 season early. But I'm not sure if anyone was expecting "Smoke" to struggle as much as he did on the track.
Putting aside for a moment how his life was changed forever in the Kevin Ward Jr. tragedy back in August, Stewart never really was a consistent front-runner in 2014. He only picked up two Top-5 finishes in the first half of the year (fourth at Bristol, then fifth at Fontana the next week), and was nowhere near Chase contention before his horrible sprint car accident on Aug. 9 that claimed the life of the 20-year-old Ward.
Stewart sat out several races to grieve before returning to action at Atlanta. But a late-season surge was not to be for the three-time Sprint Cup champion, who only had one Top-5 finish in his final 12 races of the year.
Of course, all of these on-track struggles pale in comparison to what Stewart has gone through off the track. You hope that he can find some peace this off-season.
—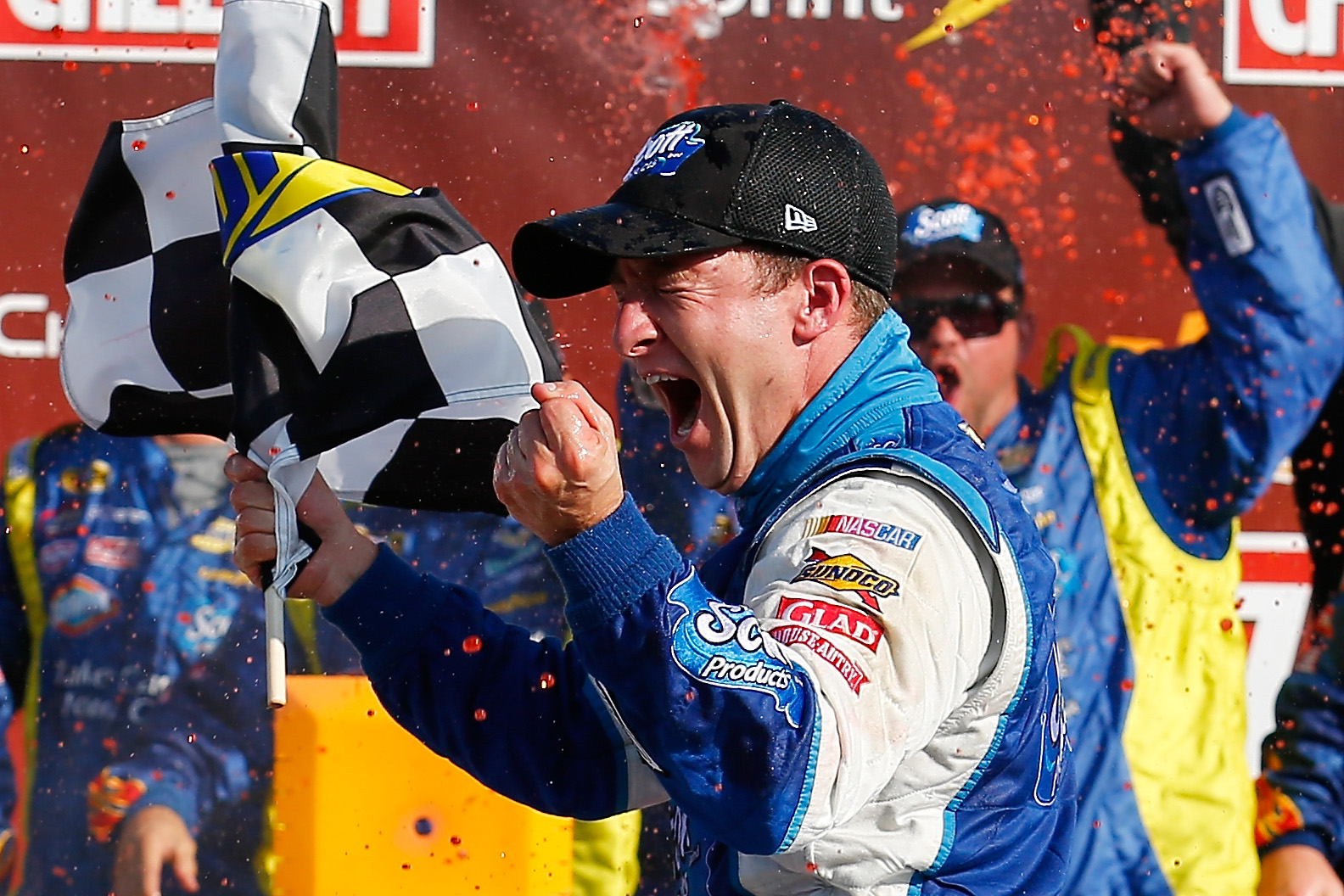 Best Race of the Year: Cheez-It 355 at the Glen, Watkins Glen International
One day after the horrible events involving Tony Stewart and Kevin Ward Jr., a pivotal "wild card" race to make the Chase took on a somber dimension. But in the end, we all got an uplift from a thrilling battle in the closing laps at the Glen between A.J. Allmendinger and Marcos Ambrose.
Following a restart with two laps to go, Ambrose appeared to gain the advantage when he pushed Allmendinger up the track in Turn 5. But the former Champ Car star didn't go away and forced Ambrose to cede him space after a drag race into the next turn.
That proved to be the winning pass, as Allmendinger went on to capture the inaugural Sprint Cup triumph for both himself and his JTG Daugherty Racing team, and also complete his own personal comeback story.
He also made sure to remind us to think of all impacted by the Stewart/Ward tragedy in upstate New York, and to be thankful for what you have and who you have to share them with. On that Sunday, they were words that we all needed to hear.
—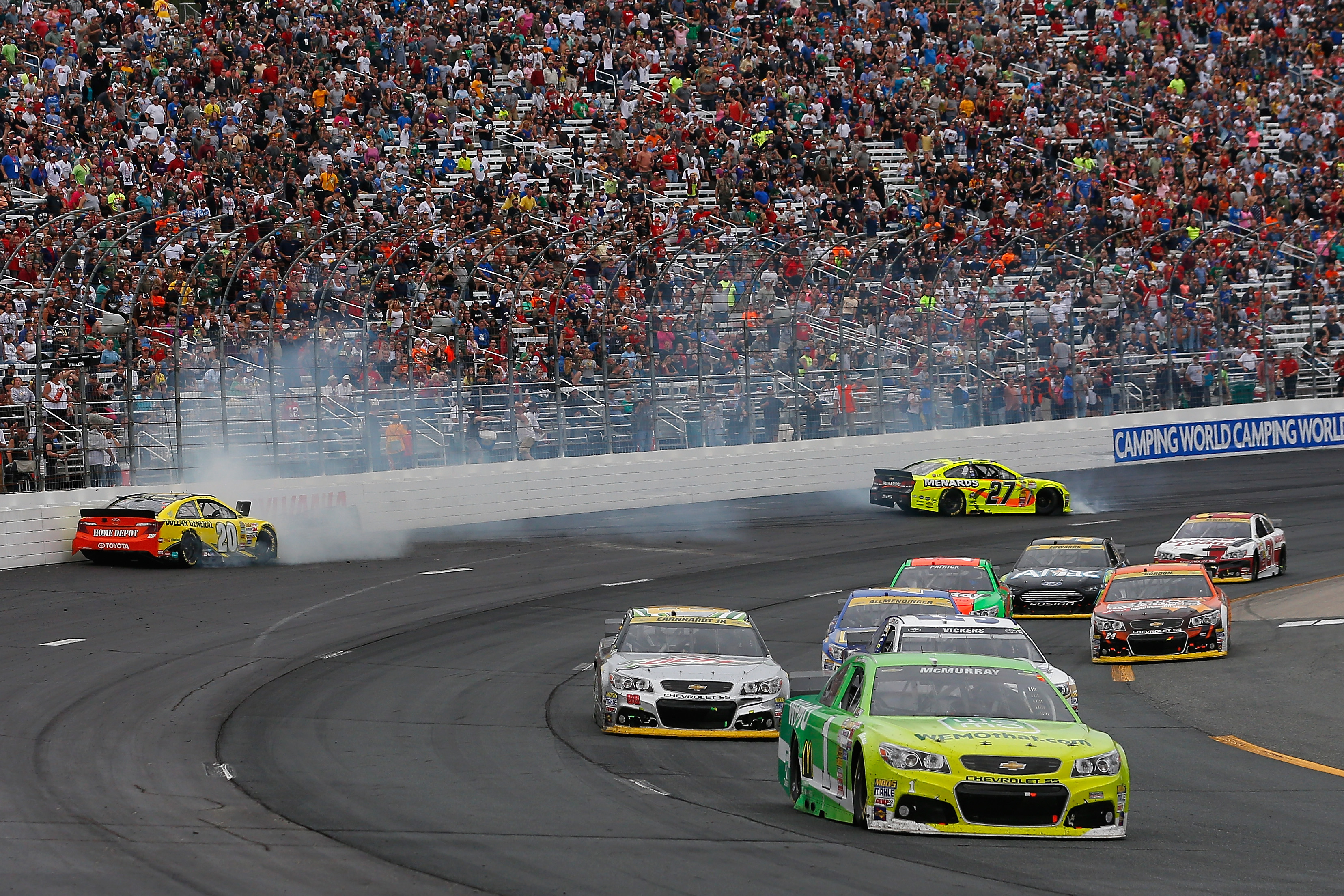 Worst Race of the Year: Sylvania 300, New Hampshire Motor Speedway
After Brad Keselowski opened the Chase for the Sprint Cup with a win at Chicagoland Speedway, there was intrigue over who would be the next contender to push into the Contender Round with a victory in New Hampshire.
But following the halfway point of the Sylvania 300 at NHMS, that intrigue was replaced by frustration as NASCAR's finest – likely spurred on by the pressure to win or at least get a solid finish to keep their hopes alive – turned what had been a relatively tidy race into a total mess.
The final 130 laps at Loudon featured 13 cautions, and one by one, championship hopefuls found trouble in crashes. Jeff Gordon, Kurt Busch, Denny Hamlin, and several others were caught in various incidents that helped stretch out the torturous proceedings.
A caution with four laps left involving Tony Stewart sent the race into overtime, where Joey Logano finally ended the madness by pulling away on the restart and winning the race.
—–
Jerry's Best and Worsts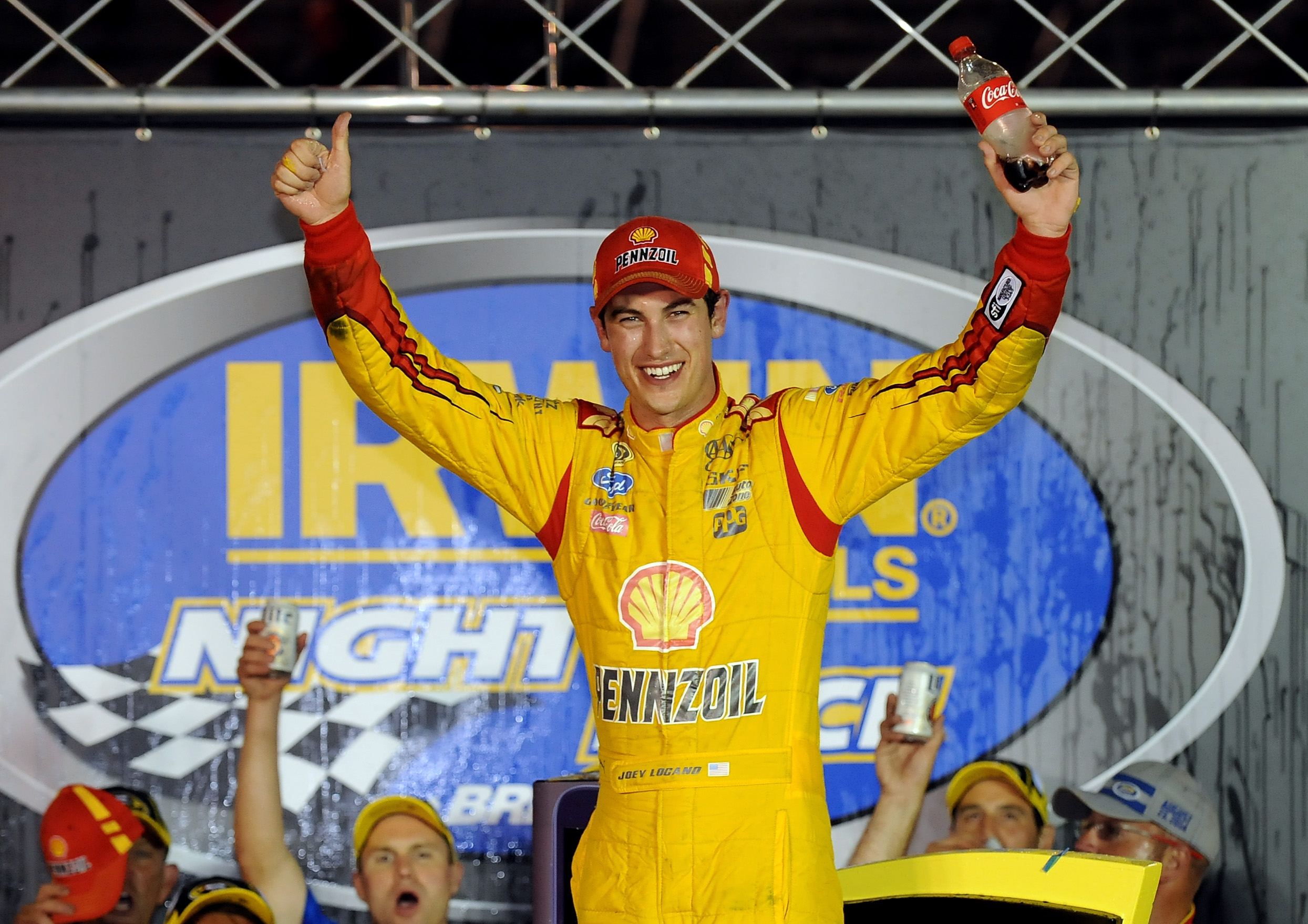 MOST IMPROVED DRIVER: Joey Logano, Team Penske
How can you pick anyone other than Sliced Bread? A career-high five wins, reached the Championship 4 round and, had it not been for that pit road problem with the jack on his car at Homestead, we could be talking about Logano being the 2014 champ, not Kevin Harvick.
Not only was this a breakout season for Logano, it also is an indication of even bigger and better things to come in 2015 and beyond.
—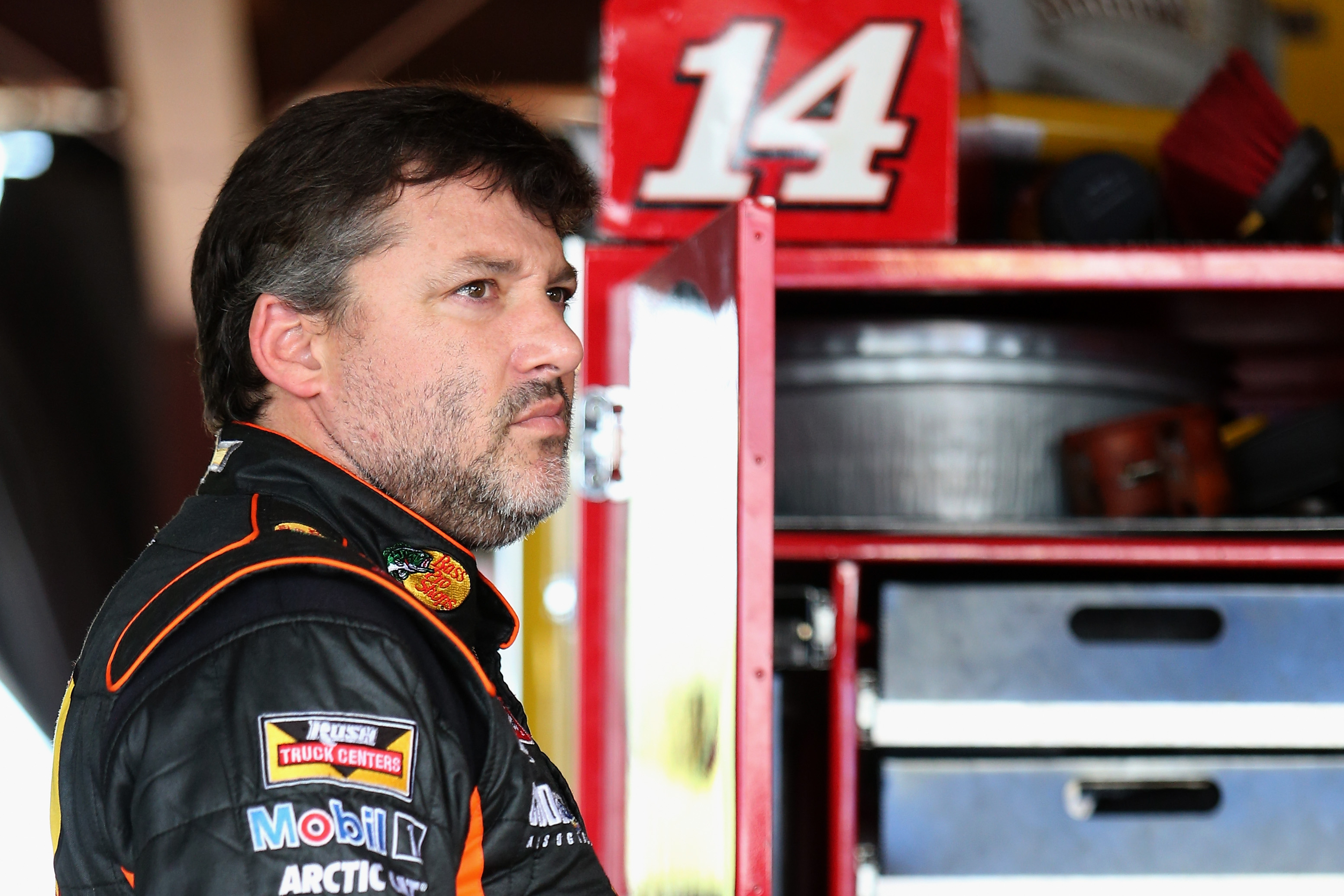 Most Disappointing Driver: Tony Stewart, Stewart-Haas Racing
This is absolutely, positively NOT a knock against Stewart because of the Kevin Ward Jr. tragedy. But solely from a performance standpoint, Stewart had the worst season of his Sprint Cup career – and the record book proves it.
In 33 starts, he failed to win a race for the first time in a season in his Cup career and had career lows in top-5s (three) and top-10s (seven). He also had a career-worst average finish per race of 20.0. He's never been worst than an average finish per race in any single season than 14.9 (not including his injury-shortened 2013 campaign).
While we hope Stewart will rebound in 2015, we also can't help but wonder if perhaps his best racing days are behind him.
—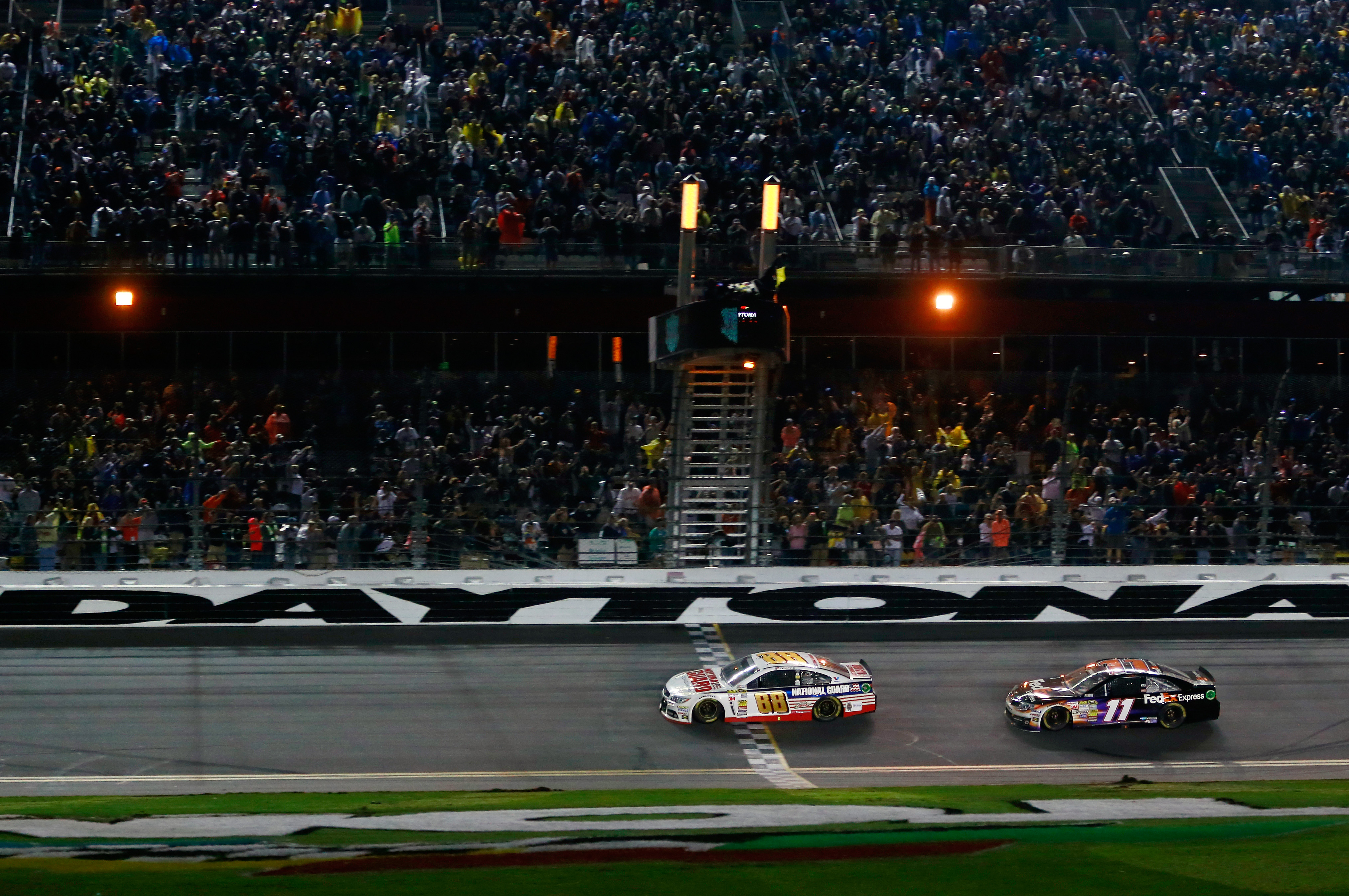 Best Race of the Year: Daytona 500, Daytona International Speedway

While it may not have been the best overall finish or the closest finish, Dale Earnhardt Jr.'s win in the rain-delayed Daytona 500 was one that race fans – particularly Junior Nation – won't soon forget.
It set the tone for Earnhardt and crew chief Steve Letarte in their final season together, and was the linchpin that led to four total wins in the season, Junior's best showing since he won six races in 2004.
Plus, after fans prodded him for nearly two years, Earnhardt celebrated his win in the Great American Race by not only joining Twitter, he's become arguably the most prolific user of the social media outlet of any high-profile NASCAR driver.
And let's not forget, a very close second for best race of the year: A.J. Allmendinger's neck-and-neck battle with Marcos Ambrose at Watkins Glen in August.
—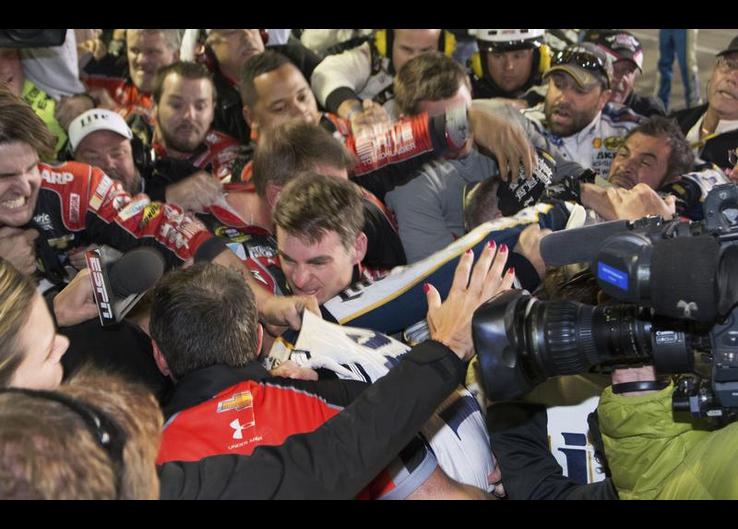 Worst Race of the Year: AAA Texas 500, Texas Motor Speedway
It's hard to quantify what qualifies for the "worst" race of a season. It could be based upon how the race played out, perhaps an ugly incident that took place on the track (or on pit road), or any number of variables.
To me, the worst race of the year — even though it was a competitive event, nonetheless — was the fall Chase race at Texas. Not so much for how it finished, but for what happened afterward in the ugly brawl between Brad Keselowski and Jeff Gordon and crew members from their respective or affiliated teams.
Sure, the fight grabbed headlines and sparked greater fan interest for the final two races at Phoenix and Homestead. But at the same time, any time there's a brawl in sports, whether it's NASCAR or Major League Baseball, it not only sets a very low standard and gives that sport a black eye, it also cheapens the value of the combatants as role models, particularly for young kids.
I understand why Gordon and Keselowski went at it – not to mention Kevin Harvick's prodding that set things off – but seeing both drivers emerge with fat lips and blood on their faces denigrates the sport to nothing more than a wrestling match.
What's more, for those critics who love to compare NASCAR with the WWE, the Texas tangle only served to further give fodder to their argument.