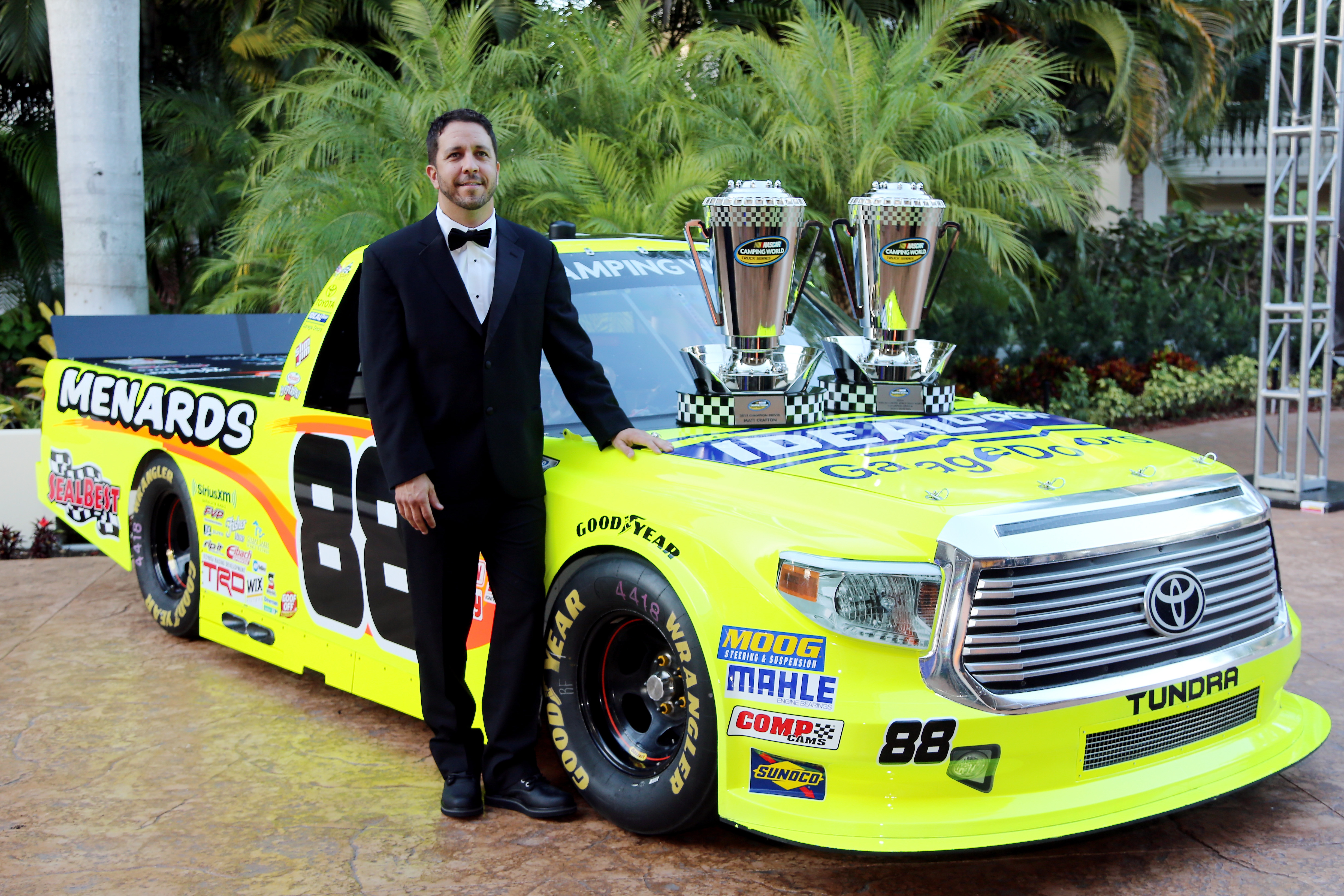 MotorSportsTalk will be counting down the top 20 stories of the 2014 NASCAR season over the month of December.
Here's what we've done so far:
For No. 14, we focus on a very significant accomplishment in the NASCAR Camping World Truck Series…
The NASCAR Camping World Truck Series has evolved quite a bit from its inception in 1995. But through its two decades of existence, it had never seen one of its champions manage to hang on to the crown the next season.
In 2014, it finally happened.
After another tremendously consistent year behind the wheel of the No. 88 ThorSport Racing Toyota Tundra, Matt Crafton became the first-ever back-to-back Truck Series champ with a ninth-place finish in the season finale at Homestead-Miami Speedway.
That distinction doesn't him make the king of the tailgaters just yet; Ron Hornaday Jr. still rules with four Truck Series championships and Jack Sprague's also ahead of Crafton with three of his own.
But with how Crafton has been going in recent times, his chances of getting level with Sprague are solid – and his chances of catching Hornaday aren't bad, either.
With just five Truck Series race wins over a 14-year career, Crafton is not the flashiest of champions. But like Ryan Newman and Matt Kenseth in the top-level Sprint Cup Series, he has the knack for rattling off one strong finish after another while rivals slide up and down.
It's a workmanlike approach and it paid off again this past year. Two wins at Martinsville and Texas plus a big jump in Top-5 runs (from seven in 2013 to 13 in 2014) kept Crafton one step ahead of the major threats to his throne – Ryan Blaney, Darrell "Bubba" Wallace Jr., and Johnny Sauter.
As for what 2015 may hold for him, Crafton is looking good to at least be a contender for title No. 3.
His No. 88 camp is rock-solid and some of his competition is going away: Blaney's moving on to a mixed schedule of Sprint Cup and XFINITY Series races, and Bubba, if rumors are to be believed, could be heading for the XFINITY Series too.
Kyle Busch Motorsports' young gun, Erik Jones, will be making his first attempt at the Truck Series championship in 2015. Considering how good KBM's equipment is, he could be the one that gives the stiffest challenge to Crafton.
But after what Crafton's been able to accomplish, you know he'll be tough to take down.