In 1996, Olivier Panis shocked the racing world when he captured his first and only Grand Prix win in Monaco. Later that year, Alex Zanardi pulled off the "did you see that?!?" moment of the year when he passed Bryan Herta at the Corkscrew to win the last CART race of the season.
Nearly 20 years later it's Panis and Herta's sons in the news – both have been confirmed to new international deals for next year as they look to advance their own racing careers.
—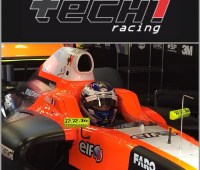 First up is Aurelien Panis, Olivier's 20-year-old son, who will graduate from Formula Renault Eurocup into Formula Renault 3.5 with Tech 1 Racing.
"The whole team welcomes this collaboration with Aurelien. We have followed him with great interest in 2014 and he has demonstrated a very high potential," said team boss Simon Abadie, via Autosport.
Panis joins the ranks of famous F1 drivers' sons who have made recent waves including Kevin Magnussen, now out of a race seat next year at McLaren, and Max Verstappen, who will move into one at Scuderia Toro Rosso.
—
Meanwhile American prospect Colton Herta, who will turn 15 just before the start of the 2015 season, will race in the U.K. in the MSA Formula championship with Carlin Racing. Herta, son of IndyCar team owner Bryan, will be teammate to previously announced Lando Narris.
Herta has experience in international karting and has several plaudits to his name, including winning the IKF KPV2 Championship. Other karting titles include the SuperKarts USA TaG Cadet Championship, ProKart Challenge championship and International Kart Federation (IKF) Championship. In 2014, Herta competed in the CooperTires USF2000 Championship Powered by Mazda.
"So many great drivers have developed their careers with Carlin, this is exactly where I want to be. I can't wait for the season to start," he said.
Carlin's European program continues alongside its new U.S. program with Indy Lights.