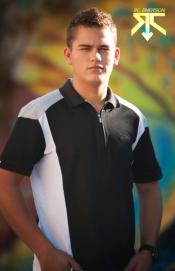 USF2000 veteran R.C. Enerson will move up to Indy Lights in 2015, and do so with Schmidt Peterson Motorsports.
The young American is the team's second confirmed driver, along with previously announced Ethan Ringel.
Enerson had his first Indy Lights test at Palm Beach International Raceway earlier this week.
"SPM is a great organization," Enerson said in a team release. "Surrounding myself with experienced team members, where there is chance to advance up to the Verizon IndyCar Series within the team, is ideal. I wouldn't want to be anywhere else."
He moves up after three seasons in USF2000. This past year, he had a breakout season with the single-car, family-run Team E (led by father Neil Enerson) where he won the preseason Cooper Tires Winterfest and came second in the full-season championship to Florian Latorre.
"I'm sure people will be very surprised at how different this new car is from the previous Indy Lights car," Enerson said. "It's easier to drive but harder to handle. It will take more patience, as there is less throwing the car around and more smooth driving to keep the car calm."
After this announcement, expect SPM to have at least one and potentially two more driver announcements for the 2015 Indy Lights season.