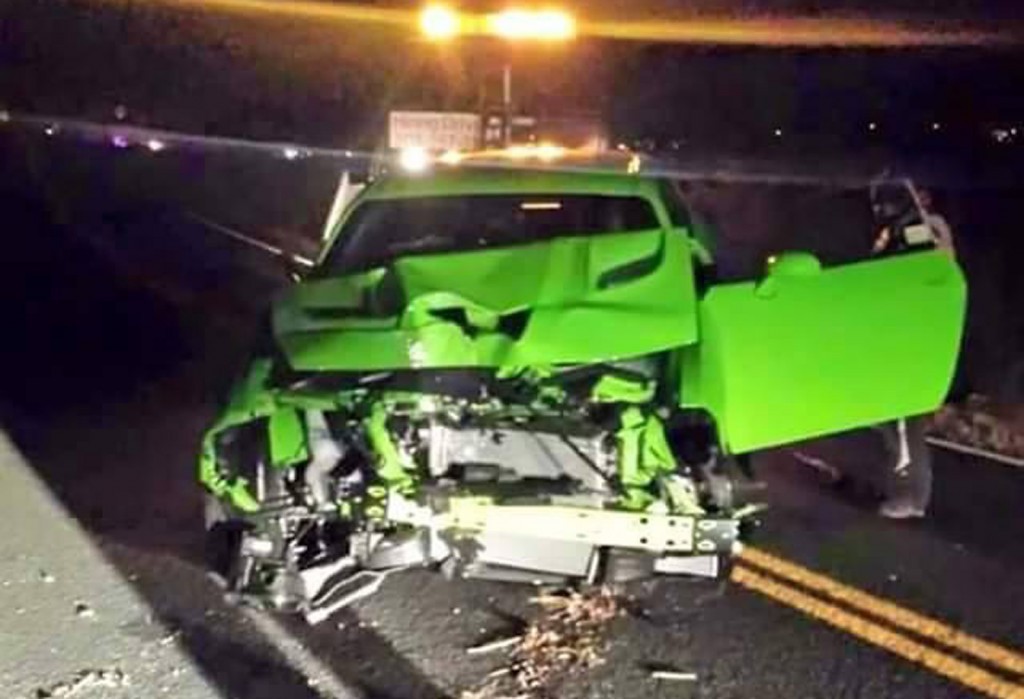 (Photo courtesy Facebook via MotorAuthority.com)
The accident report, as well as the identity of the driver that wrecked the 2015 Dodge Challenger SRT Hellcat – just one hour after driving away from the dealership – has been released by the Colorado State Patrol.
The accident occurred near Brighton, Colorado, located northeast of Denver in Adams County.
The $60,000-plus Challenger SRT Hellcat (along with its cousin, the Charger SRT Hellcat), is the most powerful stock muscle car built in America, rated at 707 horsepower and with a top speed of 204 mph.
The car is so powerful that it requires two keys to activate what's under the hood: the first key is for the first 500 horsepower. The second key is for the full 707 horses.
MORE: UPDATED – Highway to Hell(cat): Owner wrecks 707-hp Dodge Challenger SRT Hellcat one hour after buying it
This particular Hellcat, a bright lime green version, was the first to be sold in Colorado after hitting dealer showrooms across the state about a month ago.
So, to quote from the official report of the Colorado State Patrol – and as the late Paul Harvey used to say – here's "the rest of the story:"
Colorado State Patrol statement: "The 2015 Dodge Challenger Hellcat driver, 34-year-old Lance Utley of Winter Park, CO, was traveling northbound on Riverdale Rd.

"The driver lost control to the right, then overcorrected and lost control to the left, and struck a tree head on. There were two additional occupants in the vehicle.

"The driver was charged with careless driving. Drugs or alcohol were not involved. There was no mention of excessive speeding. All three occupants were unhurt."
To date, Utley has not commented to the media about the mishap that occurred on the evening of Dec. 19. Really, Lance, we do feel bad for you.
Follow me @JerryBonkowski