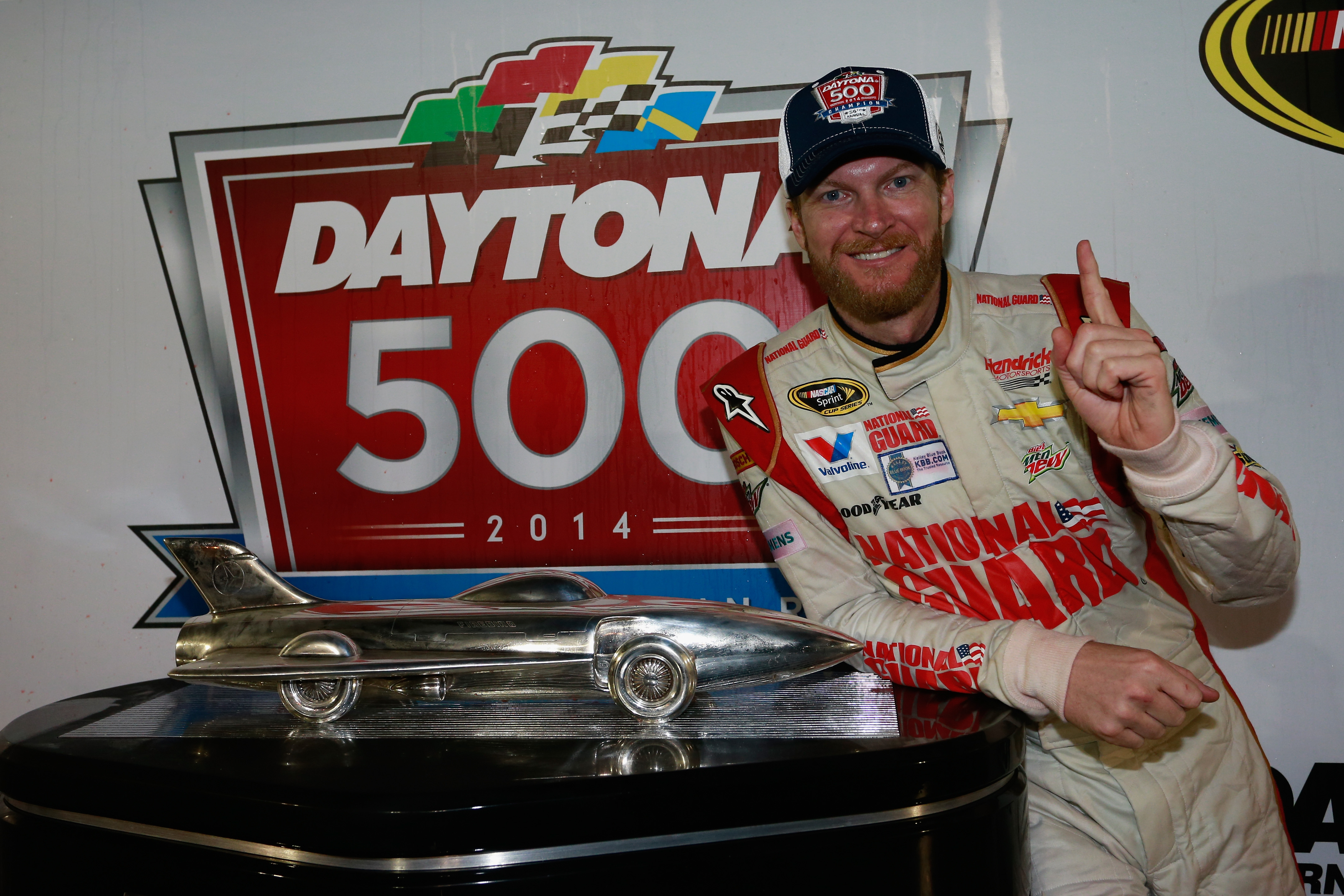 MotorSportsTalk will be counting down the top 20 stories of the 2014 NASCAR season over the month of December.
Here's what we've done so far:
This Christmas Day, we come to No. 6 – a very successful 2014 for the sport's most popular driver, Dale Earnhardt Jr.
Junior Nation, rejoice. Your hero is a true contender once more.
Dale Earnhardt Jr. turned in a stellar 2013 Chase, but for 2014, a question remained: Could he, crew chief Steve Letarte, and the No. 88 Hendrick Motorsports team be able to keep and then build upon that momentum?
That question was answered emphatically in the first race of the season, a water-logged Daytona 500 that was ultimately extended into prime time. It was a long, long day, but it had to have been worth it for Earnhardt's legions of fans after he captured his second victory in the Great American Race.
Also winning out of course was NASCAR, which had rolled out a controversial new Chase format to determine its champion just a few weeks prior. With the new format, regular season wins now meant a spot in the postseason and its biggest star had just punched the first ticket.
But in Victory Lane at Daytona, NASCAR – and the social-media world – got another gift:
Up to this point, Earnhardt had gotten his own Twitter account but had never officially used it.
According to the Associated Press, that didn't stop him from having more than 235,000 followers before he finally sent out his first tweet.
Now, after a year filled with musings, fan chats, and hilariousness, he's got more than 830,000 followers on an account whose bio describes him as such: "Retired dealership service mechanic. Former backup fullback for the Mooresville Blue Devils varsity soccer team. Aspiring competition BBQ Pitmaster."
As for what the perhaps-one-day king of dry rubs and sauces did to follow his Daytona glory, that was pretty good, too. He would sweep both races at Pocono in the summertime, and momentarily jumped back into the points lead at Watkins Glen. Altogether, from his first Pocono win of 2014 on to the end of the regular season, he was never worst than third in the standings.
But after easily going through the Challenger Round in the Chase, Earnhardt's dream season was put on pause in the Contender Round opener at Kansas. A tire failure and crash there put him in a massive points hole, and he was unable to recover. A 31st-place finish at Talladega two weeks later officially ended his title hopes.
Instead of playing out the string – and the final races of Letarte's last season as his crew chief – Earnhardt bounced back with one of the sweetest victories of his career at Martinsville Speedway.
For next year, change is coming to Earnhardt's on-track world. Letarte is off to NBC Sports as it returns to broadcasting the sport. In his place as crew chief on the 88 pit box will be Greg Ives, who led Chase Elliott to this year's NASCAR Nationwide Series title for JR Motorsports. Earnhardt's pit crew will also be somewhat different as well.
The question now is about how quickly can Earnhardt get that all-important chemistry going with Ives and the new members of his team.
But after a season to be proud of, he – and Junior Nation – can enter 2015 brimming with confidence even with those changes.
"We're going to miss Steve, of course … but I hope fans don't see this as our only opportunity," Earnhardt said to NBC SportsWorld's Joe Posnanski earlier this year. "To me, I see no reason why we can't be in the mix for two or three more years at least. I think that's realistic, I really do."