MotorSportsTalk is counting down the top 20 stories of the 2014 NASCAR season over the month of December.
Here's what we've done so far:
Today we look at the fifth biggest story of the 2014 season in our estimation: the championship season that almost was for Jeff Gordon.
After 12 previous tries, it appeared that Jeff Gordon's long-held dreams of winning a fifth Sprint Cup championship – and his first since 2001 – would finally come true in 2014.
Gordon had an outstanding season, leading the points standings most of the 26-race regular season, and then entered the Chase for the Sprint Cup as one of the favorites.
Unfortunately, Gordon would fall short of reaching his goal of winning the championship – let alone even having the opportunity to do so – by perhaps the deepest cut a driver can ever experience:
He missed out by one mere point.
Even though he finished a close second in the fall Chase race at Phoenix to winner Kevin Harvick, Gordon would find himself eliminated from the Championship Round when Ryan Newman got past Kyle Larson to reach the final round of four drivers.
And as a result, Gordon ultimately would not.
All of Gordon's hard work – four wins, 14 top-fives, 23 top-10s, three poles, 1,083 laps led (his most in a season since 2007), 32 lead-lap finishes, an average race start of 9.0 (best since 2004) and average finish of 10.4 (best since 2009) – would ultimately count for virtually nothing.
Leading the standings for 17 of the first 26 races, and three times in the first seven Chase races, as well as his record-breaking fifth career win at the Brickyard 400 (plus wins at Kansas in the spring, Michigan in the summer and Dover in the Chase), would also count for little in the ultimate way the season played out.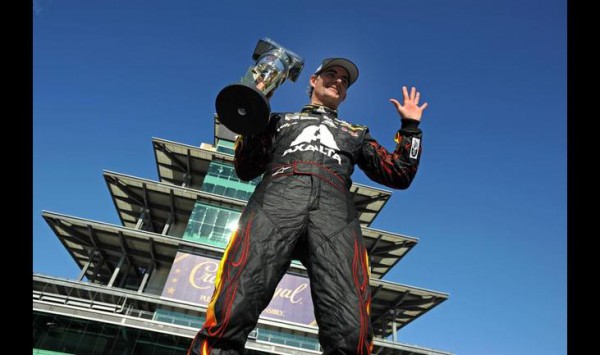 In the end, when fans or historians look back upon the 2014 season, unless they were to really dig deep for how the season played out, they'll instead see simply that Gordon finished sixth in the final standings for the second season in a row.
If there's one race that ultimately proved to be Gordon's Achilles heel in 2014, it was the fall Chase race at Texas.
In the closing laps, he was challenging Kevin Harvick for the lead and swung slightly wide. Brad Keselowski saw the opening – even though it wasn't completely wide enough to squeeze a race car through – and made contact with the left rear of Gordon's car.
Two laps later, Gordon would spin out courtesy of the cut-down tire brought about by the contact with Keselowski.
And instead of finishing in the top-five at Texas, Gordon would end up a disappointing 29th, his worst finish in the Chase. What's more, Gordon ended up in one of the ugliest post-race brawls of his career when he and Keselowski went at it afterward.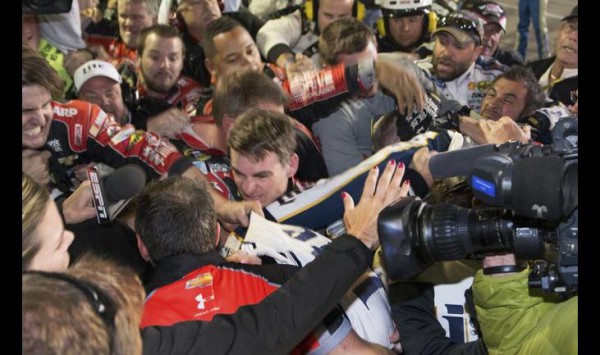 Had he finished in the top-five, or even the top-10, Gordon would likely have earned enough points to reach the championship round two races later.
But with the way Texas played out, Gordon had to literally drive the race of his life at Phoenix – and did just that.
He did everything right, was competitive, guarded his position on the track and gave Harvick everything he could – only to miss by one point.
In a way, you can draw a comparison between Gordon coming up short and Carl Edwards in the 2011 championship.
Edwards actually tied Tony Stewart for the Sprint Cup crown, but essentially lost by one point on an ensuing tiebreaker – Stewart won by virtue of five wins to just one victory for Edwards.
Now Gordon returns for a 23rd Sprint Cup season in 2015. He turns 44 in August and, even though he ultimately once again missed out on his Drive For Five, maybe the 14th try will be the one.
In addition, Gordon is now just eight wins away from 100 in his Sprint Cup career, and just 13 wins away from tying David "The Silver Fox" Pearson's 105 career wins, which are second on NASCAR's all-time wins list to Richard Petty's 200 victories.
Honestly, given the misfortune and close-but-no-cigar season finishes he's had since winning his fourth Cup crown in 2001, Gordon may very well have a better chance of hitting 100 wins first before he wins that fifth Cup title (if he ever does).
And yes, we know, Gordon would likely have had six and maybe even seven championships by now if NASCAR had not implemented the Chase format in 2004 and kept the points structure the same as it was before then.
Still, Gordon has nothing to be ashamed or embarrassed about for falling short of No. 5 in 2014. He gave it his best – and that's all any driver can do.
Follow me @JerryBonkowski