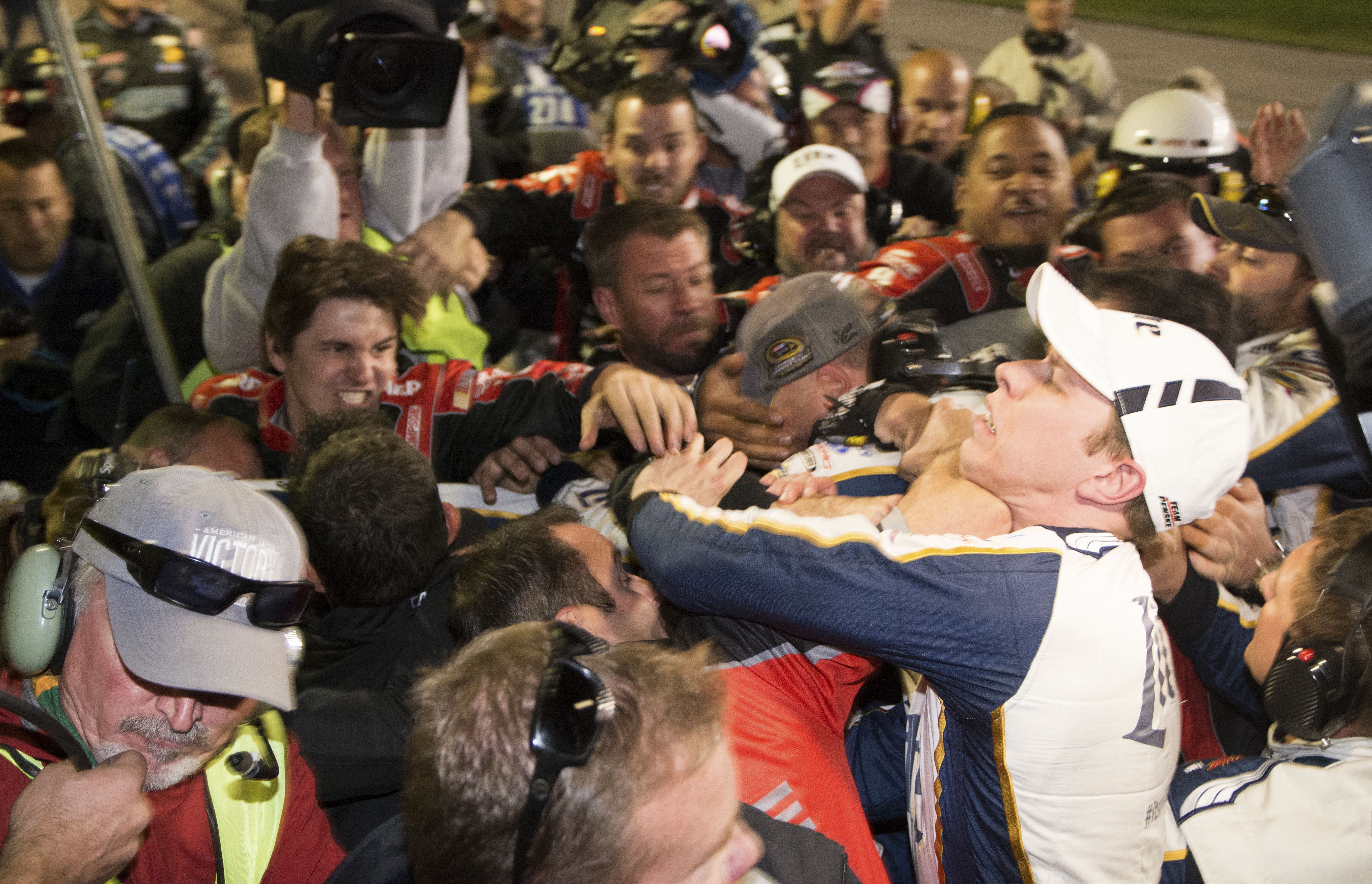 MotorSportsTalk is counting down the top 20 stories of the 2014 NASCAR season over the month of December.
Here's what we've done so far:
Today, we come to No. 4, and we're sticking with Gordon for his most memorable moment of 2014 – his post-race fight with Brad Keselowski at Texas Motor Speedway…
As part of NASCAR's new Chase for the Sprint Cup format, three rounds of elimination were implemented at every third race in the 10-race stretch. Those were designed to cut a field of 16 drivers to four for the season finale at Homestead-Miami Speedway.
By doing this, NASCAR created an intense, pressure-filled environment for the Chase drivers. Perhaps inevitably, the ability for some drivers and teams to control their emotions – already running high in the heat of a championship battle – went out the window.
It happened at Charlotte Motor Speedway in the Contender Round. A post-race disagreement on the track between Brad Keselowski and Denny Hamlin also drew in Matt Kenseth, and it all led to Kenseth jumping Keselowski from behind between a pair of haulers before their crews separated them.
But three weeks later in the Eliminator Round at Texas Motor Speedway, that incident was topped after Keselowski drew the ire of one of the sport's legends, Jeff Gordon.
A late restart saw Gordon and eventual race winner Jimmie Johnson up front with Keselowski behind them. As they made their way into Turn 1, Gordon went slightly wide and left an opening, which Keselowski quickly tried to fill.
Instead, Gordon and Keselowski made contact. Gordon quickly fell back and then spun in Turn 4 with a flat left rear tire. The tire failure relegated him to a 29th-place finish.
Holding Keselowski responsible for the tire issue, Gordon sought him out after the race on pit road. At first, it appeared it would be nothing more than Gordon letting loose a few expletives at Keselowski.
But then along came Kevin Harvick, who pushed Keselowski in the back and quickly drew away as Gordon grabbed a hold of Keselowski's collar. The scene devolved into a massive scrum, with both Gordon and Keselowski sporting bloody lips when it finally cleared up.
"He's just a dips***," Gordon said of Keselowski afterwards. "I don't know how he's ever won a championship and I'm just sick and tired of him. That's why everybody is fighting and running him down. Your emotions are high. That was a huge, huge race for us. We had the car, we had the position."
As for Keselowski, he stated that he had no choice but to be aggressive on the track, especially after he had failed to make the 2013 Chase following his 2012 Cup championship run.
"That means when there's a gap, I have to take it," he said. "If it requires a tiny bit of rubbing, that's okay. It's not anything I don't expect on the other side. Plenty of times where I got rubbed. It will go both ways. That's okay by me."
Ultimately, both Gordon and Keselowski were eliminated from the Chase at Phoenix, while Harvick won that race to make the Championship 4. At Homestead, he would win again to earn his first Cup title.
A few weeks after the season ended, Gordon mentioned that he had now started to ponder over the Eliminator Round opener at Martinsville.
He finished second in that event to Dale Earnhardt Jr., but had to overcome a pit road speeding penalty to do it. Without that penalty, Gordon may have won that race and gone on to Homestead to compete for his fifth crown.
But while he's remembering that race, it's likely that his Texas donnybrook with Keselowski will be remembered by many more people – and for a much longer time as well.