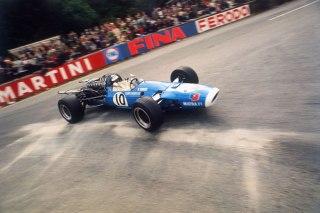 Veteran Grand Prix and motorcycle racer Jean-Pierre Beltoise has died at age 77 while in holiday in Dakar, Senegal of a stroke (French report from l'Equipe here).
Beltoise began as a motorcycle rider for three seasons from 1962 through 1964, before he made his Grand Prix debut in the 1966 German Grand Prix.
He joined the grid full-time in 1968, and Beltoise made it onto the podium for the first time in his eighth Grand Prix, the 1968 Dutch Grand Prix at Zandvoort, when he came second to Jackie Stewart.
The two were teammates at the Matra team a year later in 1969. Beltoise had his best season, with three podium finishes and a fifth place finish in the championship.
Beltoise's most famous triumph and elusive breakthrough victory came in the 1972 Monaco Grand Prix, driving with BRM. That was his first and only victory in 86 career starts.
He later tested for Ligier and was featured in the Le Mans fictional series "Michel Vaillant," where he was frequently one of the winning drivers.
A statement from the ACO's president, Pierre Fillon reads, "One of the great names in French motor sport has left us. Jean-Pierre will forever be remembered as a flamboyant driver who was so proud to fly his country's colours and take part in the revival of French teams in the 60s and 70s. He wrote his name in some of the most emblematic pages in the history of the Le Mans 24 Hours by giving his all at the wheel of Matras, Ligiers and a Rondeau. Jean-Pierre Beltoise was not only part of the legend of motor sport, but above all he also made a big contribution to writing it!"
Some thoughts have already started coming in, including from the current World Championship-winning Mercedes team.