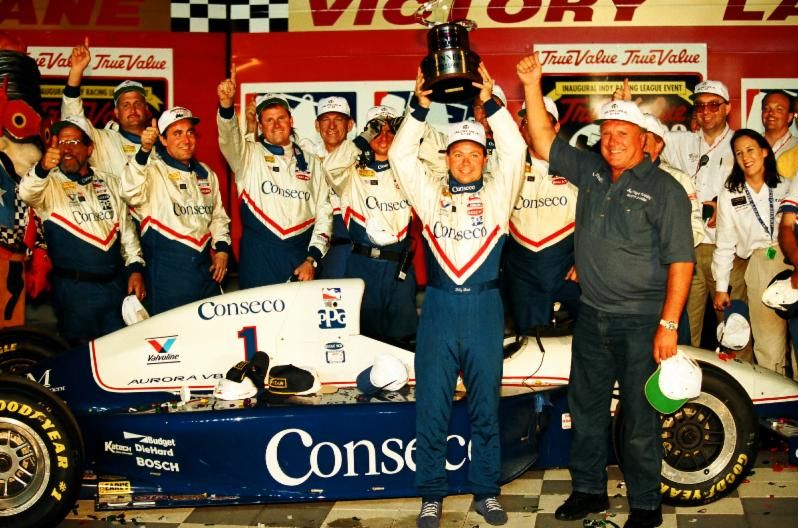 In a career full of memorable moments both in and out of the cockpit, A.J. Foyt's post-race incident at Texas Motor Speedway in 1997 stands out.
Foyt's driver, Billy Boat, had appeared to win the first Indy Racing League event on the 1.5-mile oval. But Arie Luyendyk charged into the Foyt team's celebration in Victory Lane to protest the outcome.
To put it mildly, Foyt took exception.
One day later, after USAC admitted to a malfunction of its timing and scoring equipment, Luyendyk was awarded the True Value 500k win.
The Dutchman never got the original trophy, though. He was given a replica instead, because the original remained in Foyt's possession. And since then, TMS president and general manager Eddie Gossage has sought to retrieve it.
But with the four-time Indianapolis 500 champion celebrating his 80th birthday this afternoon, Gossage says he's decided to grant the trophy's "official rights" to Foyt as a gift.
"Ever since 1997, I've been trying to get back the True Value 500k winner's trophy from A.J. since Arie Luyendyk was named the rightful winner of that controversial Indy Racing League race," Gossage said in a statement released today.
"What better gift than acknowledge that it is his to keep now and forever and I will no longer badger him about giving it back.
"All I ask is that he puts a bow on it and changes the nameplate to 'Happy 80th A.J. – Keep Up The Good Fight!'"
Gossage, who also wished Foyt a speedy recovery from his recent triple bypass heart surgery, went on to add that every time he saw Foyt, he would remind him that he wanted the trophy back – to which Foyt would "grumble at me and tell me to come down there and take it from him."
We're not surprised about that in the slightest.