Driving rain shortened Sunday's 13th and final stage of the 2015 Dakar Rally from a scheduled 174km special to a mere sprint of 34km for the car category.
But a win's a win, and in these circumstances, American driver Robby Gordon has picked up the last stage victory of the event by 25 seconds over Toyota's Leeroy Poulter and 29 seconds over Renault's Emiliano Spataro.
Gordon started the 2015 Dakar with a second-place finish only to have mechanical problems in Stage 2 effectively ruin his hopes of a much-coveted overall win.
But when his HST Gordini was able to hold up, its solid pace enabled Gordon and co-driver Johnny Campbell to, more often than not, run with or close to the leaders.
Altogether, the American duo will head home with one win, three podiums, four Top-5s, and seven Top-10s in the 13-stage rally – good for a 19th place finish in the overall standings, which is not a bad showing considering they were as low as 48th on the big board following Stage 2.
"Some of the things that bit us early in the race really put the mentality of the team behind, but one thing about our team is they don't stop," Gordon said on Sunday. "They worked all night long every night and kept rebuilding the car.
"We learned to not give up and the most important thing is that we know our car is capable. We won the last stage of the rally and ended the 2015 event on a positive note."
But while Gordon has put another Dakar stage win in his pockets, Nasser Al-Attiyah is the man of the hour. The Qatari is now a two-time Dakar champion following a sixth-place showing in Sunday's stage.
With his latest triumph in the world's toughest rally, Al-Attiyah also continues to add to his own impressive sporting resume. Along with his success in the Dakar and other cross-country rallies, he's also a five-time Olympian in the sport of skeet shooting.
In his most recent Olympic go-round at the 2012 London Games, he won the bronze medal. He's quite the sportsman, indeed.
And today, he's a very happy one after finishing more than half an hour ahead of his closest rival, Toyota's Giniel de Villiers, to add another Dakar trophy to his mantle.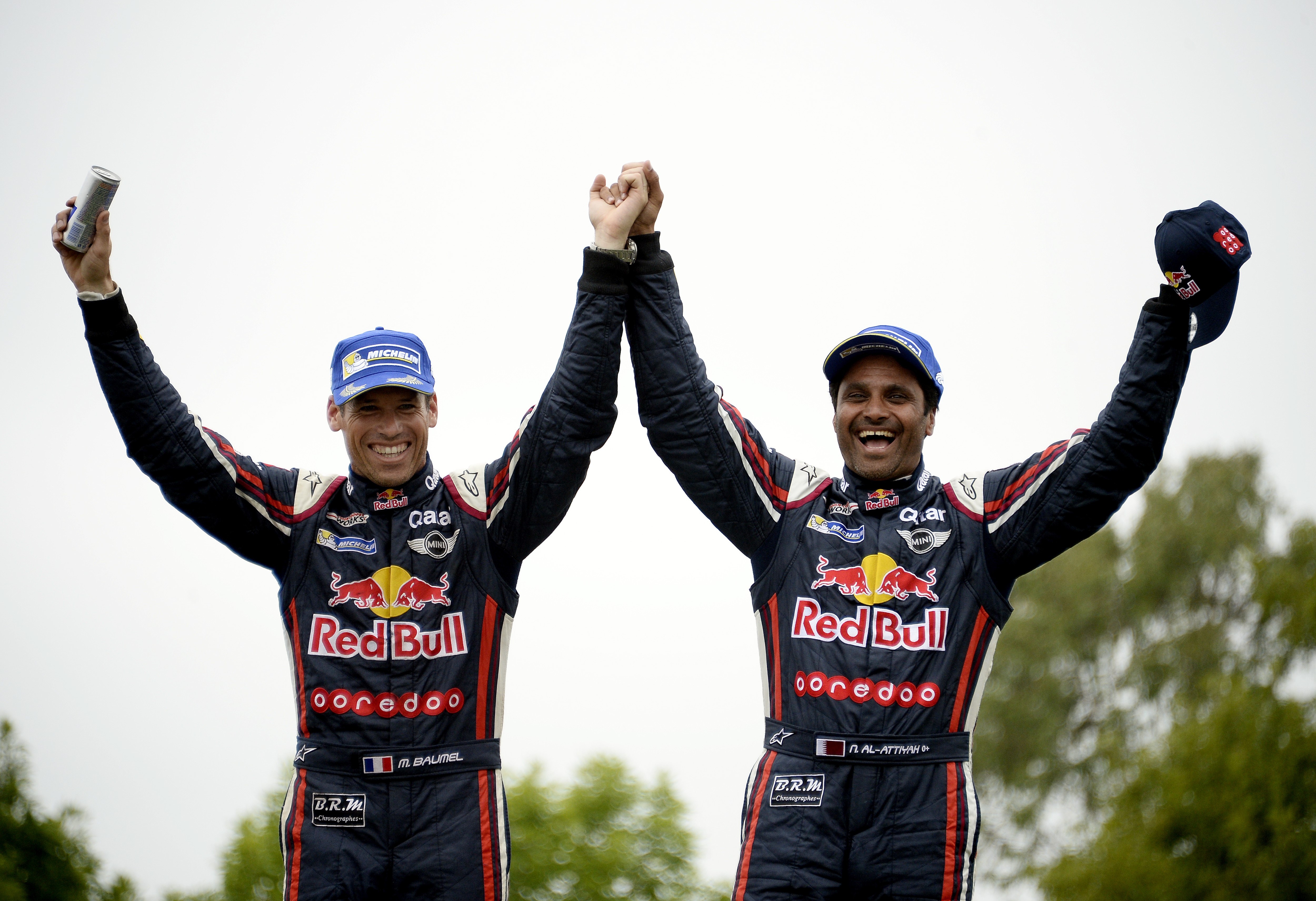 "I'm delighted I've won the Dakar," Al-Attiyah said today. "…It's fantastic because we've dominated the race from the beginning and were able to control the rally throughout.
"I've got lots of people to thank for this. I came to the Dakar in top-notch form, both physically and mentally. Then, we managed to do our job day after day. It's fantastic. Now I want to win even more."
de Villiers pursued Al-Attiyah for much of the Dakar, keeping within range up until Tuesday's Stage 9.
Less than 10 minutes separated the two drivers going into that stage, but toward the end of it, a navigational error cost de Villiers 15 minutes.
The setback caused the South African to basically concede the Dakar to Al-Attiyah barring a major problem for the latter.
That didn't happen, as Al-Attiyah promptly rattled off back-to-back wins in the next two days and stayed out of trouble for the remainder.
Another Mini driver, Krzysztof Holowczyc, has completed this year's overall podium at more than one and a half hours behind Al-Attiyah. For a while, it appeared that the third-place step would be occupied by Saudi rookie Yazeed Alrajhi.
But his retirement before Thursday's Stage 11 opened the door for Holowczyc, who didn't earn a Top-3 finish in any of the stages but remained steady (four Top-5s, 10 Top-10s) and avoided the killer setbacks (worst stage finish of 18th in Stage 11).
NBCSN's coverage of the Dakar Rally concludes tomorrow with Stage 13 highlights at 6 a.m. ET.
—
2015 Dakar Rally – Overall Standings, Cars
(After Stage 13 – Rosario to Buenos Aires, Argentina)
1. 301-Nasser Al-Attiyah (Mini), 40hrs, 32mins, 25secs
2. 303-Giniel de Villiers (Toyota), + 35:34
3. 307-Krzysztof Holowczyc (Mini), + 1:32:01
4. 314-Erik Van Loon (Mini), + 3:01:52
5. 310-Vladimir Vasilyev (Mini), + 3:12:41
6. 309-Christian Lavieille (Toyota), + 3:15:58
7. 315-Bernhard Ten Brinke (Toyota), + 3:42:02
8. 306-Carlos Sousa (Mitsubishi), + 3:44:59
9. 329-Aidyn Rakhimbayev (Mini), + 4:08:44
10. 320-Ronan Chabot (SMG), +4:42:36
19. 308-Robby Gordon (Gordini), + 7:47:40