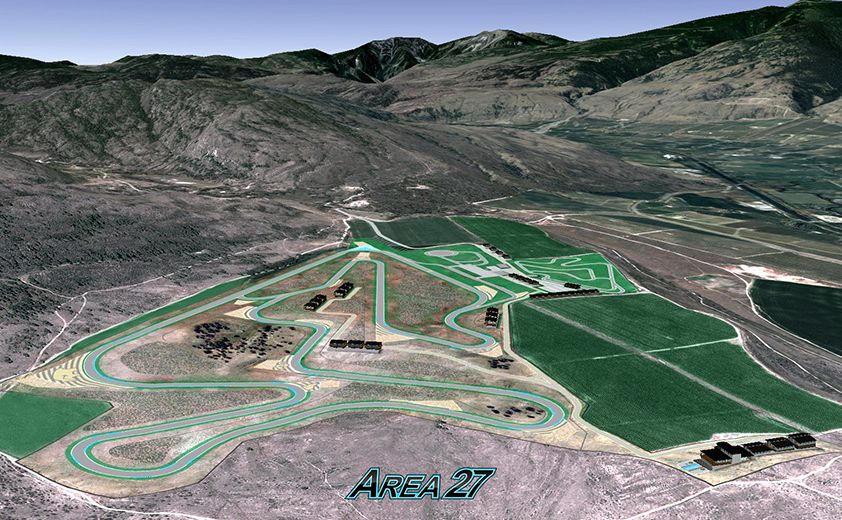 A motorsports country club that will feature a road course designed by Formula One and Indy 500 champion Jacques Villeneuve has been given the green light on construction.
The site for Area 27, a complex based in the South Okanagan region of Canada's British Columbia province, has been designated for motorsports for the next 110 years as part of final approval from the Osoyoos Indian Band on Jan. 9.
Villeneuve is part of the main group behind the complex along with president Bill Drossos, Trevor Seibert, and David King.
The first phase of their project involves creation of the Villeneuve-penned 3-mile road course, which is being constructed to FIA Grade 2 standards so it can potentially host major motorsports events in the future.
Also part of the first phase is a driving academy, karting center, access roads, fencing, and other infrastructure.
From there, Villeneuve and Co. will move into other phases that include construction of commercial buildings such as a members' clubhouse, condominium-style suites for arrive and drive days, and event-related infrastructure (grandstands, pit garages, media center, etc.).
Drossos told the Penticton (B.C.) Western News that construction is planned to begin this spring.
"For the South Okanagan, it's of huge significance in terms of potential revenue and tourism," he said. "It's a unique draw. Not competing with anything else. This will be the only thing of its kind in western Canada."
On Area 27's website, Villeneuve himself provides an idea of what kind of course he hopes to produce.
"I have been lucky to race all over the globe on a diversity of tracks over the years," he says. "Some tracks were amazing for that single [qualifying] lap excitement of driving on the edge and pushing the limit. Other tracks provided for great races with incredible overtaking opportunities. With all these options for rushes of adrenaline, there were also the tracks that seemed to lack soul or excitement.
"I have always relished the challenge of designing an exciting track, taking into account the single lap excitement, combined with wheel-to-wheel racing opportunities, all while avoiding the pitfalls of the uninteresting tracks. The goal is to design a track I would be proud of getting pole position on, where the fans would also enjoy watching an exciting race."