No matter how high or low they finish in races this season, NHRA Pro Stock Motorcycle husband and wife team Matt and Angie Smith are guaranteed a Victory ride each time.
Mr. and Mrs. Smith will become the first PSM riders in NHRA history to ride Victory Motorcycles, which is entering the sport for the first time in 2015.
"Victory is excited to enter the world of NHRA Pro Stock drag racing," Steve Menneto, vice president of Polaris, parent company of Victory Motorcycles, said in a media release. "It is Victory's intent to continue to test ourselves at the highest levels, and the Victory Factory Racing team is the perfect opportunity for us."
A Victory representative approached Matt Smith at last fall's race in Las Vegas to gauge his interest in becoming the lead driver for the company's first drag racing effort.
Since then, the entire program has come together very quickly, including body design and approval by NHRA.
Both Smiths will ride gunmetal grey bikes to promote the company's popular Gunner model.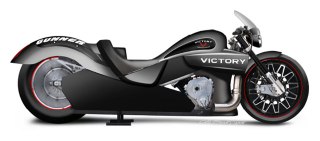 The Smiths will take their new rides to a wind tunnel for a test on Jan. 30. While the overall NHRA season begins Feb. 6-8 in Pomona, Calif., the PSM schedule does not start until March 12-15 in Gainesville, Fla.
"I won't know how I might have to adjust my riding stance until we get to the wind tunnel, but I think it's going to be better," Smith said. "It's pretty different from what I've ridden in the past, but it's got a smaller frontal area than the Buell, which is always a good thing."
Victory will join other brands in the series including Harley-Davidson and Buell.
In addition to join sponsorship on both bikes from Stockseth Racing, Matt Smith's bike will be sponsored by Nitro Fish, while Angie Smith's bike will be sponsored by Kandy Magazine.
Follow me @JerryBonkowski