CHARLOTTE – Surrounded by 100 wide-eyed and smiling questioners sitting cross-legged on the floor of the NASCAR Hall of Fame, Danica Patrick faced an unusual inquisition Sunday.
Kids had carte blanche to grill the popular NASCAR driver. But Patrick was suspicious if the first question – "Do you get mad when your boyfriend wrecks you?" – actually came from the mouths of babes.
"I thought it was adorable," Patrick said with a laugh after the event, which promoted a new Rookie Racers Club that offers discounted Hall of Fame admission for kids 12 and younger. "I figured that was too insightful of a question. I feel like it might have come from Mom or Dad.
"All the kids had really cute questions. I'm happy to be where I am and have the people follow me that do, but it's just like extra happy when it's kids. They're so excited to meet you. There hugs are so pure. Their questions are so pure. It was a fun event for me to do."
The Stewart-Haas Racing driver set the tone for the lighthearted event when she walked onto a dais in the Great Hall with her 10-month-old Siberian Husky, Dallas.
"No one wants to applaud for Dallas?" Patrick asked the crowd after being introduced. "Let me let him off the leash. If I do this at the track, I worry he'll be getting in the car."
A few dozen kids immediately circled the puppy, delighting Patrick ("She's really cute and people can pet her a lot easier than I'd let them pet me.") and causing NASCAR Hall of Fame executive director Winston Kelly to note she probably wasn't accustomed to being upstaged.
"It's the first time Dallas came to an event," Patrick said. "I think I underestimated how overwhelming it can be when there's 20 kids trying to touch her nose. I think if 20 people tried to touch my nose, I might get away from it, too."
Patrick, meanwhile, seemed completely comfortable while spending about an hour answering questions and then taking photos with the first 100 children who attended. Alex Scholz, 7, of Indian Trail, N.C., was named the charter member of the Rookie Racers Club by arriving with his father, Michael, at 6:30 a.m. – six and a half hours ahead of schedule.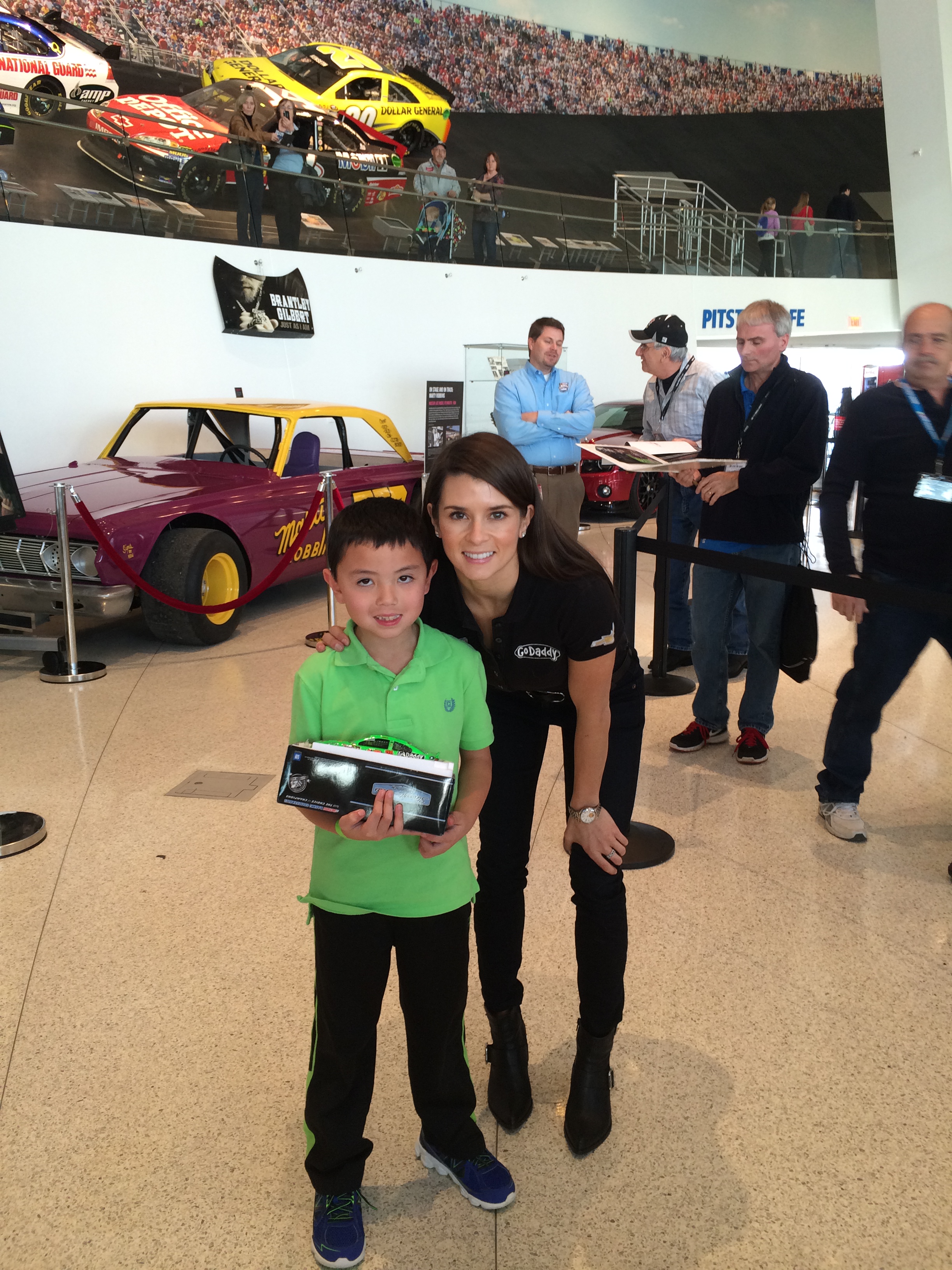 Patrick has grown accustomed to handling youngsters. She helps baby-sit younger sister Brooke's daughter Reese, who just turned 1.
"I definitely have spent a lot of time lately with my niece," Danica said. I think it's really come a lot from spending time with kids at the racetrack. Seeing them in autograph lines or (being) around friends with kids. I'm always trying to break them if they're shy or don't want to come over, I always try to make them soften up and get excited to meet me.
"It always starts off with the really good questions about, 'What's your favorite color?' and 'How old are you?' They know those answers. You can get them to talk to you that way. I like spending time with them, and I've learned from being at the racetrack."
Patrick is ready to be back at the track after a two-month layoff. With a testing ban in effect, she hasn't been in her No. 10 Chevrolet since an 18th in the 2014 season finale at Homestead-Miami Speedway.
That was Patrick's best finish under new crew chief Daniel Knost, who returns after guiding her for the last three races last season.
"I'm optimistic about 2015," Patrick said. "I think we made progress in the three races we had. It started rough and still wasn't perfect at the end by any means.
"I think the race cars got better over those three races, and he made some really good race calls, so I'm optimistic. I'm excited. I think no testing is going to give us a slower start, but it's just going to put that much more emphasis to the track time we have and making the most of it and really thinking about what's going on with the race car and trying to develop our communication skills."
Before heading to Daytona International Speedway next month for Speedweeks, Patrick will return to facing questions from adults Tuesday during the SHR stop on the second day of the preseason NASCAR Media Tour.
She might face some queries as blunt and potentially awkward as how she and Ricky Stenhouse Jr. deal with being in wrecks together. She handled it well Sunday.
"Yes, I have been mad before," Patrick responded. "But we talk about, and then we get over it. And we don't get to bed mad or we're just not going to bed. We will talk about. Sometimes. But sometimes we don't mean to; they're just accidents."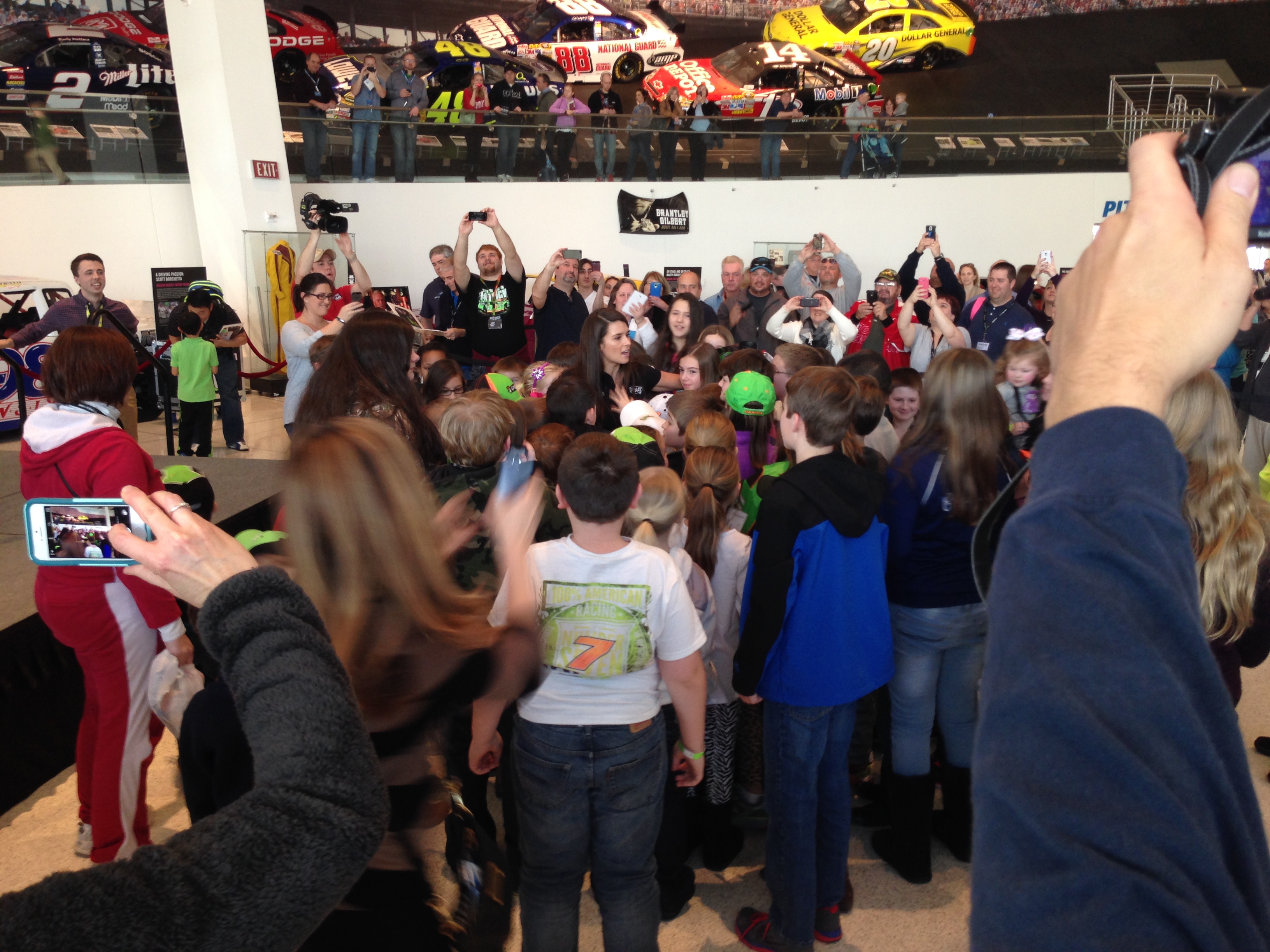 Here's how the rest of her Q&A with kids went:
What job would you have done if you weren't racing?
"I have no idea. I started racing when I was 10. How many of you are 10 or older? I was already racing by that point and time. Before I raced, I wanted to be a singer, a veterinarian. But then when I was 10, I started racing. Then I thought I'd go to college for engineering to learn how to work on my race car. I really didn't have to think about anything after that. My dreams came true. I always kept in mind that I wanted to be a race car driver. That's what happened. I had a lot of confidence and faith that it would happen."
What is being a driver like?
"It's mostly really fun. It's a lot of work at times, too. My office is very hot sometimes. It gets to over 130 degrees in my office — that's my race car. But it's mostly just great that I get to do something I enjoy and have fun. That's why when you're young, you've got to think about what you want to be when you grow up. I thought about what I wanted to do when I grew up, and that was a race car driver, and that happened. You just have to work hard toward what you want and have fun doing."
What inspired you to race?
"Good question. I really just wanted to spend more time with my family. My dad worked, and my mom got to stay home and take care of my sister and I. On Sunday nights, we used to go to a dirt track and watch cars race. My dad worked on one of the cars. So we were looking for a way to spend more time together as a family because we just didn't see our dad very much. When we got up, he was gone to work. Went to bed, he wasn't home yet. The first thing we were going to do was we were going to buy a boat. Maybe one day I'll end up getting that boat. So when we didn't get the boat we wanted, then my dad decided to buy go-karts, and we went go-kart racing. I just didn't want to get left out because my sister wanted to do it. I wanted to do it do, and it seemed to work out, and I was good at it."
How is it like to be the only girl racing?
"To put it simply, I don't think about it. I don't look at myself as being any different. I'm a race car driver like they are. So I don't think of myself as being different."
When did you win the first prize of NASCAR?
"I sat on the pole for the Daytona 500, that's my first prize, but I have not won yet. So I hope that I can answer that question sooner than later. But I have not won yet in NASCAR. But in IndyCar, I won in Japan. And in go-kart racing, I won about halfway through my first year and just about won the championship. I went from not being able to keep up and just going slow to winning races by the end of the year and sitting on the front row."