During its annual awards banquet, the National Motorsports Press Association announced several key award winners on Sunday.
First, the late Lynda Petty, wife of seven-time NASCAR champion Richard Petty, was named the recipient of the NMPA's annual Spirit Award for 2014.
Petty, who passed away March 30, 2014, was known for her charitable work both inside and outside the racing community.
Petty was the first quarter recipient of the award in 2014, while Martin Truex Jr., the late team owner Junie Donlavey and Michael Waltrip also won the quarterly phases of the award in 2014. Petty then was voted the overall winner for the year by NMPA members.
Next, Sprint Cup champion Kevin Harvick was named the winner of the NMPA's Richard Petty Driver of the Year award for 2014.
The award has been presented each year since 1969, following a vote by NMPA membership. Harvick, who also won the award following his rookie season in 2001, received nearly 75 percent of the votes cast by NMPA members.
Others receiving votes included Chase Elliott, Jeff Gordon, Jimmie Johnson, Brad Keselowski, Joey Logano, Ryan Newman and six-time World of Outlaws champ Donny Schatz.
Two other awards of note were:
* NASCAR senior director of competition communications Kerry Tharp received the Joe Littlejohn award for his service to the NMPA.
* Martinsville Speedway public relations director Mike Smith was also recognized with the Ken Patterson award, which honors a PR representative in the industry who exhibits the kind and generous qualities that Patterson, the late PR director of Talladega Superspeedway, demonstrated.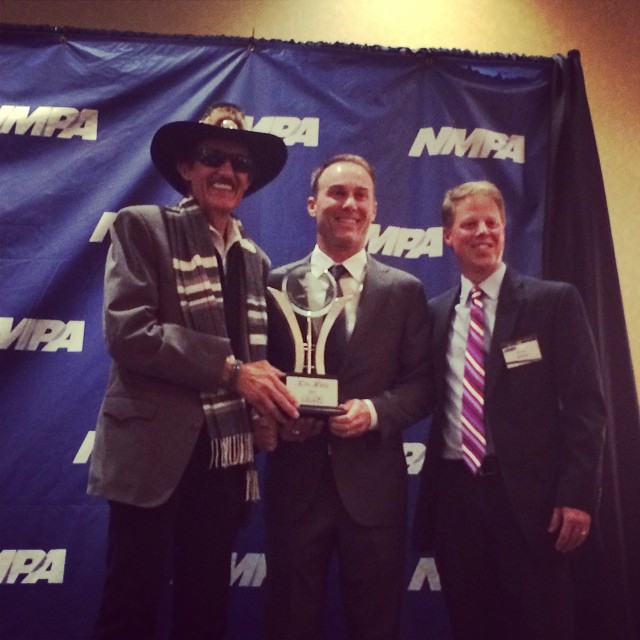 Follow me @JerryBonkowski