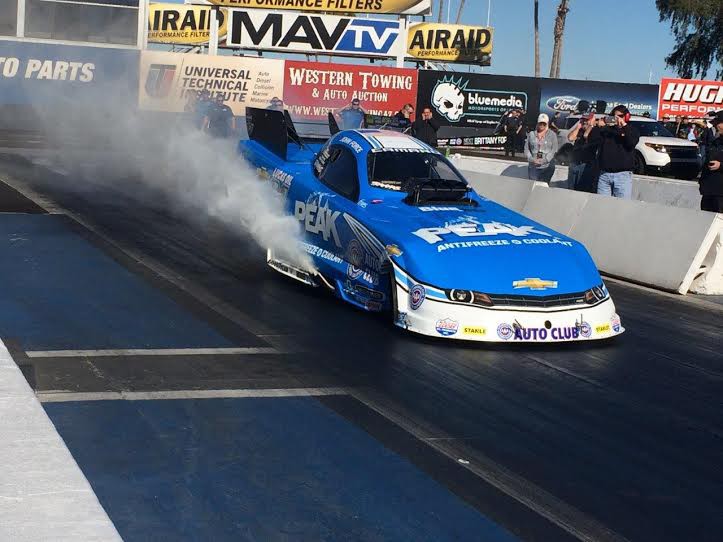 You've heard the old baseball axiom about you can't tell the players without a scorecard?
Well, that's kind of how it's going to be for many fans of 16-time NHRA Funny Car champ John Force in 2015, at least early on in the season.
For the first time in 30 years, Force will not be carrying the green, silver and white Castrol Oil banner on the side of his Funny Car.
Instead, for most of this year's 24 NHRA national events, Force will be behind the wheel of a car carrying the bright blue banner of PEAK Anti-Freeze and lubricants.
But wait, there's more changes in the Force camp.
For the first time in nearly 20 years, Force will be driving a Chevrolet Camaro body instead of a Ford Mustang body.
Thankfully, Force himself hasn't changed. He's still one of the most colorful, charismatic and fan-friendly drivers not only in the sport, but in all forms of sport.
"We're in a tough economy, but corporate America, the world is out there starting to realize let's rebuild America, and John Force, I'm going to help rebuild drag racing," Force said in a recent NHRA teleconference. "I think we have a great product in NHRA. I think the leaders at the top are trying to get us to build this sport to the next level. We've got a lot of work, all of us to do, and if we work together, we'll get there.
"I think Pomona (the season-opening Winternationals this weekend in Pomona, Calif.) is going to be a home run. I know how the fans are reacting to me coming back in the Chevrolet, and with PEAK Antifreeze, so bring it on. Bring on Hagan (defending Funny Car champ Matt Hagan). I'm ready for you, kid."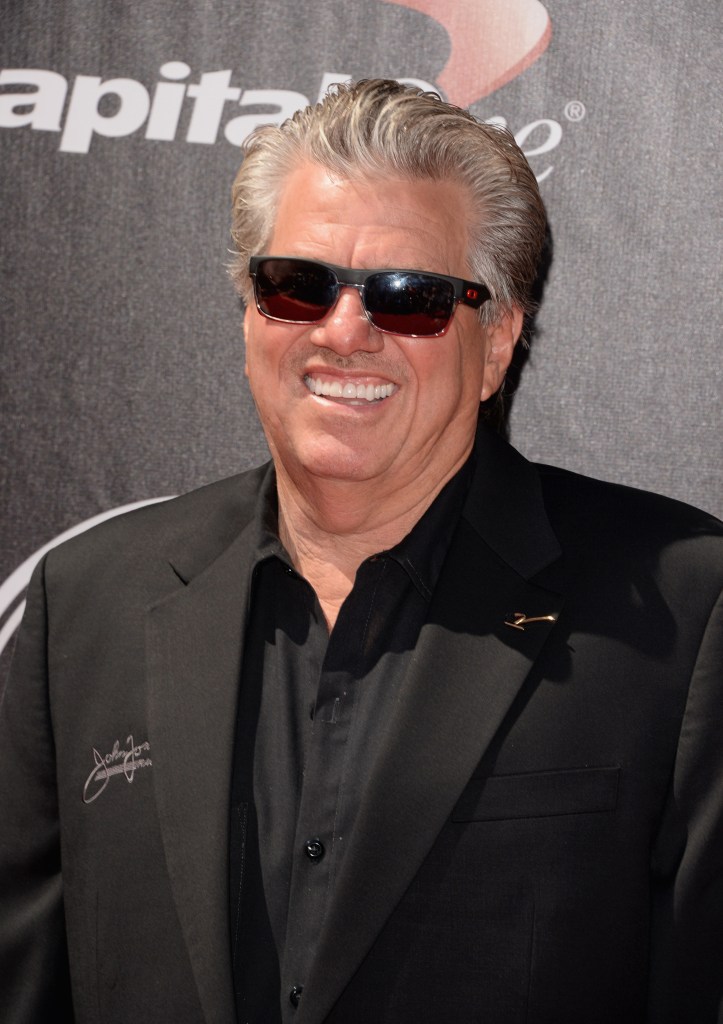 Force is closing in on his fourth decade of Funny Car racing. He'll be 66 on May 4, but has no plans of retiring – or even scaling back to a part-time schedule.
"Driving is what I really do," Force said. "The rest of this stuff, it's the day to day business that will wear and tear you. When I got to testing, everybody said my personality changed, because you get back into what you really love, and that's driving a race car on the NHRA circuit.
"I can't wait to get to the Winternationals. I'm excited because driving that car is I'm good at it. It's not like they told me Jeff Gordon, I did some interviews that he's going to be retiring, and boy, I've probably got 25 years on him. But retiring is not an option to me. I love what I do. I'm still good at it.
"Everybody is excited to see John Force back, and then I'm in business and back to my roots where I came from, General Motors. Life is good, but the car is what I do, and that's what I get in it, I swear to God, I always said, one day at the end of the my career I'm going to drive naked and blindfolded. I believe I could still get the job done. It wouldn't be pretty but I could get it done. I'm ready to drag race."
Despite all the changes he and his team have gone through, Force has been ready to race since the end of last season.
Or maybe a better way of putting it is he wishes he had a few more races – or at the very least, a few more rounds within a race or two last season.
Force missed out on a record 17th NHRA Funny Car championship by ending up a mere 43 points shy of Hagan, with whom he has built quite the budding rivalry.
"I talked to Schumacher (Don Schumacher, team owner of Hagan's Funny Car) the other day," Force said. "I said, 'I need to race you. You're part of what drives me. You know what I mean? It's what gets me up in the morning.'
"Hagan is one of his best, him and (crew chief) Dickie Venables. I'm ready, but Hagan will tell you, if he focused on me and I focused on him, well then (fellow drivers) Cruz Pedregon or Robert Hight or Courtney (Force) or Ron Capps is going to go around us.
"So what do we do? We take them a day at a time. I like Hagan because he's respectful, and if he loses he's respectful, and if he wins he's respectful. Some guys find it hard to handle either way. But at the end of the day, it is hard when you lose. It was hard on me (last season), especially in the situation I was in."
Force lost crew chief Jimmy Prock with two races remaining last season. Prock's replacement, long-time John Force Racing employee John Medlen, then resigned after the season to join Prock as co-crew chief for the Schumacher-owned Funny Car driven by veteran Jack Beckman.
That triumvirate will put additional pressure on Force, who has named 27-year-old Jon Schaffer as his new crew chief for 2015.
"I've got a young team that put my hotrod in the threes (seconds in recent testing at Phoenix)," Force said. "Jon Schaffer, he was Little Jon, now we call him Big Jon, but he's trained since he was 17 years old.
"… He's proved he could get the job done. Young team, kind of an old guy over here, me, but it's a balance, and we work great together."
The way Force is going, with good health, new sponsors and a revitalized view on the sport, he may race until he's 100 years old.
"Yeah, if I live to 100," Force said. "I have days, I'm not kidding anybody, at my age I wake up and old muscles are aching, but I get down in that gym, and 30 minutes in that gym, I'm 20 years old again. Put me in that fire suit, I'm 16 years old.
"I stood on the start line with a young kid, Jon Schaffer, and I looked at this kid, and I thought, I have dumped the weight of the world on him. … I had a sit down with Jon. If we win, we win together. If we lose, we lose together. But as long as we've got the dream, we're going to be okay.
"… Let's see what we can do at Pomona. Could be terrible, could be great, but at least I get to go. And that's what I love. I love NHRA. I'm sorry, I just do."
Even though he came scarily close to not replacing Castrol or Ford, as he's done so many times in his career, Force got the job done and in the end, all's well that ends well.
"I've got to admit this time we got hit pretty hard, but in the midst of it, we recovered," Force said. "That don't mean we're going to run out and win a championship right off the bat, but we'll be a contender, I give you my word on that."
Follow me @JerryBonkowski