When the 55th annual season-opening National Hot Rod Association Circle K Winternationals kick off Friday at Auto Club Speedway in Pomona, Calif., a long winter for fans needing a high-speed fix will finally come to an end.
The opening round of the 24-race Mello Yello Drag Racing Series has historically seen some of the best racing of the season, records broken and for some teams, gives an early indication of whether they're in for a good season or a long season.
This will be a very pivotal season for the NHRA as a whole, which lost one of its biggest Top Fuel teams in the offseason due to financial issues.
At the same time, NHRA is making a concerted effort to attract new fans to the sport – especially young fans – with the "Baptism By Nitro" theme, focusing on Top Fuel and Funny Car, and a great video highlighting the effort (below).
Let's take a look at the top three professional categories: Top Fuel, Funny Car and Pro Stock and how they each shape up in 2015:
TOP FUEL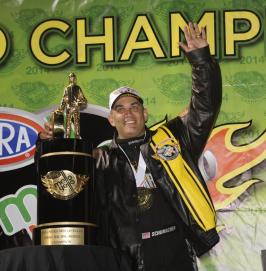 After not having won a championship since 2009, Tony Schumacher rallied back to earn his eighth Top Fuel title in 2014.
Schumacher will have his hands full in going for title No. 9, with several former champs including Larry Dixon, Antron Brown and Shawn Langdon, as well as key challengers Spencer Massey, Doug Kalitta, J.R. Todd, Brittany Force and 2014 NHRA rookie of the year Richie Crampton also gunning for the championship.
"I think we're just proud to have the No. 1 on the car, not that we've got to try harder or do this or do that," Schumacher said on an NHRA teleconference last week. "But we're happy that the year ended like it did, and grateful for the same guys returning back and doing the same jobs, and we're getting better and stronger every day.
"… This is just so much pressure. And what I'm so happy to be able to do is look back on all the times that it's been so difficult and how we've pulled it off. It makes it so much easier to get through those moments, because there was a time where it was deer in the headlights. It was so big, you thought, there's no way. And then you win a few of those and your team pulls off these miracles, and you start to believe. Some (media) actually joke about it. I believe in stuff that doesn't seem possible."
One significant change occurred late in the off-season when Qatar Racing Club pulled all funding of the Al-Anabi Racing team, sidelining 2014 Winternationals winner Khalid alBalooshi.
"Honestly, I was bummed," Schumacher said when he first heard the news about Al-Anabi. "I've been there when you find out something last minute is changing. It's terrible. It's not good for the sport. Not only do we need more cars, but we can't in any way afford to lose any of them, and not the caliber of crew that those guys are."
Even with Al-Anabi now history, team owner Alan Johnson has decided to go forward and compete while still working on new sponsorship for what initially will be a one-car team with 2013 champ Shawn Langdon behind the wheel.
Also of note, veteran Pro Stock driver Dave Connolly will make his debut behind the wheel of a 10,000 horsepower Top Fuel dragster.
"These Top Fuel cars are the baddest things on the planet," Connolly said in a NHRA media release. "There's no way to prepare for it. These cars are so impressive. They just set you back in the seat the whole way down the track."
Connolly, a winner of 26 races in the Pro Stock ranks, won three of those races last season en route to a third-place finish in the final standings.
When fellow veteran driver Bob Vandergriff retired at the end of last season, he asked Connolly – a long-time friend – if he'd be interested in moving up in class.
Connolly didn't hesitate with his answer, especially with the fact he's teamed with three-time Top Fuel champ Larry Dixon in Bob Vandergriff Racing's other dragster.
"It is going to take some adapting," Connolly said. "Obviously, any time I think I can speak for any drag racer, you roll through the gate, you want to think that you have a chance or a possibility of winning a drag race or else you wouldn't even enter. I understand, and I'm very well aware that it's going to take some time to get acclimated with these cars.
"Anything can happen on Sunday. We've all seen that in drag racing. All I can do is just go out there and just keep learning and keep that competitiveness. It's still getting the car A to B as fast as you can and leaving the starting line on time mentality. I'm just going to go out there and just keep an open mind, obviously, but still, I want to win every time I sit in the car."
FUNNY CAR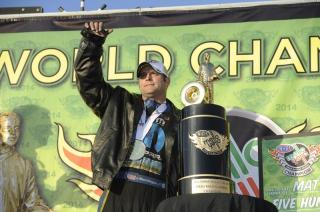 It should be an interesting year in Funny Car.
Matt Hagan held on in a close late-season battle with 16-time champ John Force to earn his second Funny Car title in four seasons in 2014.
"Someone said earlier (at a press conference) that your second (championship) is harder to get," Hagan said. "They're all hard. Every one of them is hard to get. There's not an easy one out there. But they're all very, very special in their own way, and I'm just tickled to death: It's my second one of my career, and in such a short amount of time, six years out here driving for Don Schumacher Racing and to be able to have two championship trophies from NHRA and Mello Yello sitting in your living room."
Hagan will have the bulls eye on him in 2015, with Force, daughter Courtney Force, Ron Capps, Alexis DeJoria, Jack Beckman, Cruz Pedregon, Del Worsham, Tommy Johnson Jr. and Tim Wilkerson among others looking to unseat Hagan.
Two things of note in Funny Car in 2015:
1) After 30 years with Castrol Oil and nearly 20 years with Ford, John Force will debut a new primary sponsor (PEAK Anti-Freeze and lubricants) and new manufacturer (Chevrolet) in 2015.
"If my hair wasn't gray enough, it is now," Force laughed in a recent NHRA teleconference. "But luckily, in this tough economy, I put it back together. … PEAK Antifreeze and Coolant coming on board, it led the way to lead the charge for John Force personally to be able to chase the championship.
"… Probably the icing on the cake was Chevrolet coming in with the Camaro SS and all the work that it took to redesign what we had, to put it into play."
2) Force lost veteran crew chief Jimmy Prock and long-time employee John Medlen to rival Don Schumacher Racing, where Prock and Medlen will be co-crew chiefs for Jack Beckman, who is looking for a resurgence in 2015.
PRO STOCK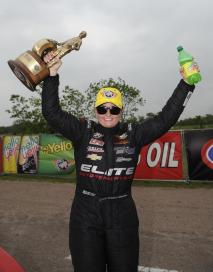 Erica Enders-Stevens became the first female Pro Stock champ in NHRA history in 2014, even though she missed three races during the middle of the season.
Enders-Stevens held off Jason Line in the 2014 season-ending World Finals to not only earn her sixth win of the season, but to also capture the Pro Stock championship.
"We're the defending world champions, and it's a pretty awesome place to be," Stevens said in a NHRA teleconference. "I guess it really hasn't completely sunk in because some days it'll just cross my mind, and I can't believe it.
"It's pretty cool. I've never been in that situation before, and we're really excited and honored to carry the No. 1 this year. It'll be a memorable year, and we're going to go to Pomona and give it our all and hopefully carry No. 1 into 2016 also. That's everyone's goal."
While Enders-Stevens indeed hopes to repeat as 2015 Pro Stock champ, the competition will be as hard, if not tougher, than it was last season. Among the other key players she'll be competing against are Line, former multi-year champs Greg Anderson and Jeg Coughlin, Shane and Jonathan Gray, Vince Nobile and Allen Johnson.
"I haven't gotten unfocused," Stevens said. "What we accomplished last year doesn't change anything ever. It's a great accomplishment and really cool, but you can go from hero to zero really quick, week-in and week-out. I learned that a long time ago. We've got our work cut out for us, and we're going to swing for the fences just like we did last year."
PRO STOCK MOTORCYCLE
After winning three straight two-wheel championships from 2004 through 2006, Andrew Hines finally earned his fourth title in 2014, dominating much of the second half of the season.
Also of note, Victory Motorcycles will enter NHRA competition for the first time ever, sponsoring husband and wife team Matt and Angie Smith in the 2015 season.
PSM has a shorter schedule than the other three pro classes – 16 races compared to 24 races. Because the first PSM race of the season will be at Gainesville, Fla., March 12-15, we'll have a longer season preview of the class as time gets closer to that race.
* * * * * * * * * * * * * * * * * * * * * * * * * * * * * * * * * * * * * * * * *
CIRCLE K NHRA WINTERNATIONALS FACT SHEET
WHAT: 55th annual Circle K NHRA Winternationals, the first of 24 events in the NHRA Mello Yello Drag Racing Series. Drivers in three categories – Top Fuel, Funny Car and Pro Stock – earn points leading to 2015 NHRA Mello Yello Drag Racing Series world championships.
WHERE: Auto Club Raceway at Pomona, Pomona, Calif. Track is located off I-10 at Fairplex Drive. Go north on Fairplex drive.
WHEN: Thursday through Sunday, Feb. 5-8
SCHEDULE:        
THURSDAY, Feb. 5 – LUCAS OIL SERIES qualifying
FRIDAY, Feb. 6 – LUCAS OIL SERIES eliminations
MELLO YELLO SERIES qualifying at 12:30 and 3:30 p.m.
SATURDAY, Feb. 7 – LUCAS OIL SERIES eliminations
MELLO YELLO SERIES qualifying at 12:30 and 3:30 p.m.
SUNDAY, Feb. 8 – Pre-race ceremonies, 10 a.m.
MELLO YELLO SERIES eliminations begin at 11 a.m.
TELEVISION:      
Saturday, Feb. 7, ESPN2 will televise 90 minutes of qualifying coverage at 10 p.m. (ET).
Sunday, Feb. 8, ESPN2 will televise three hours of eliminations coverage at 7:30 p.m. (ET).
2014 EVENT WINNERS: Khalid alBalooshi, Top Fuel; John Force, Funny Car; Jason Line, Pro Stock
MOST WINTERNATIONALS WINS: John Force, FC – 7; Bob Glidden, PS – 7; Greg Anderson, PS- 5; Don Garlits, TF- 5; Warren Johnson, PS – 5; Don Prudhomme, TF/FC – 5; Larry Dixon, TF- 4
TRACK RECORDS:            
Top Fuel – 3.704 sec. Morgan Lucas, Nov. '14; 330.15 mph by Doug Kalitta, Feb. '14
Funny Car – 3.965 sec. and 324.12 by John Force, Feb. '14
Pro Stock – 6.480 sec. and 213.67 mph by Erica Enders-Stevens, Nov. '14
NATIONAL RECORDS:    
Top Fuel – 3.701 sec. by Antron Brown, Oct. '12, Reading, Pa.; 332.18 mph by Spencer Massey, April '12, Charlotte, N.C.
Funny Car – 3.965 sec. and 324.12 mph by John Force, Feb. '14, Pomona, Calif.
Pro Stock – 6.464 sec. and 215.55 mph by Erica Enders-Stevens, May '14, Englishtown N.J.
Follow me @JerryBonkowski