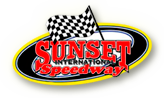 While the sun has likely set on Canada's Barrie Speedway, it's suddenly rising on nearby Sunset Speedway.
Barrie Speedway, which has hosted racing events for 45 years, was sold two weeks ago and its new owners do not plan to continue holding races there.
As a result, just a few weeks after releasing its 2015 racing schedule, the NASCAR Canadian Tire Series announced Thursday that the previously scheduled Sept. 12 race at Barrie Speedway will be held June 20 at nearby Sunset Speedway.
The event will be called the Leland Industries 300 Presented by Johnsonville. In making the date and track switch, the series will maintain its previously announced 11-race season schedule.
"We are pleased to welcome Sunset Speedway to the NASCAR family," George Silbermann, NASCAR's vice president for regional and touring series, said in a media release. "Sunset is a fantastic facility with great competition and it will anchor NASCAR racing in Ontario."
Sunset Speedway, which has operated since 1968, is a .333-mile high-banked oval located in Innisfil, Ontario, less than an hour from downtown Toronto.
The 2015 Canadian Tire Series season opens May 17 at Canadian Tire Motorsport Park.
With Barrie's demise, Sunset will also be added to NASCAR's weekly Whelen All-American Series Program, according to InsideTrackNews.com.
The first weekly event will be held May 2, and will host several race classes including Late Models, super stocks, mini stocks and mighty minis, according to NASCAR and track officials.
"It is a very exciting year for me and the whole Sunset team," said Mark Dilley, Sunset Speedway's general manager. "Our goal has always been to host NASCAR, and that day has finally come.
"… It is a great opportunity for all of the fans, competitors and staff at Sunset, and I am proud to be a part of it."
Follow me @JerryBonkowski