Top Fuel drag racer Shawn Langdon made NHRA history in the first of what was supposed to be two scheduled final qualifying rounds Saturday in the season-opening Circle K Winternationals in Pomona, Calif.
In his first run of the day shortly after Noon (PST) at Auto Club Raceway, Langdon recorded the quickest run down a 1,000-foot dragstrip that the sport has ever seen at 3.700 seconds, and at a blistering speed of 328.30 mph.
As Jim Peltz of the Los Angeles Times wrote, "Put another way, Langdon's 10,000-horsepower dragster traveled an average 270 feet per second."
However, Langdon's mark is not an official NHRA record – at least not just yet.
The sanctioning body approves records provided either a prior or subsequent run during the same weekend event is within one percent of the original time or speed that is being considered for a national record.
Needless to say, Langdon is the No.1 qualifier in Top Fuel going into Sunday's final eliminations.
"It was just a picture perfect run," Langdon said in a NHRA media release. "It left, had the front end up, it was accelerating hard and it just pulled all the way until I shut it off.
"I went through the finish line and I thought I got a glimpse of the 3.70 on the scoreboard but wasn't really sure. On a 100 degree day on the track, I really wasn't even thinking about a 3.70. It wasn't really until I turned the corner and saw everyone hooting and hollering that I was like 'Ah, I guess I did see that.'"
Langdon was hoping to go quick enough to set the record in Saturday's scheduled second qualifying run later in the afternoon, but the round was cancelled due to rain.
He can still set the record during Sunday's final eliminations, again, provided that he comes within one percent of the elapsed time – which would be approximately 3.737 seconds or less.
The current elapsed time record in Top Fuel is 3.701 seconds, set by Antron Brown in 2012 at Reading, Pa.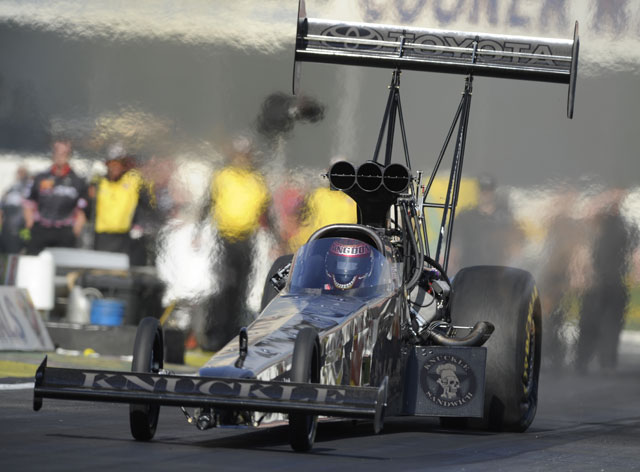 If Langdon can both set the record and win the event Sunday, it would be a storybook finish for himself and team owner Alan Johnson.
A month ago, Al-Anabi Racing, which had been primary sponsor for Alan Johnson Racing's two Top Fuel dragsters over the last six seasons – including three national season championships – announced it was immediately withdrawing all funding from the team for the 2015 season.
MORE: NHRA shocker: Qatar Racing Club suspends sponsorship, Al-Anabi plans TBD
Johnson was forced to condense his team to only one dragster, driven by Langdon. The team is committed to race in just this weekend's event and two weeks from now in Phoenix, unless it can gain additional sponsorship.
A record by Langdon would certainly go a long way towards perhaps attaining that much-needed funding, indeed.
MORE: NHRA: Alan Johnson Racing moves forward without Al-Anabi
Richie Crampton qualified No. 2 (3.730 seconds, 328.46), while Doug Kalitta, who earned the provisional No. 1 spot during Friday's qualifying, will start Sunday's eliminations from the No. 3 spot (3.733 seconds, 327.59 mph).
Follow me @JerryBonkowski