There's an old adage among amateur drag racers about "racing for our supper."
In other words, if they do well during a racing session, they may earn a few bucks in winnings, just enough to buy dinner.
In a sense, that's kind of the case for NHRA Top Fuel team owner Alan Johnson and his driver, Shawn Langdon.
Having lost their sponsorship a month before the current season began, Johnson and Langdon have not only been racing for their supper in the first two races of the 2015 season, they're also racing for their collective professional livelihood on a race-by-race basis.
This weekend's Amalie Gatornationals at Auto Plus Raceway in Gainesville, Fla., marks Johnson and Langdon's next race.
If they don't finish well, it could also be their last race.
At least for the time being, that is, barring any new sponsorship that comes their way.
Essentially, Johnson and Langdon have to win or finish strongly to go on to the next race, March 27-29, in Charlotte, N.C.
It's a tremendous amount of pressure, but Johnson is taking things in stride.
"We're still entertaining some funding opportunities, but nothing is certain yet," Johnson told MotorSportsTalk. "Obviously, these things take time … companies (potential sponsors) don't act in 30 seconds We're just kind of moving along from race to race, hoping something happens.
"But at some point, we're going to have to draw a line if we can't get it done. Gainesville is our next race and we're planning to go there and win. Hopefully, by the time the weekend is over, we'll have some funding in place. But obviously, there's no guarantees."
AJR has won three of the last five NHRA Top Fuel championships (2010, 2011 and 2013) and six overall (1997, 1998 and 2000 beforehand).
And even with all the difficulty his team has already gone through with the loss of its sponsorship, Johnson is still optimistic that a seventh Top Fuel championship is attainable in 2015.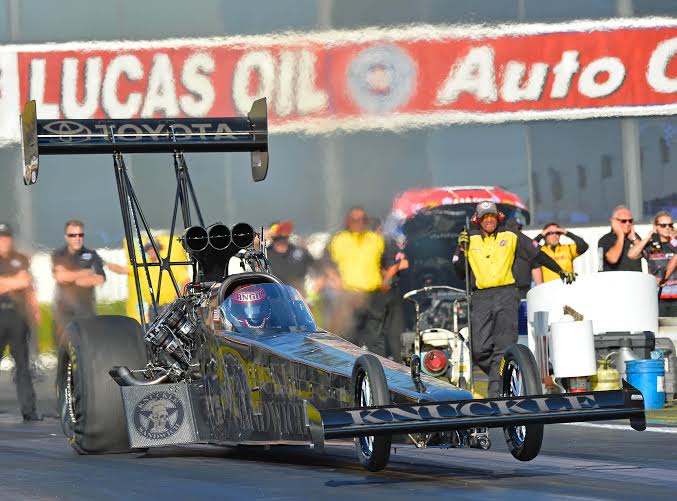 "Racing the entire season and competing for the 2015 NHRA Mello Yello world championship is still our goal," Johnson said. "We are racing in Gainesville to provide a little more time to put a program together that will allow us to do that.
"We enter every race with the goal of winning it, and we are going to Gainesville with every intention of winning the Gatornationals."
Langdon, who won the 2013 NHRA Top Fuel championship, has kept Alan Johnson Racing going with some excellent driving in the first two races.
In the season opener at Pomona, Calif., Langdon had a storybook weekend, particularly with AJR fresh off the loss of its sponsorship.
Langdon not only qualified No. 1 at Pomona, he recorded the quickest 1,000-foot pass in NHRA history (3.700 seconds) and then capped things off by winning the entire event.
In the second race of the season at Phoenix, Langdon reached the semifinals, and emerged with the Top Fuel points lead intact, leading Antron Brown by 33 points.
It goes without saying that AJR is off to a good start performance-wise.
"Without a doubt," Johnson said. "My teams over the years have always been performance-based. That's what we do.
"We're obviously happy we won Pomona and hope we can do the same thing at Gainesville."
When the sponsorship left, Johnson committed to compete in just the first two races before analyzing where to go from there.
But given how strong the team has performed – as well as efforts by renowned Food Network star Guy Fieri to seek sponsorship for the AJR dragster – it's now on to Gainesville, where Johnson's team has three national event wins (late brother Blaine Johnson in 1996, Larry Dixon in 2009 and Del Worsham in 2011).
Even though he has a successful performance business away from the racetrack, Johnson admits the last two months since sponsorship dried up have been very challenging from a personal standpoint.
"It has been frustrating and disappointing," Johnson said. "But our employees have been wonderful through this whole thing. That's my No. 1 attention, to make sure my employees are taken care of well.
"Things happen and sometimes they're out of your control. You just have to make the best decision and hopefully make it work for you in a positive way. … Patience is very paramount at this point.
"Am I scared, no. … But certainly I want to be out there competing. If I'm not, that would be the one thing I'd miss, the competition."
Even though his and the team's future is dependent upon his dragster continuing to doing well, Langdon is really looking forward to this weekend's event.
"It's been a long time since I've been this excited to get back out to a race track," Langdon said. "With not knowing until kind of the last moment if we were going to Gainesville, getting that phone call saying we were going got all the butterflies going again and got that excitement level back up."
Yep, that sure sounds like a guy who's hungry about racing for his supper,
Follow @JerryBonkowski