MIAMI – Take a first-time Miami undertaker, put him in the middle of Spring Break at the place where Heat fans once famously bailed early before that three from Ray Allen in Game 6, and toss in an all-electric race series about to run its first U.S. race where the seventh repeat of "Uptown Funk" from Bruno Mars usurped the natural ambience of race cars.
And there, you had my Saturday afternoon lead-up to the inaugural Miami ePrix of the FIA Formula E Championship, which was unlike any other street race experience I've ever been to in my 10th year as a motorsports journalist and 20th as a race fan.
It was random. It was unusual. It was weird. It nearly came unglued at the outset. It was a seemingly out-of-body experience.
And yet it was also funky, fantastic, and cool.
Some race fans grow up as oval-track junkies. My parents raised me on road and street courses.
My dad traditionally took me to Long Beach growing up. Memories of Alex Zanardi's comeback drive in 1998, a then-unheralded rookie named Juan Montoya winning his first CART race in 1999, and Paul Tracy emerging victorious after one of my favorites, Michel Jourdain Jr., had his gearbox seize up in 2003 immediately spring to mind at the snap of a finger.
With that as a brief preamble, it's worth noting that Long Beach is the gold standard against which all other street races in North America – and outside of Monaco, the world – are measured against. It's got a more than 40-year history and the event management and logistics, led by Jim Michaelian, are down to a science.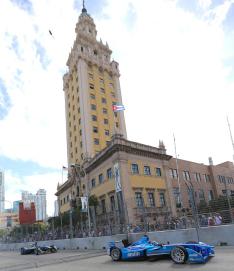 This was, by contrast, a one-day event put together by the city of Miami, in partnership with the new all-electric FIA Formula E series and with the promotional work done by Andretti Sports Marketing. It took some 163 different permits to assemble, per FIA Formula E CEO Alejandro Agag during his Friday press conference.
FE is the new variable here; Miami has a street racing history dating back more than 30 years on a variety of different layouts and Michael Andretti's promotional group is no rookie organization when it comes to putting events together.
Suffice to say, this wasn't Long Beach. But that's not an indictment.
That's merely a statement of the monumental undertaking to make this thing work, and the vibe of South Beach as opposed to Southern California. It's also a testament to all involved that things seemed to go as smoothly as they did after some kinks were worked out.
For a couple hours Saturday morning, recent street race curse words such as "Baltimore" and "Houston" were uttered like vulgarities in church. Those races – both of which I was at, which led to a number of jokes suggesting it was my fault as the one common thread – suffered similar lengthy delays due to track construction.
I spoke briefly to Andretti himself on a couple of occasions this weekend, and his outward calm and patience in the face of a seemingly endless to-do list was remarkable.
He noted that apparent delays in getting the streets shut down late Friday night had the knock-on effect of delaying things in the morning. When things are planned in a strict, minute-by-minute schedule, any delay can be catastrophic – and for a good two hours or so Saturday morning, it wasn't looking too good for Miami. Angst built in the paddock as a mix of officials, staff, drivers and teams waited for news.
Yet at no point did it ever appear as though Andretti – or his own staff – look stressed by the magnitude or volume of the task at hand. Privately, you can bet, there was angst overflowing in spades. But it never bubbled over to the surface, to my eyes on site.
Cars finally hit the track at 10:55 a.m. for the now single free practice session – some two hours, 40 minutes after they were supposed to – and that's when the actual weirdness of the weekend set in.
Usually when you're at a race, you're basically signing up to travel wherever it is, blowing out your eardrums and writing from a standard media building.
At the Miami ePrix, we were seated on the same floor where LeBron and D-Wade captured back-to-back NBA championships, staring up at the rafters/Jumbotron or side TVs to watch the on-track action, and the loudest noise was inside the American Airlines Arena itself.
The sound – or lack thereof – of the Spark-Renault SRT_01 E Formula E chassis has been a talking point throughout the year, but it's pretty freaking eerie when you hear that sound of silence for the first time. You're at a track (if a temporary one), but with almost no noise? It goes against every intuition, every fiber of your being as to what you're expecting when you come to a race.
Then there's the media you're surrounded with. Most of the regulars have been around a while; they've seen it all, heard it all, and occasionally bring up the past along with chronicling the present.
Here, beyond your standard racing media, we had major mainstream outlets like The Economist, TechCrunch and a new guy on National Public Radio's "CarTalk" asking one, and sometimes two questions. And yes, I'm as surprised as you are that "CarTalk" is still going without the beloved Magliozzi brothers.
Then there's the crowd. This was, mostly, not a racing crowd. But that's exactly the point.
Agag has made no secret of the fact that while Formula E is a test bed for battery and electric technology for the automotive industry, it's not set up to be a traditional race series.
"NASCAR and IndyCar are the American market," he said Friday. "International series, they've never been too crazy about it. If we try to compete, we will fail.
"We have to come at this from a different point of view. We have to be a celebration of different technology. We want to be open for family, and kids."
It's that last point that perhaps is my most important takeaway of the weekend. The series announced a crowd of 20,000 on race day, and from what I saw pre-race in the lines attempting to go across the bridge to the fan eVillage or the school series, the series takes the future generation of fans particularly seriously.
Agag even mentioned wanting to integrate the virtual world with the real world. The series already does so with FanBoost voting, but that might be just the beginning.
"We eventually want to build a real-time video game," Agag said. "It would be a shadow car vs. the real racers. This is not so easy. We may need to delay the live broadcast 10-15 seconds."
While continuing to build for the virtual world is the goal, the real world was plenty interesting on site.
The paddock/pit lane had a near perfect mix of a joint casual/professional vibe. Having been to Formula 1, IndyCar and sports car races regularly, the FIA Formula E setup combines the technical intrigue and garage setup of F1 with the access and openness of an IndyCar or sports car team's awning.
The Formula E media bullpen sessions were also particularly helpful. Having all 20 drivers together – even just for a 30-minute session – was huge for banking all the content we did on MotorSportsTalk this weekend (essentially, Miami was a coverage trial run for the championship going forward). You can tell the field knows each other well, and their unity was evident even as they were racing each other on Saturday.
Finally, there was the race itself. The music and atmosphere of the event was very Spring Break-esque, and the fact the cars weren't loud at all – they made barely more than a light squeal – almost made me miss the start entirely.
I stood down trackside just before lights out, and once the cars launched, it was if a button had been pressed on a remote control as they just darted away without so much more than a peep. The fans, music and PA commentary were all louder, and by a long way. It's a point Scott Speed addressed during the post-race press conference.
A longtime media colleague described the 39-lap ePrix as "a chess match that turned into a race," rather than vice versa. It was an apt description, and, to be honest, was pretty entertaining to watch.
Certainly the cars look decent enough trackside, the personalities are engaging and actually give you interesting soundbites – Nick Heidfeld, Sam Bird and Antonio Felix da Costa were particularly helpful this weekend – and the technological development aspect is there longer-term.
Business-wise, it's going to be interesting to watch. Two new investors, Liberty Group and Discovery Communications, were announced last week. Securing the long-term future of the championship from a business standpoint, keeping the host cities engaged, interested and active and attracting enough manufacturer and corporate support will be the keys to keeping Formula E on the map and not just a flash in the pan, here one day, gone the next championship.
But all told, despite a few hiccups, it was a positive start for Formula E in America, and a different experience I'm thankful I could witness in person.