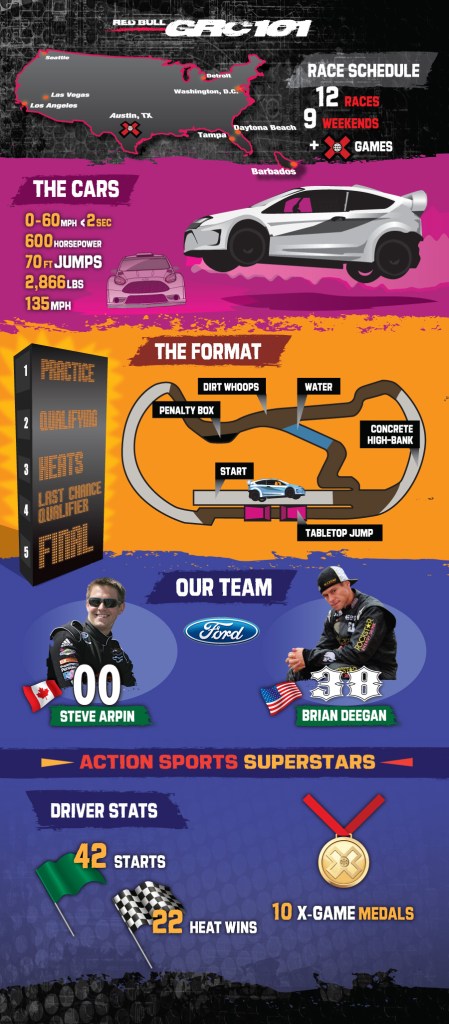 Chip Ganassi Racing Teams will expand into Red Bull Global Rallycross for the 2015 season, with a two-car Ford team. A full release from the team is below:
—
Chip Ganassi Racing Teams, Inc. (CGRT) announced today the formation of a two-car team in the Supercar class of Red Bull Global Rallycross (GRC) with new partner Loenbro and drivers Brian Deegan and Steve Arpin. CGRT joins the vibrant and growing series and looks to continue its history of on-track success while also complementing the team's continued focus on reaching millennials as a vehicle to grow interest in motorsports.
CGRT joins forces with energy services and construction company Loenbro, which serves clients throughout the Rocky Mountain region and beyond, to field the two-car team out of CGRT's Concord, N.C.-based shop that houses their NASCAR Sprint Cup and XFINITY Series programs. Founding brothers Paul and Jon Leach are entrepreneurs who built a company on a foundation of strong core values and a tireless effort to exceed clients' expectations, and have had life-long personal interests in the world of motorsports.
The 16-time X-Games medalist Deegan will pilot the No. 38 RockStar Energy Drink Ford Fiesta ST, with teammate Arpin in the No. 00 ENEOS Ford Fiesta ST. Arpin will run the full 12-race calendar, with Deegan competing in seven races. The two will also compete in X Games Austin this summer as it returns to Circuit of the Americas from June 4-7.
—
Chip Ganassi, Owner, Chip Ganassi Racing Teams: "As a fan of motorsports I'm particularly interested in the GRC cars, their horsepower levels and the absence of traction control but make no mistake about it, we are in this series to win – both on and off the race track. Also, GRC has proven to be a very innovative and fresh take on today's motorsport product. The series is targeting a new demographic and aligns with ours and more importantly with our partners' focus on connecting with Millennials."
Paul Leach, President, Loenbro: "Loenbro is thrilled to partner with Chip Ganassi Racing and to do great things with Steve and Brian behind the wheel. My brother and I have had a passion for racing since we were kids, and many Loenbro employees are big fans of the sport. Chip Ganassi Racing is committed to excellence, innovation and winning with integrity. Our company shares these values and the Loenbro family is proud to join them in this partnership."
Colin Dyne, CEO, Red Bull Global Rallycross: "Chip Ganassi Racing has been an integral part of the motorsports landscape for the past 25 years. We are proud to have them join Red Bull Global Rallycross for the 2015 season and look forward to racing with them for many years to come."
Brian Deegan, Driver, Chip Ganassi Racing Teams: "This has been a life-long goal to be partnered with a world class racing organization that has won numerous championships from the Indianapolis 500 to the Daytona 500 to the Rolex 24 At Daytona. I look forward to working with them and building a winning GRC program that can win GRC championships."
Steve Arpin, Driver, Chip Ganassi Racing Teams: "I couldn't be more thrilled to be a part of such an established team like Chip Ganassi Racing entering GRC with the support of Loenbro and partnership with ENEOS. For me, being a race car driver my whole life, this is the opportunity of a lifetime and one that any driver would dream of. Mr. Ganassi has set a high standard with the way he operates his race teams both on and off the race track, and just through the early stages of preparing for this season it is easy to see why the organization has such long-lasting partnerships and why its employees wear the team's logo with so much pride."