ST. PETERSBURG – While the Verizon IndyCar Series season-opening Firestone Grand Prix of St. Petersburg is the headliner this weekend on the streets of St. Petersburg, it's not the only event occurring on the 1.8-mile street course – far from it.
Through Saturday, there have already been seven total races, three apiece from the Pirelli World Challenge and Mazda Road to Indy, and one from the Stadium Super Trucks (won by Sheldon Creed). Here's some quick recaps of the trifectas:
PIRELLI WORLD CHALLENGE 
The opening GT/GTA/GT Cup presented by MOMO race of two, held earlier Saturday, was marred by a 25-minute caution to open the race following a multi-car pileup off the standing start. Then it ended under yellow after another crash in the final 10 minutes (all drivers were released after the accidents).
In the interim time of the 50-minute race, Ryan Eversley seized his moment to deliver a popular first GT win for both himself and RealTime Racing's new Acura TLX-GT.
Eversley qualified on pole in wet conditions on Friday, held the lead off the line, survived a mid-race attack from his first name namesake Ryan Dalziel in the green conditions, and crossed the line under yellow for the win. It comes on Acura's 29th anniversary in the U.S., to the day, and a day after Eversley's father's birthday.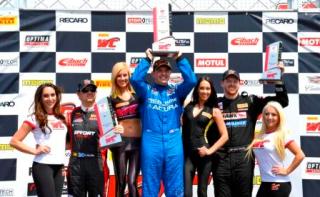 "The thing that concerned me the most going into the race was the standing start," Eversley told MotorSportsTalk. "We only had a short amount of practice time, and the two starts I did in practice I wasn't really happy with. It turned out, my car has a software update, like my iPhone! We changed a few things.
"When lights went out I let the clutch out, easy, and the launch control took over. I saw (Kevin) Estre in my mirrors. The most common thing people do is overshoot their brake zone going into (Turn) 1, so I broke early, and they caught up. It immediately went yellow.
"On the restart, I could see Dalziel's eyes! That kid put the older HPD on the front row at Sebring last week. He's one of the fastest guys I could think to race. I'm living my dream this weekend."
Michael Lewis (EFFORT Racing) and Phill Fogg Jr. (TruSpeed Autosport) were GTA/GT Cup class winners on the day.
The two GTS races, held on Friday and Saturday, respectively, saw utter domination by the Ford Mustang Boss 302 brand. Dean Martin took Friday's win with Spencer Pumpelly, an endurance racing veteran making a one-off weekend return to Pirelli World Challenge, taking Saturday's and matching Eversley as another Atlanta-area native who won.
"They appeared to go two wide, Dean drifted out wide. They moved out with the momentum, and I knew that hole would be open. We'll chalk it up to a little bit of luck," Pumpelly said of his win.
"Man I just had a blast driving this car and this series. I had a good time this weekend. As a driver I love endurance racing.  But this is a different world of sports car racing, a lot of similarities. I'll remember this weekend for a very long time; this win is up there with a bunch of others."
MAZDA ROAD TO INDY (INDY LIGHTS, PRO MAZDA, USF2000)
Each of the three divisions on the Mazda Road to Indy ladder – Indy Lights Presented by Cooper Tires, Pro Mazda Championship Presented by Cooper Tires and Cooper Tires USF2000 Championship Powered by Mazda – had their season-openers on Saturday. A full breakdown of the Indy Lights race can be found here.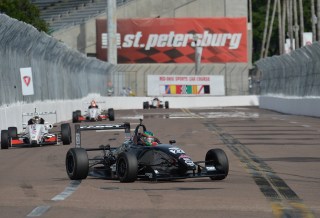 Both Jake Eidson (USF2000, Pabst Racing) and Neil Alberico (Pro Mazda, Cape Motorsports with Wayne Taylor Racing) dominated their respective races. Eidson drove for Cape in USF2000 last year, and enjoyed a perfect start to his Pabst career with a flag-to-flag win from pole in the 18-lap race. Cape's pair of Aaron Telitz and Nico Jamin completed the podium.
"You couldn't really ask for much more!" Eidson said. "The Pabst team did a lot of work in the offseason to make sure we had the best opportunity to win. The yellows made it interesting – when you're leading, you never want to see the safety car, you'd rather keep the gap as long as you can."
In Pro Mazda, Alberico scored his first career series win after coming close but no cigar in 2014. The Californian beat Santiago Urrutia (Team Pelfrey) and Florian Latorre (Cape); both made their series debuts in this race.
"Half the battle on a street course is qualifying. We qualified first, so that's half the work already done," Alberico said. "Then it's just a matter of keeping your head down and running a clean race, and that's what we did."
SUNDAY
PWC GT/GTA/GT Cup has their second race of the weekend, Round 4 on the season, on tap for Sunday with each of the Mazda Road to Indy divisions also in action once again on Sunday.