ST. PETERSBURG – The weekend of racing on the streets of St. Petersburg continued earlier Sunday, with five preliminary races before Sunday's Verizon IndyCar Series season opener.
Ed Jones doubled up in Indy Lights, while quick recaps of Pro Mazda, USF2000, Pirelli World Challenge and Stadium Super Trucks are below (Saturday recaps linked here):
MAZDA ROAD TO INDY (PRO MAZDA, USF2000)
After banking his first career win on Saturday, Neil Alberico repeated the feat on Sunday for Cape Motorsports with Wayne Taylor Racing in the Pro Mazda Championship Presented by Cooper Tires. Alberico turned in a second successive dominant drive, which put the cherry on top of a weekend that was lat in even materializing.
"We didn't get much testing in the offseason, since the deal came together at the last minute," said the Rising Star Racing-backed driver. "We were a little behind the eight-ball, since the other drivers had more time behind the wheel and more momentum. For me, just to be on the grid to start the season was going to be great. So to have this kind of result for everyone who has supported me was incredible."
Jose Gutierrez was second for Juncos Racing, while Alberico's Cape teammate Daniel Burkett scored a long overdue first podium in the Mazda Road to Indy with third.
"Dude it's been a while," Burkett exhaled to MotorSportsTalk. "I had a few good runs at Mid-O in USF. I thought I could get it at Sonoma. To be on the podium with my teammate, is surreal. (This car) is right in the middle (of USF2000 and Atlantic, which he raced in 2014), which is just what we were going for."
The second Cooper Tires USF2000 Championship Powered by Mazda race of the weekend was much the same as Saturday's, with Jake Eidson (Pabst Racing) completing a pole-to-win, flag-to-flag sweep of the day. As they were on Saturday, two more Cape drivers – Aaron Telitz and Nico Jamin – followed Eidson home.
"You talk about having weekends like this, but to actually have one is definitely easier said than done," Eidson said. "Everyone at Pabst Racing has worked so hard, especially since Winterfest. We weren't sure what kind of results we were going to have – obviously we were aiming for the win – but to actually execute it is a relief."
PIRELLI WORLD CHALLENGE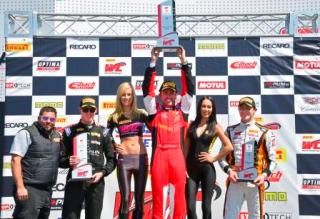 Like Saturday's Round 3, Round 4 for the Pirelli World Challenge GT/GTA/GT Cup presented by MOMO classes was marred by extended yellow-flag periods. Sunday's occurred as a spin by Dan Knox's Viper forced Tim Pappas to lock the brakes of his Mercedes and avoid hitting the spun car at the exit of Turn 2. The problem occurred when three GT Cup cars barreled into the accident scene and caused further damage, blocking the track and putting the race under yellow for more than half an hour of the 50-minute race.
Olivier Beretta, who had made a dynamic start in his Ferrari, survived the remaining green flag running en route to his second win of the season, winning from Nick Catsburg (Lamborghini) and Kevin Estre (McLaren). Ryan Dalziel (Porsche) finished fourth, in his first non-podium result of the season.
STADIUM SUPER TRUCKS
Sometimes pictures do a better job of capturing a weekend than words do, so here's some from SST on Sunday, where Burt Jenner won.