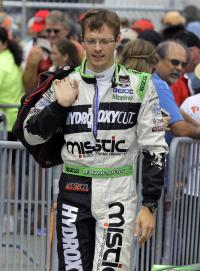 As we noted in the immediate aftermath of the Verizon IndyCar Series' season-opening Firestone Grand Prix of St. Petersburg two weeks ago, for KVSH Racing's Sebastien Bourdais, it was good to be disappointed with sixth.
Bourdais was consistently the biggest thorn from the Chevrolet camp in Team Penske's side over the course of the weekend, but as the driver of the No. 11 Hydroxycut/Mistic KVSH Racing Chevrolet assessed, his weekend could have gone even better.
"It was good we were in the mix, but all four of them (Penske cars) were so strong at the front," Bourdais told MotorSportsTalk heading into this weekend's Indy Grand Prix of Louisiana. "That's not good news.
"We were third in Q2, and felt like there was some unfinished business in Q3. The last lap was going to be very strong. I was almost two tenths up by Turn 4, then the car bottomed out, hit a bump, and that was that. It could have been very close to pole, who knows, but from there it's a very different weekend."
Bourdais chronicled the race from there and how that altered the race complexion.
"If you're not there you don't get bansaied; you're not top nine, you're top three. We could have been in a different spot, then TK got the podium, and I got back to P6.
"On a personal note, I felt I should have done better, but on the team side, we were pretty pleased. It was a good points day. Was it optimal? No. But if a bad day for us is P6, then that's a good thing."
Bourdais noted his rookie teammate, Stefano Coletti in his debut race in IndyCar, fought through some initial weekend trials and tribulations before charging during the race itself until a late-race splash-and-dash for fuel.
"He had a bit of a tough weekend; he wasn't happy with the car, and they found some things not right on each side. They got the setup proper on Sunday morning, and then he got much happier in warmup," Bourdais said.
"In the race, he was very strong. They turned him loose all race, he looked strong, but the fuel saving strategies others had showed at the end. He was four laps short. But he was aggressive, and made great restarts.
"Hopefully it's just start of the season blues. Hes got the talent. The good thing and we liked we've talked about before, the feedback between us is similar. For one side or the other, it's a good starting point."
Bourdais previewed this weekend's inaugural race at NOLA Motorsports Park, which will follow in a separate post. Both he and Coletti will have different liveries for this weekend's race, with Bourdais' No. 11 KVSH entry now in the full green and white Mistic colors.