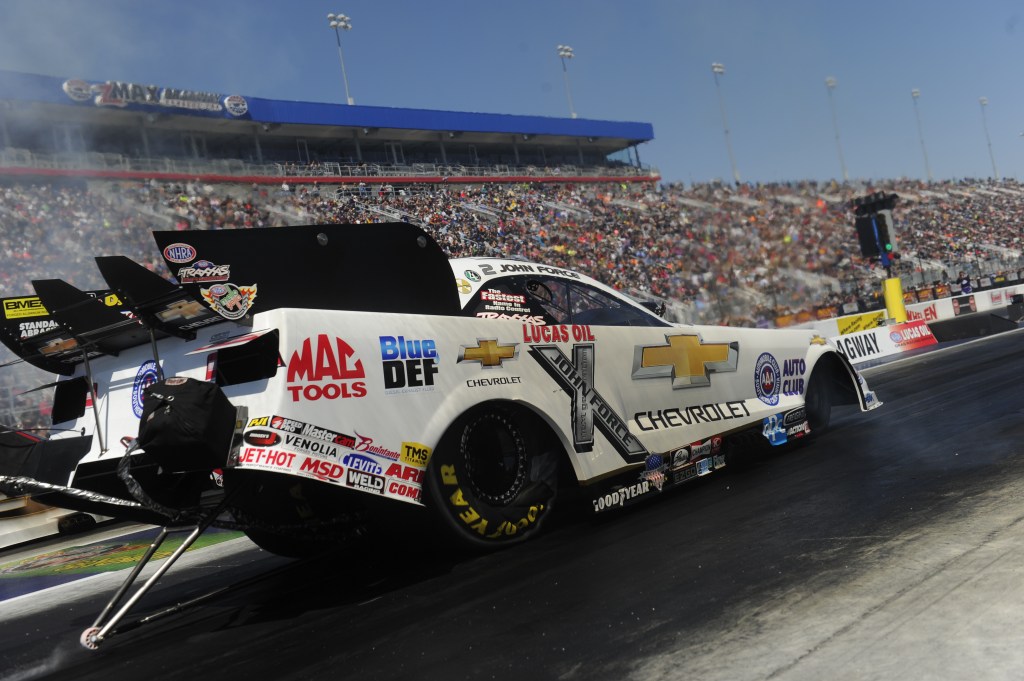 He has a new manufacturer (Chevrolet), new primary sponsor (Peak Antifreeze) and new crew chief (Jon Schaffer) … and in a sense, he's a new John Force.
The record 16-time NHRA Funny Car champion has gone through arguably more changes in the last year than he did in the previous 30 years.
A 30-year relationship with Castrol Oil came to an end, as well as a nearly 20-year deal with Ford. Veteran employees and crew chiefs Jimmy Prock and John Medlen left to join rival Don Schumacher Racing.
He had to scale back significantly in personnel, as well, forced to part ways with nearly one-quarter of his employees.
But like a Phoenix, Force is rising once again.
"A guy asked me the other day, 'Why do you do this? What do you have to prove?'" Force said in an exclusive interview with NBCSports.com's MotorSportsTalk. "I do this so my children can race and that my grandchildren can race. I'm the one that started all this, I'm the one that got them all hooked on it and now I'm going to say, 'Gee, I don't have any sponsors, I think I'm going to quit.' No, that's not an option."
As he approaches his 66th birthday next month, Force said that with a whole slew of new, young employees, he feels 30 years younger, as well.
It's almost as if he is starting over. Wait, scratch that, he IS starting over.
"I've had to reinvent myself," Force said. "I heard (Don) Schumacher talk the other day about life, because of his medical stuff, and how he wanted to be a different type person. I don't know what exactly he meant by that, but I like hearing that. I thought about it and I need to be different.
"It isn't because I got older, I'm getting smarter and I'm learning and I'm going to change my way.
"I got hit financially, with major sponsors leaving, with crew chiefs packing up and leaving. I had a year to figure it all out and damn it, if I didn't put it back together. Everybody said I wasn't going to make it.
"But I had to reorganize. It was a very humbling experience for me."

YOU'RE AS YOUNG AS YOU FEEL — AND FORCE FEELS 30 AGAIN
That transformation starts with new crew chief Schaffer. At 27, he's one of the youngest crew chiefs in the sport.
But at the same time, Schaffer has already acquired a decade of experience working in the sport, including serving as an assistant crew chief to Mike Neff, who calls the shots for Force's son-in-law and president of John Force Racing, Robert Hight.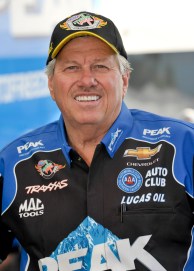 But the youth movement extends even further. Force has an almost completely new team, most in their 20s or 30s, with just one holdover from last year's team.
"When you're financing four race teams and they're not totally funded, do I build with old guys like me, or do I go with young people who are the future of this sport?" Force said. "I built a whole brand new team from the ground up. There's a few older ones, but only a couple. I chose young people that will take John Force Racing forward for the next 25-30 years.
"I could go and hire guys that might retire in five or 10 years from now, but what good is that to my daughters and my grandchildren?
"I felt for me personally, I needed to be with these young guys. I needed their energy to draw from. People say I've got a lot of energy, I do because I live it, I get wired at the races, it comes on TV and I run like a little kid to watch it because I love it.
"I sat down, I'm no genius, I just took the basics and asked myself how I got here? What did I do? I'm going back 30 years, when I first hired Austin Coil, when he was 29, 30 or 31 years old. That's what I'm doing now, starting with a group of young kids."
Force sees a lot of two of his most successful crew chiefs – Austin Coil and Bernie Fedderly – in Schaffer.
"I lost Austin Coil and we went on to win," Force said. "I lost Bernie Fedderly and we went on to win. I lost my whole team. I kept just one guy that stayed with me."

NOT WORRIED ABOUT SLOW START

With so many changes within his four-car organization this season – and in particular on his own team – Force knew it might be a slow start this season, and admittedly it has been.
Just four races into the 24-race Mello Yello Drag Racing Series national schedule, Force enters this weekend's NHRA SummitRacing.com Nationals in Las Vegas ranked 13th in the Funny Car standings, 136 points behind series leader Del Worsham.
While Hight is fifth in the standings, Force's daughter Courtney is ranked ninth.
And in Top Fuel, Force's other racing daughter, Brittany, is ranked eighth. That's quite an achievement since Force is still seeking sponsorship for his daughter's dragster. To keep Brittany on the racetrack, the elder Force is essentially bankrolling her efforts out of his own pocket, along with the help of some smaller sponsors.
"I always say I love what I do, which I do, but if you don't live it, you don't survive it, you just exist," John Force said. "I want to be a winner.
"My daughter Courtney, who is so much like me, said to me the other night that 'I'm not here to be competitive, I'm here to win.' I told her, 'No, you have to be competitive,' but she was right. I don't want to be just one of the top 10, I want to be the champion."
With Ford and Castrol leaving as Force's primary sponsors at the end of last season, Force's identity of sorts to fans in 2015 has been replaced by Chevrolet and Peak.
It's likely been an adjustment for some fans that have watched Force in Castrol green-and-white and in a Ford Mustang body for so many years.
To their credit, Chevy and Peak have stepped up their recognition emphasis.
Force is now driving a primarily blue-and-white Peak-sponsored Camaro in most races, while Chevy will be primary sponsor for several races this season – including this weekend at Las Vegas – with a special white paint scheme (see photo at top).
A CATHARSIS AT CHARLOTTE
Force is eager for this weekend's race in Las Vegas. Not only is The Strip at Las Vegas Motor Speedway one of his favorites on the NHRA circuit, it marks the first race for Force after a recent catharsis.
After the Four-Wide Nationals two weeks ago at Charlotte, Force underwent a metamorphosis of sorts. Part of it may be due to the slow start. But another part is Force doing what he has done so many times in the past: he knows that when he needs a kick in the butt, he's the best man for the job.
"I'm thinking, what can I do to fix it? Can I drive any faster? Can I do anything?" Force said.
Then the light bulb went on. He's been working so hard the last year to gain new sponsorships and keep his organization afloat financially that he kind of put his racing on autopilot.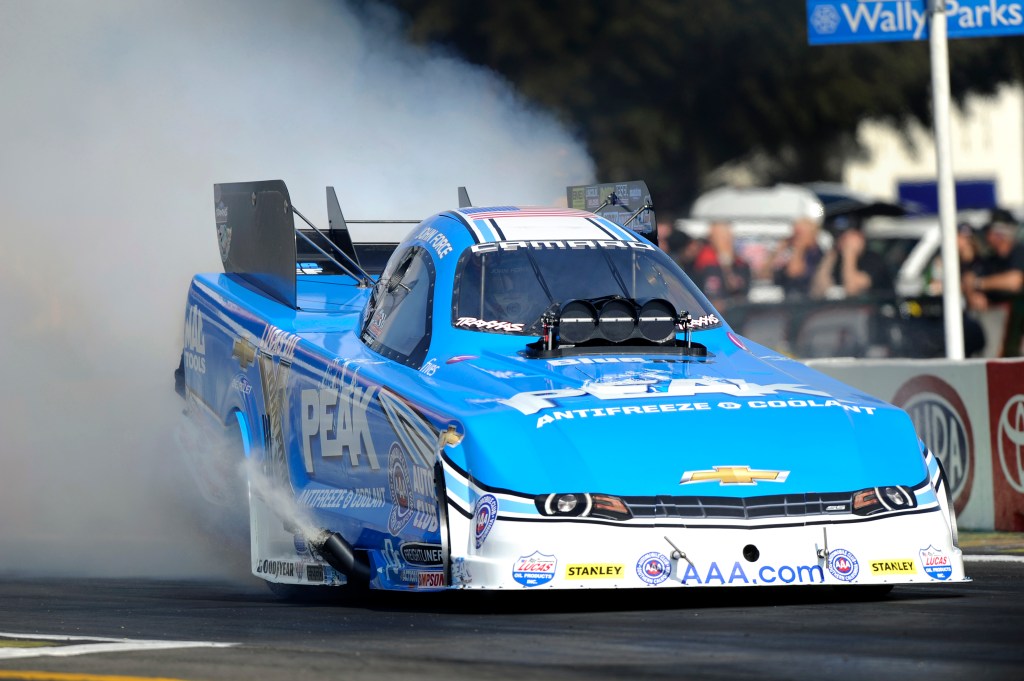 But after Charlotte, Force decided to make a significant change.
"All I needed to do was stop chasing money and get my head in the game," Force said.  "That's what happened to me at Charlotte after the race. I told myself I'm not in the game. I'm chasing money, chasing hospitality, new teams.
"But we're not really in the game because we love to be out there on that start line, the cheers of the crowd, you forgot why you came. That's what I did. I took a little time off to really think about all this. I took old photographs with me to Maui to look at my teams in the early days to reinvent John Force. The only way I'm going to make it back to a championship is to lead these young kids and I'm excited about it.
"It's like how you used to buy your wife flowers every week when you were dating her. When was the last time you bought them for her after being married so long? You get stupid. It's like that in drag racing.
"I looked at myself and said what do I need? I need to lead my life, to spend my time like I always have."
Force even had a team meeting, where he pointed out to his staffers that it's far too early in the season to worry about such a slow start.
Among the examples Force cited:
* In 2014, Matt Hagan was 10th leaving Epping (after 11 races), yet he went on to win the championship – defeating Force in the final race of the season.
* In 2013, Force was 12th leaving Atlanta (after 7 races), was 10th after leaving Englishtown (after 9 races), and then went on to win the championship.
* In 2009, Hight was never higher than 10th in the standings from St. Louis to the U.S. Nationals in Indianapolis, only to rally in the six-race Countdown to the Championship to win the Funny Car championship. In addition, Hight also lost the first 18 races of that season with two DNQs and seven first round losses, yet still won the title.
GETTING TO KNOW HIS FAMILY AGAIN
Force has spent so much time on the road over the last three-plus decades that his new look, feel and experience in 2015 is allowing him to get to know his family all over again.
"I've run for so long that you almost don't know your family," Force said. "I'm trying to get to know my wife once again. I never understood, I never listened. I'm trying to get to know my kids. I know how much I love the sport. I just came off a family vacation to Maui and my wife said, 'I haven't seen you smile since we left.' And when we got on the plane to come back, she could see I changed."
Family has become a key component of Force's resurgence. He's now a grandfather several times over and knows that while he's the foundation of John Force Racing, his daughters and Hight are JFR's future.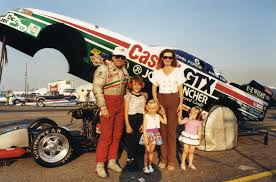 "I want to watch my grandchildren grow up," he said. "Financially, if it was just me and my wife, we have plenty of money in the bank. We could do anything we want, travel the world, never have to work again."
In a very real sense, Force is balancing his entire racing operation on his shoulders. He knows that if he doesn't keep running, keep hustling for sponsorship and keep working at developing his daughters and Hight into champions, the future of John Force Racing might be short-lived.
"They're not ready yet," Force said of Brittany and Courtney. "I call it leaving the nest. I've got to teach them before I step down. I won't use the word 'scared,' I use the word 'terrified.' Coming up, I lost Coca-Cola and Jolly Rancher (as sponsors), but I continued. I was 26, 28, 30 and then I got Castrol and went on a 30-year run. In the last 30 years, I never thought – ever – about being out of business.
"Now, I need to get my stuff right about why did we really come? We came to win. That's what I have to get back to. Nobody knows winning better than I do because I've won the most. That's the way it is.
"I'm not saying my grandchildren are going to want to race, but I want to have them have that opportunity. … If I live to be 85 or 90, my grandchildren, if they wish, will be driving.
"That fear I had up to the age of 30 or so, then after that I had a pretty good ride for 30 years or more after that, now that fear is back and it's real. When I sit down at night to go to bed, there's a feeling that comes over me that I've got a lot of work ahead of me.
"That fear is what's kept me a champion, that will make my daughters and son-in-law become champions and myself again. I believe that in my heart and that's what keeps me going."
HE'LL KEEP FIGHTING THE GOOD FIGHT
Force, who did some amateur boxing in his youth, has been in so many fights in his career for survival that he could be heavyweight champ of the world. Has invented himself more times than George Foreman did.
Elton John's song, "I'm Still Standing," could very well be Force's anthem.
"I like a good fight. Every day, when I get to the end of the day and I feel beat up and say, 'Enough of this, it's just not working,' what's the option? Are you going to quit? How am I going to look at my grandson in the eye and say, 'No, this isn't how grandpa said it was going to be in the future' and I'm just going to belly up?
"Well then, it doesn't matter how many championships I've got. I'm worth nothing.
"I'm adapting. I'm going to survive this thing, I'm going to make it and I'm going to be here just like drag racing's going to be and the NHRA is going to be here. We're all going to survive.
"Our job is to race, win and entertain. That's what we do."
Follow @JerryBonkowski