AVONDALE, La. – Yesterday's track walk of the 2.74-mile NOLA Motorsports Park road course for the Verizon IndyCar Series' inaugural Indy Grand Prix of Louisiana (Sunday, 2:30 p.m. ET, NBCSN) revealed one thing in particular.
Stay on course.
Any and all off-track excursions that can and will occur over the course of the weekend will be detrimental in one way, shape or form (for a video lap of the track, view one from testing linked here).
You'd argue this is the point, though. Compared to sanitary, modernized newer circuits that have popped up on the FIA Formula 1 and FIA World Endurance Championship calendars – primarily Hermann Tilke-designed tracks – the NOLA circuit is rough offline, with a mix of uneven grass, dirt and gravel traps peppering the circuit.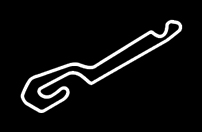 A surprise takeaway is that both of the two primary straights here are longer than you think, and both the entries into Turns 1 and 10 should provide ample passing opportunities.
Turn 1 sees a longer run down to what had been a flat right-hander, that now should be a second gear corner and is much tighter on entry. Corner exit in particular, which has a three-tiered, multiple layer curb and a fair bit of asphalt runoff, was a big gathering area as all drivers and teams studied the corner.
Turn 2 (above) is a faster left-hander with some rough runoff room on the right. A potential passing opportunity could open up into the left-handed Turn 3, which is wider on corner entry after the track grows a bit. Turn 4 follows from Turn 3 as consecutive 180-degree sweepers that are faster than hairpins. Turn 4, however, tightens on corner exit.
Turns 5, 6 and 7 may be interesting. Turn 5 almost mirrors Turn 1 to a T, with a tighter corner entry and a similar three-tiered curb on exit. Turn 6 has also been tightened, while Turn 7, another right-hander, is a kink and should be faster-paced. A giant gravel trap exists on drivers' left from Turns 5 through to Turn 7.
Turns 8 and 9 make for a right-left back-and-forth sweeper, but Turn 9 is tighter than it appears. Corner exit at Turn 9 is key as it will set drivers up for the run to Turn 10, one of the two longest straights on the track and a good passing opportunity.
After Turn 10, a tight right-hander that has a four-tiered curb driver's left on corner exit, the drivers enter a tricky, precarious Turns 11-12-13 complex to complete the lap. Turn 11 is a left hander before Turns 12 and 13 double as a multiple-apex right hander, somewhat reminiscent of the Istanbul Circuit's old Turn 8, just flipped.
For being a flat track, it's got more to offer than it appears at first glance. It should punish any and all drivers that go offline, and it poses a challenge unlike any other track on the IndyCar schedule.
Drainage, indeed, may be an issue if or when it rains. The runoff area is large but there aren't too many areas cut into the track to allow for ample drainage. We'll see whether this ends up better than my projection.