The third season of the MotorSportsTalk original series "Ten with Townsend" – a 10-question Q&A with NBCSN IndyCar analyst Townsend Bell – premieres this week following the first NBCSN Verizon IndyCar Series race broadcast of 2015, the inaugural Indy Grand Prix of Louisiana. A full archive of past posts is linked here.
Here's the breakdown after Sunday's race held in mixed conditions, and won by James Hinchcliffe.
—
-What were your thoughts on NOLA Motorsports Park as a track, facility and organization? How does it compare to other first-time venues?
I'm sure the owners were frustrated to have spent all that money to build a new venue and not have proper drainage for the racing surface. That shouldn't happen at a new track.
I think the track flow is good, the drivers enjoy it, but I imagine they'll look to adjust the layout  to create a longer braking zone (tighter corners at the end of the straights).  Figuring out how to get parking established on site for fans will also be important.
-When there was green flag running, do you feel the drivers handled themselves better than at St. Petersburg in the opener?
They were aggressive. Just as I hoped they would be.
-How did this race compare to other "flukey" type of races you've seen throughout your career?
This ranks up there with fluke wins. Max Papis at Laguna Seca (2001), Michael Andretti at Long Beach (2002), and Mario Dominguez at Surfers' Paradise the same year. But they all count just the same on the record books!  Congrats to Hinch and SPM for taking a gamble, keeping it on the island, and riding off with those giant Mardi Balls.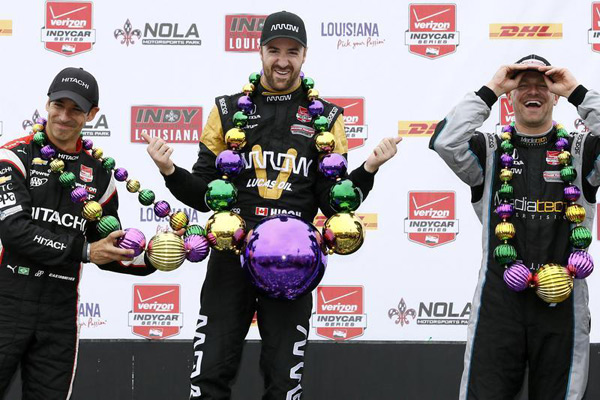 -Through two races, how do you look at the job Juan Pablo Montoya is doing?
Fantastic. He's fast, racy, and confident that he has his game working on all fronts. 
-Does it look like Team Penske has the clear edge thus far performance-wise in dry conditions?
I would give Penske the nod on street circuits right now and Ganassi the nod on permanent road courses.  It was a shame for Ganassi that they did not see a dry race track after Friday practice 1.  They were the team to beat, IMO.
-How do you rate the job the rookies/first-year drivers are doing so far?
So far, nobody is showing the kind of collective rookie talent that we saw in 2014 from Hawksworth and Munoz.
-What was your biggest surprise of the weekend? 
Probably seeing the Foyt team struggle after looking so strong in St. Pete on pace. I'm sure Long Beach will be different; they've won there before.
-Is there anyone you feel has punched above their weight and impressed the opening couple races? Anyone you're looking to see improve heading into Long Beach?
Simona.  I'm not surprised because I don't think we've fully seen what she's capable of yet. For her to finish in the top-five, best of her team, with very little track time is remarkable.  I hope she runs all season because she deserves it, and I think the second half of her season would be very strong as she settles back in after quite some time away.
I think if Sage Karam gets to run Long Beach he clearly needs a solid weekend.  Not so much a result, but precise execution through all sessions and the race.  I've been there and didn't manage to accomplish that my rookie year. I hope he can get through this tough phase because the other side looks very promising.  But he needs to buy himself some breathing room, and right now he's short on that SK Money.
-With Long Beach next, do you expect a similar caution-fest event as occurred at St. Petersburg or just typical Long Beach in terms of accidents/surprise winner?
Weather looks to be great this weekend and I think the drivers have learned from St. Pete how big the perfromance penalty is for front wing damage in the 'body kit era.'  Will Power will win in his sleep. 
-Collectively, you, Brian Till and Paul Tracy were all playing well off each other this weekend. How did it feel to get back in the booth after a long layoff since Auto Club? How do you stay fresh from a commentary perspective when it's that long a break? 
I maintain a strict commentary training program which includes critiquing and yelling during other sports events on TV while at home on the couch. It's quite popular with the rest of the family.