AVONDALE, La. – It's been said for some either races or race weekends that don't go according to plan, "Go home (insert entity here), you're drunk."
That description would fit the bill rather well for the Verizon IndyCar Series' inaugural trip to NOLA Motorsports Park, which was the racing equivalent of a college freshman living it up a bit too much over three days and suffering a serious hangover.
It's something that sucks in the moment, but it's something you hope to learn from and grow wiser from in future outings. Judging from a conversation with Andretti Sports Marketing president John Lopes on Tuesday, it's something that is already underway.
In both IndyCar and the track's case, there were lessons learned this weekend that need to be applied for future races at this facility.
It was your typical first-year event in many respects. There were plenty of challenges, mixed with some possible glimmers of hope for the future through the swampy morass.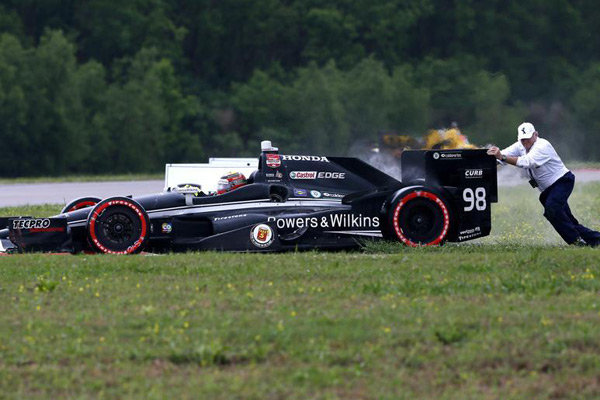 "CLUB" CONCERNS
The "feel" of the place was the first concern. Words you don't really want to hear at a professional level race weekend are "Autobahn," "Buttonwillow," or similar club-level circuits of that ilk.
But that's what NOLA Motorsports Park is, albeit nicer than most club circuits. To its credit, most of the facilities on site are quite nice, and were relatively fan-friendly.
Although it was announced when the race was that $4.5 million would be invested into the facility, and while there were improvements made compared to when the Mazda Road to Indy Winterfest raced in February, it seemed there was still more work to do.
What wasn't fan or competitor-friendly was the parking situation. A $20 daily payment was required to park in a swampy field comprising the main parking area, and anyone attending would need to shuttle into the circuit on a two-lane road.
Although it's only roughly 13 miles from downtown New Orleans, the circuit itself is relatively in the middle of nowhere, and signage was minimal on the way in. Even the TV compound was located in muddy fields, rather than pavement.
Consider yourself lucky if you were able to park on pavement this week.
WEEKEND SCHEDULE ANGST
One of the side effects of having a packed schedule with four or more series racing on a first-year or returning event is what can be done with track time for the other championships competing with any delay, whether it's weather, circuit or logistical related.
There weren't Baltimore or Houston-level delays (where half the first day was lost in 2011 and 2013 on those occasions due to track construction), but there were still issues that popped up.
Pro Mazda had a race scratched Saturday, pushed to 7:55 a.m. Sunday, and then had its second race of the weekend scratched later Sunday morning due to the rain and standing water. IMSA's Porsche GT3 Cup Challenge also had its second race of the weekend scrubbed. It was the right call from a safety standpoint, but an unfortunate element for competitors who've come to an event, paid their entry fees and not completed their planned track time.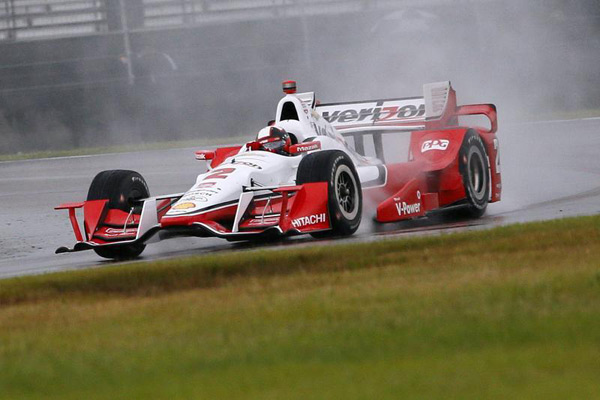 Arguably the more frustrating element of the weekend, from a schedule standpoint, was IndyCar's qualifying on Saturday. Had it occurred in its originally scheduled time, it might have been run to completion; instead it was delayed and bumped until the weather got worse, forcing a cancellation.
Sunday's race was rumored to have potential alternate dates, per paddock speculation, if it wasn't completed on Sunday.
But realistically, it had to be run Sunday with Long Beach practice beckoning on Friday, and with IndyCar's brutal upcoming stretch of 30-plus days of running in 60 days occurring between now and Toronto in June.
To put New Orleans, Long Beach and Birmingham on back-to-back-back weekends is nothing short of a nightmare from a logistical standpoint.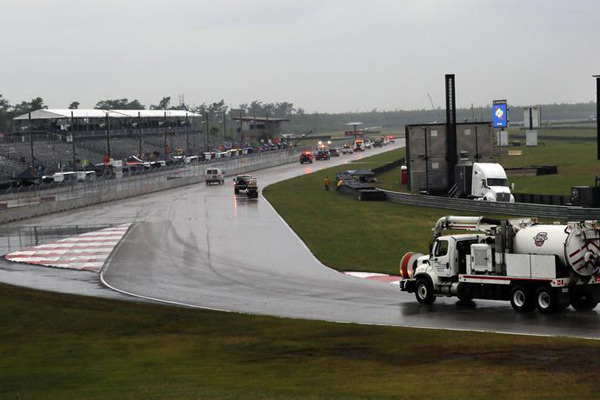 RIDERS ON THE STORMS
The main culprit for the schedule angst though wasn't the track itself, save for the river-esque Turn 13, but more the weather – which frankly, sucked.
It didn't matter whether the weather was sunny, cloudy, or rainy. Throughout the four days itself, it was pure misery – the humidity coupled with the ever-changing conditions offered no relief from the swamp. And of course, all the rain did affect the drainage, as was projected heading into the weekend.
For a first-year event, the single worst thing that can sabotage it is poor weather, although as NBCSN pit reporter Robin Miller noted in his own-post weekend column on RACER.com, two other festivals occurring this same weekend took a lot of potential foot traffic away from the facility.
Those that were dedicated and/or brave enough to come out to NOLA exhibited a wealth of passion, patience and enthusiasm despite the weather, and for that, the weekend patrons should be applauded (I would estimate the attendance higher than Miller's estimate of 8,000).
SEVERAL OTHER NOTEWORTHY TIDBITS
Without a race title sponsor, it likely will hurt the event from a financial standpoint.
The fact there were zero photo holes cut frustrated a number of photographers, and photo access also seemed to be a sticking point.
Cell service also seemed to be an issue for most, which affects the ability to do many jobs on site, unless you had Verizon Wireless.
Lastly, the official @GPofNOLA Twitter account was active, but almost too active throughout the weekend. Given the weather issues and fluid schedule, moving all social-related, non-time sensitive posts to a separate "GPofNOLA social" account or something of that ilk might have worked better, with the official event account serving as a place for official event and schedule updates – and that's it.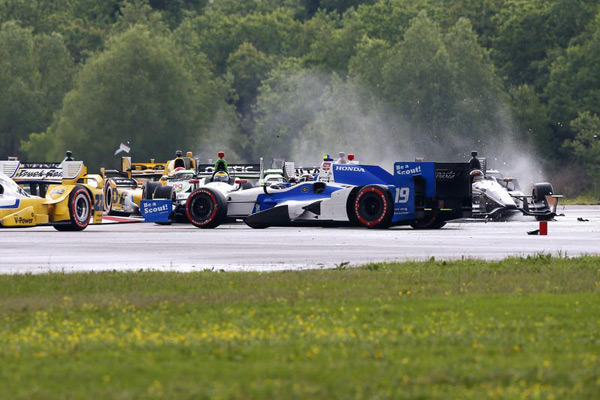 AND LASTLY, THE INDYCAR RACE ITSELF
When the other series on site generally managed to race cleanly and without incident in the rain, IndyCar did itself no favors with its caution-filled race on Sunday afternoon.
The less said about it the better, quite frankly. It was far from the show the fans deserved, and far from the show these drivers are capable of putting on.
As race winner James Hinchcliffe put it, "Yeah, it's ironic that on the wet we managed to be well‑behaved and in the dry we all run into each other."
CHALK IT UP TO A BOURBON STREET HANGOVER AND MOVE ON
The beauty, of course, of a first-year event is that you get to see what works and what doesn't in the flesh. NOLA has potential, but needs a course correction to avert a weekend similar to this one.
Hopefully in 11 or 12 months from now, the Indy Grand Prix of Louisiana can chalk up its freshman appearance at the circuit – and the city – to a weekend of binging that produced a wicked hangover, and shakes it off for 2016.
Opinions represented in this piece are those of the author and the author alone.