Conor Daly has finally had his "pound the pavement" pedigree pay off in a big way, even if it was, for now, just a one-off IndyCar start with Dale Coyne Racing at Long Beach.
The American hopeful has long been in search of an opportunity – any opportunity – arise to actually race in the Verizon IndyCar Series since his first and, prior to Sunday, only previous start in the 2013 Indianapolis 500.
I've lost count of how many races I've seen him at, always keeping his face out there.
If seats were determined on pluck and persistence alone, Daly would have been in a seat two years ago.
Alas, even he couldn't have foreseen the circumstances that led to his first start since Indianapolis and his first of his IndyCar career on a road or street course.
Rumors swirled in the paddock on Thursday that Carlos Huertas would be missing the Toyota Grand Prix of Long Beach, and that an American driver would be replacing him.
It turned out the first American set to do so was Rocky Moran Jr., who despite his promise in Formula Atlantic in the early 2000s, had never made an IndyCar start, and hadn't started an open-wheel race at all since the Atlantic race at Long Beach in 2005.
MotorSportsTalk broke the story that Moran Jr. would replace Huertas for the weekend in the now No. 18 Trench Shoring/King Taco Honda, alongside Francesco Dracone, which left Daly on the sidelines once again.
Or so we thought.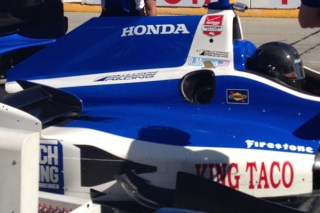 Almost Stig-like, Moran Jr. made a last-minute seat fit Thursday night, and was debriefing with the team Friday morning.
His "R. Moran" name was added in white font with a blue background on the roll hoop, instead of black font on the white background, as Dracone's was.
He had a mere plain, black helmet and participated in the autograph session wearing his plain, white, unbranded firesuit.
At the autograph session, that same white font/blue background last-minute decal was taped on over a whited-out banner of Huertas' name.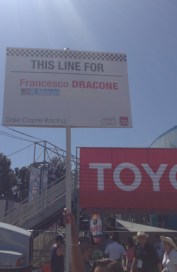 He was, for a moment, the living embodiment of "TBA" – the oft-discussed driver listed in one of Dale Coyne's cars on the entry list, without us knowing who he or she may be.
To his immediate credit, Moran Jr. exceeded any realistic expectations in the first practice session.
He was 2.4 seconds off session leader Scott Dixon, only two-tenths off Luca Filippi in 21st, and a full 1.3 seconds clear of Dracone – this in his first ever running in the Honda aero kit, and first time on these streets in nine years.
Interestingly Daly and I were watching second practice from pit lane, with Moran Jr. fitted last-minute in the No. 18 Dale Coyne Racing Honda and now looking to improve from the first session.
After he and I broke off, we heard there'd been a red flag, and go figure, it involved Moran Jr. He and Carlos Munoz had collided in Turn 1, with Moran Jr.'s car done on the spot after hitting the barrier.
It was unfortunate, but considering the circumstances, it had been a respectable day's effort from the driver who was set to make his debut.
A text I got from a source the following morning then read the following: "Poor Moran."
Moran Jr. had been diagnosed with a broken thumb following the collision, and his debut was axed.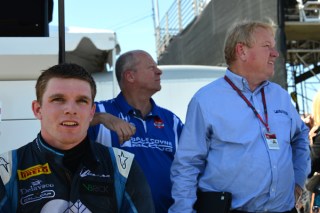 Daly was the replacement, called by Coyne Saturday morning. He had his trademark green and black helmet and his GP2 firesuit all ready to go, and breakfast devoured quicker than he had anticipated. He'd also be using Marco Andretti's seat.
Daly had a single 45-minute practice session to get up to speed, and get used to the aero kit after testing a previous-spec Dallara DW12 with Schmidt Peterson Motorsports over the winter.
Daly did rather well in qualifying and had an even better race day. The GP2 and GP3 veteran had to reacclimatize back to a full-length, nearly two-hour race with pit stops, and noted the physicality of the day.
While 17th doesn't sound impressive on paper, Daly delivered Coyne the team's first lead lap finish of the season and brought the car home in one piece. More importantly, and impressively, he posted the second fastest race lap for a Honda-powered car.
"It was fun. It was cool," Daly said post-race. "To be at the Long Beach Grand Prix, I mean, this is a race that I've come to for the last 8 or 10 years. I love it. I love Southern California and I'm very happy.
"Obviously 17th is not really great but from what we came from and where we started, I'm very happy. To be that competitive pace-wise, that is the best part to me. We were very quick compared to the other Honda's around us, so, I just want to do this more often.
"I did all I could do. I went out and brought the car home and did all of the laps we could do, which was the goal in the first place. I am very happy for the opportunity and thankful for sure. I was hoping this would happen at some point to get a call to race on a road course and I did and it was on one of my favorite road courses."
NBCSN IndyCar pit reporter Robin Miller had two good interviews with Daly, both posted to RACER.com. The first is a chat with him on Saturday on how it all arose, and the second is Sunday post-race.
Daly was thankful on Twitter post-race, and Moran Jr. even reached out in support of his efforts.
Coyne's lineup for Barber Motorsports Park next week is TBA. Daly made a significant impression during the race, and Moran Jr. was better than expected in practice.
Dracone is set for his fourth, and right now, final scheduled race next week. Rodolfo Gonzalez may be his teammate; the Venezuelan driver tested for Coyne in the offseason and this post from enOriente.com hints at a likely race debut soon.