It was a big – and needed – weekend for the Cape Motorsports with Wayne Taylor Racing team across the Pro Mazda Championship Presented by Cooper Tires and Cooper Tires USF2000 Championship Powered by Mazda championships at Barber Motorsports Park.
Neil Alberico took Sunday's Pro Mazda win, for his third win in five races this season. Meanwhile Cape swept the USF2000 pair of races with Aaron Telitz (Friday) finally breaking through for his first win of the year, and Nico Jamin (Saturday) bouncing back in a big week from Saturday's frustration. Weiron Tan of Andretti Autosport scored the Saturday Pro Mazda win.
INDY LIGHTS
See separate race recaps (Saturday, Sunday) for Spencer Pigot's domination of Barber Motorsports Park for Juncos Racing in the Indy Lights Presented by Cooper Tires.
PRO MAZDA 
Tan – who'd starred at Barber during the frigid Winterfest back in February – continued his track dominance in the opening round of the weekend with a relatively unchallenged win over Juncos Racing's Timothe Buret and Team Pelfrey's Santiago Urrutia. About the toughest part of the race was the start, which was waved off three times before it finally went green. The win is the Malaysian's first in the Pro Mazda regular season.
Sunday's race was a crazier event, as Tan continuing his aggressive streak as he pushed Buret wide off the line on the start, which earned him a penalty. Later contact with Kyle Connery, another near incident with Buret, and another moment of contact with Buret's teammate Jose Gutierrez followed during the 17-lap race.
Up front, Alberico seized the advantage after the start line fracas and despite not having the outright fastest car on the day, he moved ahead over Urrutia and another Juncos entry driven by Garett Grist.
Alberico's win kicked off a three-peat day for the Rising Star Racing program, which supports young American drivers – Spencer Pigot (Indy Lights) and Josef Newgarden (IndyCar) completed the trifecta.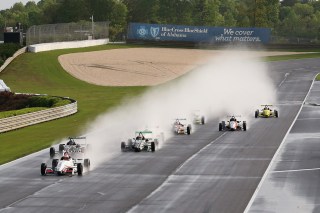 USF2000
Cape swept a USF2000 weekend for the first time since Toronto last year, when Jake Eidson and Florian Latorre split the victories.
Telitz, who has been nothing if not unlucky for most of the season, finally caught a break after starting fourth in Friday's first race. Afterburner Autosport's Victor Franzoni collided with Telitz's teammate Jamin at Turn 2, which left the Frenchman stuck in a gravel trap.
Telitz completed two more passes on Eidson and Franzoni in succession, and the Wisconsin native held on from there for his first win of the year over those two.
Saturday's race, slightly rain-delayed and held on a sunny but still wet track, saw Jamin recover in a dominant performance. Arguably the star of the race though behind him was Anthony Martin, the Australian driving for John Cummiskey Racing, who made several clean passes and made it up to a season-best second. Eidson was third for the second time in as many days.
WHAT'S NEXT
The most hectic race weekend of the season will occur May 6-9 at the Indianapolis Motor Speedway road course. While USF2000 and Indy Lights will have the standard two races, Pro Mazda will have three, with a makeup round added following the weather-affected cancellation of the race at NOLA Motorsports Park two weeks ago.
MAZDA ROAD TO INDY 2015 WINNERS TO DATE
Indy Lights: Ed Jones, Carlin (Rounds 1-2, St. Petersburg, Round 3, Long Beach); Spencer Pigot, Juncos Racing (Rounds 4-5, Barber)
Pro Mazda: Neil Alberico, Cape Motorsports with Wayne Taylor Racing (Rounds 1-2, St. Petersburg, Round 5, Barber), Santiago Urrutia, Team Pelfrey (Round 3, NOLA), Weiron Tan, Andretti Autosport (Round 4, Barber)
USF2000: Jake Eidson, Pabst Racing (Rounds 1-2, St. Petersburg), Nico Jamin, Cape Motorsports with Wayne Taylor Racing (Round 3, NOLA, Round 6, Barber), Victor Franzoni, Afterburner Autosport (Round 4, NOLA), Aaron Telitz, Cape Motorsports with Wayne Taylor Racing (Round 5, Barber)