Chevrolet was first to reveal its road course/short oval manufacturer aero kit in the winter, doing so at the Indianapolis Motor Speedway for the Verizon IndyCar Series media day in February. Honda followed with two separate launches in March.
Now Honda is first to reveal its super speedway oval aero kit, and has done so Thursday at IMS.
The full release is below:
—
Honda today debuted the "Super Speedway" aero kit of aerodynamic upgrades and components its teams will use at this year's 99th running of the Indianapolis 500.
The Honda Super Speedway Aero Kit, produced by Honda Performance Development, Honda's racing arm in North America, includes a variety of individual aerodynamic components fitted to the existing Honda-powered Dallara Indy car chassis. All are intended to give Honda's six Indy car teams – encompassing a potential 17 '500' entrants – the ability to maximize performance at the 2.5-mile Indianapolis Motor Speedway oval and other large ovals ( over one mile in length) on the 2015 Verizon IndyCar Series schedule.
"We're excited to unveil our Super Speedway aero kit, the newest element in this era of enhanced manufacturer competition in the Verizon IndyCar Series," said Art St. Cyr, president of HPD. "Coupled to our proven Honda Indy V6 engines, these aero kits are the products of thousands of hours of research, development and testing, as we seek to give our drivers and teams the tools they need to win the race that Honda holds as its most important goal each season: The Indianapolis 500."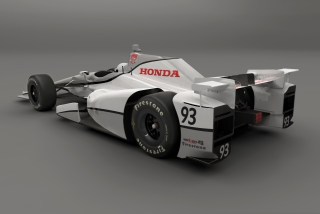 Honda's Indy car aero kits were developed by utilizing the latest in Computer-Aided Design (CAD) and Computational Fluid Dynamics (CFD) technology, then validated using Driver-In-Loop (DIL) Simulators. This process minimized waste at the prototype stage, and allowed aerodynamic direction to be determined prior to the creation of full-size components.
Full-scale wind tunnel testing was used to confirm actual aerodynamic performance characteristics and create aero maps to be used during on-track testing. Final proof-of-concept correlation then took place with on-track testing prior to the start of production earlier this year.
The complete Super Speedway Aero Kit provides Honda drivers and teams with a range of configurations to tune the cars to their desired characteristics for Indianapolis, a circuit where fine-tuning is essential to achieve optimum performance.
Honda's Indy car aero kits will make their public on-track debut during an Open Test at the Indianapolis Motor Speedway on Sunday, May 3. Official practice for the Indianapolis 500 opens on Monday, May 11, with the 99th running of the Indianapolis 500 scheduled for Sunday, May 24.