Chevrolet has now released its super speedway manufacturer aero kit, after Honda released its on Thursday.
See the full release below.
—
Chevrolet introduced its speedway aero kit to be used on high-speed ovals in the 2015 Verizon IndyCar Series – including features developed exclusively for running the Indianapolis 500.
The speedway configuration, which was developed in conjunction with the road course configuration, emphasizes the low-drag attributes that enable Chevrolet race cars to achieve speeds of more than 230 mph at the Indianapolis Motor Speedway's famous 2.5-mile oval.
"With the speedway configuration, the emphasis is on reducing aerodynamic drag, for greater speed, while maintaining sufficient downforce," said Chris Berube, Chevrolet IndyCar program manager. "Innovative designs were used to develop the right combination of downforce and drag, along with engine performance."
Highlights of the new design include: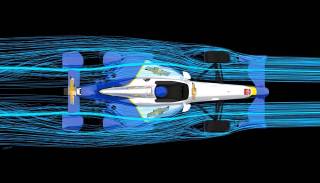 Front wing
Unique mainplane surface contour serves two purposes, the inboard section directs air to the radiator inlets to enhance engine cooling while the outboard section creates airflow around the front tire to minimize drag.
Engine cover and side pods
The engine cover and side pods are shared with the road course configuration, but are optimized in their speedway configuration by adding close out panels to their trailing edges to reduce drag.
Louvers in the side pods provide cooling benefits and clean airflow to the rear of the car, delivering higher levels of diffuser and rear wing efficiency.
The wheel wedge configuration is fully adjustable, providing various levels of downforce and efficiency to meet changing track conditions.
Rear bumper pods
The rear bumper pods and wheel wedges were designed as an integrated solution to reduce vehicle drag.
Rear wing
A high-efficiency upper rear wing, unique for the Indy 500, features low-mass rear wing pillars and a low-mass rear mainplane.
Chevrolet race teams will compete with the road course aero kit on May 9 for the Angie's List Grand Prix of Indianapolis, on Indy's infield road course, before converting their cars to the speedway aero kit for the Indianapolis 500 on May 24.