AJ Foyt's No. 48 Honda-powered Dallara will have history written all over it in this year's Indianapolis 500.
As the IndyCar world prepares for the 99th running of the Greatest Spectacle In Racing, Foyt will honor and offer a special tribute to fellow racing veteran and lifelong friend, Dan Gurney.
Gurney and Foyt co-piloted the Ford GT 40 Mk IV car to victory in the 24 Hours of LeMans in 1967.
Gurney then went on to take his black and bright white No. 48 car to second-place finishes in both the 1968 and 1969 Indianapolis 500 (the 48 in this year's 500 will have a similar paint scheme and look to it).
"My good friend, Dan Gurney, used to run that number and he's supposed to be back at Indy this year, so I thought it would be a great way to honor him," Foyt said in a media release. "And he had some good runs with that number."
Gurney, who turned 84 on April 13, is one of the most versatile and winning drivers in all motorsports:
* In Formula One, he earned four wins, 19 podium appearances and three poles in 86 career starts.
* In NASCAR, Gurney took part in 16 races, earning five wins, 10 top-10 finishes and three poles.
* In USAC, he won 7 races, had 17 top-five finishes and 10 poles in 28 starts.
"I am deeply touched by my old friend and teammate AJ "Super Tex" Foyt to be honored in this way," Gurney said in a statement.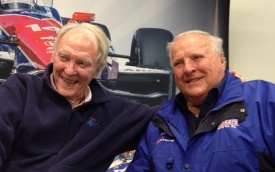 Veteran driver and 2011 Indy 500 pole sitter Alex Tagliani will drive the No. 48, which will be sponsored by Al-Fe Heat Treating.
"Driving for AJ at the Indianapolis Motor Speedway is something really, really special," Tagliani said. "Having the chance to contribute to the Foyt family legacy at the Speedway is my mission for the month of May.
"I am thrilled to be part of honoring Dan Gurney by driving a car in his livery. Bringing the Gurney Eagle's vintage look to the new Honda Aero kit car is for sure going to be a crowd pleaser. … Taking the Dan Gurney No. 48 Al-Fe Heat treating machine to Indy's victory circle would be awesome, and we're aiming to do just that."
Added Gurney, who owned the No. 48 Jorgensen Eagle that Bobby Unser won the 1975 Indy 500 in, "I will be rooting for Alex Tagliani in 48 with a big smile on my face."
A veteran of over 200 IndyCar race starts, this will be Tagliani's seventh career Indy 500. His best finish was 10th in 2010. In last year's race, while driving for Sarah Fisher Racing, Tagliani, 41, finished 13th.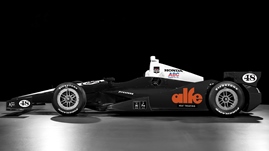 The 48 will be one of three cars to be campaigned in the May 24 by AJ Foyt Racing, the first time the team has run three cars in the 500 since 2005. The other two cars that will be carrying the AFR banner will be the No. 14 piloted by Takuma Sato and the No. 41 driven by Jack Hawksworth.
"Dad has a long tradition of adding extra cars at the speedway," said Larry Foyt, AJ's son and president of AJ Foyt Racing. "Although we hadn't originally planned on it, when the opportunity came, it made good sense.
"It was important to have a driver with the ability and experience of Alex, so adding him to our lineup is a great fit."
Tagliani will take his first laps in the 48 on Monday, May 11, when Indianapolis Motor Speedway opens for its first full day of practice for the Indy 500. Qualifying will take place May 16 and 17.
Follow @JerryBonkowski