MotorSportsTalk caught up with Indianapolis Motor Speedway track president J. Douglas Boles heading into the month of May. With the first day of super speedway oval track practice in the books and the Angie's List Grand Prix of Indianapolis this weekend kicking off the daily grind from Thursday, we hit a list of topics of note as the Speedway prepares for 2015 and begins to build for 2016, when the 100th Indianapolis 500 takes place.
The full Q&A is below:
—
MotorSportsTalk: Just today (Monday) you've had Nastia Liukin, the Olympic gold medal-winning gymnast, named as grand marshal. Why her for this role?
J. Douglas Boles: We're always looking for people to honor and celebrate, and it's hard not to celebrate a gold medalist. We've had some conversations… if you look back, I don't know we've ever had a grand marshal that often. It's not a historic position. We wanted her involved and it gets everyone to rally around Memorial Day. That's where we ended it up.
MST: Her announcement follows off the Jeff Gordon as pace car driver announcement and many others the Speedway has made heading into 2015. How do all these build momentum for the month, especially seeing as Gordon is a NASCAR star leading the field for IndyCar's biggest race?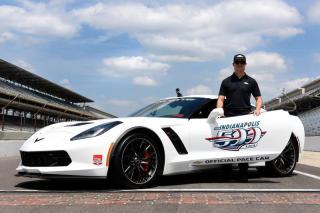 DB: Jeff Gordon is a perfect example, where you ask, "How do you create excitement but know you care about traditions and history?" That is what makes us special. As we strengthen the sport and the Indy 500, we need to reach out beyond the traditional base. Gordon does that. He hits the NASCAR community. In racing in general in the U.S, there's probably not a more recognized name. Having him here, a perfect fit with it possibly being his last year in a car, when he was younger wanting to run the 500, it makes sense.
With other announcements – video boards and the like – we have to enhance the customer experience to connect to the facility and events on track. We want them to walk away, and have it be more than the emotional connection.
MST: The new Panasonic video boards were my next question. After the first full day on Sunday, what were your initial impressions?
DB: (Monday) was really the first day with people in track. We had great feedback on the concept. But seeing it in action, great video quality, and the brightness said a lot.
What we have to do now is integrate the information with the boards to make it that much better. That includes speeds as they cross the start finish line, running order, and more… that's what we're building before now and the Indianapolis 500. We won't really understand the full capabilities until 2016. We're trying to integrate everything, which Panasonic will deliver.
For the new pylon for the Brickyard (400), it was great, but we didn't have time to really build it. This should be really good for the 500. The LSVDs (Large Screen Video Displays), we'll get better with those daily.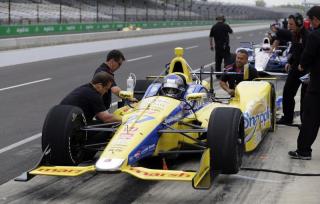 MST: Speeds were up 3.5 to 4 mph on the opening day of practice. Is that more than you anticipated for the first day of super speedway oval aero kit running?
DB: There were two things about it. The first thing that stuck me is the ability to differentiate between the Chevrolet and Honda. Especially for us growing up around the sport, like when I grew up in the '80s and '90s, especially fans who have been around a while.
Maybe there's a way to the track record in 2016. We think they can do it, and it's a good sign if we're 3.5-4 mph quicker already, I think that will be good going into qualifying. We still have to watch how will they draft. We've had the last few years have great races. There's a lot to be seen still. It's the first day out of the box.
MST: Was the crowd Sunday better or worse than what you anticipated? Did you guys feel as though the messaging of "Opening Day" came across as intended?
DB: Frankly, I don't think we did a good job messaging what yesterday was, because this was the oval aero kit test, which it was, but it was also the first day of practice. One question I got from fans was, "Hey are we open for practice? Or is it just the museum lot?" It became a confusing bit.
We always like to see more, but two things are different for practice. It used to be the tower or pit road terrace, the mound inside of Turn 2 or mound of Turn 4. Now there might be people who want to sit in a penthouse (section) because they're sold out for events. So we opened A and E. So maybe we're now spreading them out over several grandstand seats. They're spread out more.
In terms of people who paid to get in, we got twice as many Sunday as we did on the Sunday following the Grand Prix of Indianapolis last year. The place is so big, and we're encouraging people to wander the ground. So it's hard to gauge. But our gate numbers were really good.
That doesn't surprise me because our Indy 500 numbers were as strong as they ever have been. We've been trending up since 2011. We are a little up in renewals and offseason. Ticket sales have gone crazy for the 500 the last few days. I'm not surprised.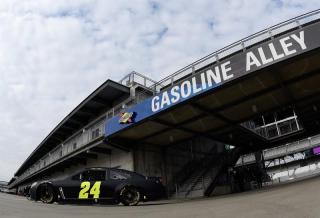 MST: You touched on this earlier but how does IMS balance finding new revenue streams/activation while maintaining the history of the place, i.e. like adding the new Sunoco signage and other partners?
DB: We talked about this at the beginning… one of the toughest parts of the job is how to balance what makes us special, the history and pristine look of the venue with the ability to engage brands that help us grow the sport. They want to be associated with it. We have to do it beyond our traditional ticket holder and TV watcher.
Sunoco makes perfect sense. They understand the sport. It not only helps the Indianapolis 500, but the Verizon IndyCar Series. And their logo is so synonymous, it's throwback so it fits inside our venue… they didn't want to come in and feel like it didn't belong. The Gasoline Alley sign looks tremendous. With Indianapolis down the column at pit in, that makes it special.
Panasonic will be on the Pagoda. They're here to make the fan experience better. It's not just about signage but showcasing product and technology. The fan reached benefit – through video boards.
Signage, we have to balance. You want to come to a 106-year-old speedway, not a brand new stadium. But if people invest beyond the signage component, we want to consider their appearance.
MST: Is connectivity also one of the key areas of upgrades/enhancements in building toward 2016?
DB: Verizon has been very helpful with the facility… just a better facility with devices. Our systems will be really good by 2016. There's the video boards, but also the temporary towers that help deliver cell signals. Connectivity is very important. We have to drive more information. As we get to that point the Panasonic boards are important to make feel they're connected. It's our job to connect the on-track product to the fan in their seat, besides simply the cars on-track.
MST: The new SAFER barriers are in. Can you explain the process of getting them installed?
DB: The first is at the inside of (Turn) 2 at driver's left. From an overhead map, it's just past the exit point for the road course, and crossover on the back, exit of 2. Drivers left where the fire entrance is. We put it there not because anyone's gonna hit it, but where fire trucks are stationed not far from there.
When Kyle Busch had his hit, my 12-year-old and I immediately looked at the track. We called Kevin (Forbes, director of engineering and construction at IMS) and said what was on our wish list for SAFER barrier. As trucks exit wall, there's a slight chance someone could hit that.
Then we also hit the entire inside drivers left from the exit of Turn 3 to the entrance of Turn 4. That used to be guardrail or concrete. We added SAFER. We moved SAFER significantly south, so there's more room between entrance lane.
MST: I know you weren't president during the Speedway's "Centennial Era" period of 2009 to 2011, but you were part of the process. How do you compare what the Speedway is doing now in the buildup to 2016 versus the Centennial Era three-year period?
DB: The Centennial Era from 2009 to 2011, focused on our history. We had the greatest 100 competitors, the greatest 33 drivers. We spent time in '09, '10 and '11 talking about our history.
In 2016, it is about our history, but we're also trying to intertwine that with the future, and the investments. The difference is more messaging-related. What does it look like over next 100 years? It's a balancing act. Tradition sets us apart, but people look for more beyond 2016.
That doesn't mean we're not going to be celebrating drivers, but we are focused on what does the future of Indianapolis Motor Speedway look like.
MST: Can you provide an update on two other items to monitor, where does progress on a new or enhanced Speedway museum stand, and have there been any conversations about a new hotel?
DB: The museum is a separate foundation, but it's closely intertwined with us. They can tell the story. It's pretty special it's here. But it is separate. We're in the process right now of figuring out what's the next generation… from static display from more than just cars. We're working with the museum on how to support that. We'd hope to know more in six months or so.
As for the hotel… the old one was tore down in 2008. Would one fit there? There was an RFP sent out in January. We're a race track. For it to work, we'd need a good hotel partner, and it would have to make sense for us. My guess if there is one, there wouldn't be before 2017. There has been no decision one way or later.
MST: Lastly, a topic I know you've addressed before but one that's still a popular question. Any update on status of a potential sports car race return?
DB: I would love one… the organization would love to host one in 2016. It was nice to have IMSA here during the NASCAR weekend. We had a lot of great feedback. But Friday night isn't the best time to have a race. And for sports car teams, it was hard to activate for just two days.
It would need to be a proper endurance race, not a 2:45. We're working with sanctioning bodies. We're trying to sort that out. That aligns well with our IndyCar fan base. If we were to have some IndyCar drivers participate, that would just be added value.