INDIANAPOLIS – For Hulman & Co. CEO Mark Miles, who is head of INDYCAR's parent company, the 2015 month of May is an important one from a year-to-year and overall health of the company standpoint.
Not that other months aren't, but this one is essentially year two of a three-year "Month of May" plan for the overall company.
It sees a number of changes as a greater May should, in theory, serve as a boon to both the Indianapolis Motor Speedway and the Verizon IndyCar Series.
Last year served as the May shakeup – the Grand Prix of Indianapolis was added and the schedule revised to allow for the new race. This year's "GPI" sees the activation and addition of Indianapolis-based Angie's List as race title sponsor, an important addition for a second-year event.
Next year, of course, will serve as the buildup before the 100th Indianapolis 500.
One of the areas Miles addressed during a wide-ranging interview with MotorSportsTalk was the month of May evolution, and how vital a good May is to the overall health of the series and Hulman & Co. overall.
"The first (objective), and we could check the box on this before we even got here, was signing a title sponsor," Miles told MotorSportsTalk.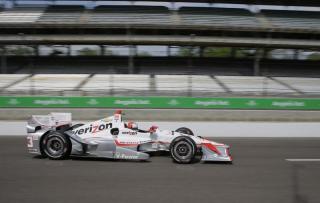 "So to bring Angie's List on, on the heels of the first edition, they've been very good partners. This is a solid thing for us."
Miles called it a "no-brainer" that the "GPI" would be back for 2015 a year after the checkered flag flew.
Weather may be an issue for today's race; alas, the upside possibility is that for the first time in IndyCar, the series has the option to run a race at IMS in the rain, on the track's road course.
Early ticket sales were on par with last year's event, Miles said, with the determination of a final number dependent on the weather.
Ticket sales for the Indianapolis 500 are trending ahead of last year, IMS president J. Douglas Boles told MotorSportsTalk in an interview earlier this week.
The Speedway does not release official attendance numbers, but an easy 40 to 45,000 fans were in attendance last year for the inaugural event, which is no small achievement for any modern day IndyCar market.
"Subject to the vagaries of weather, we're on course to be almost exactly where we were last year for ticket sales," Miles said.
"I've heard people say it's axiomatic that the first year of a race is a big spike, and then you can expect fall-off after that. That's a little counterintuitive to me from other sports. I believe you keep renewing people and build over time.
"So we set the internal objective of at least hitting last year's numbers. We may not, because we had a very solid walkup last year on a very nice day. If we have a very threatening day tomorrow, that might affect the walkup. Until race day at least, we're hitting the target."
The Angie's List addition also confirms this race will kick off a four-weekend-in-a-row stretch of action on ABC, running through the Detroit doubleheader weekend at the end of the month. NBCSN and CNBC will carry the final eight races through to the season finale at Sonoma on August 30.
"It allowed us last year and happily again this year to put four consecutive weekends on ABC," Miles said. "To have that continuity on one of our broadcast partners I think has been a really good thing for total audience in May, which is one of the highlights of the year."
Into his third year, Miles noted the change from learning and listening in his first year to taking action to make course corrections where needed for 2015.
Building a bigger buzz in May – not just in Indianapolis, but beyond the so-called "I-465 bubble" – will be a key to growth moving forward for the series as a whole.
MotorSportsTalk will have more from our interview with Miles in the coming days.