We'll have further breakouts to come later this week on MotorSportsTalk digesting the weekend's Mazda Road to Indy races at the Indianapolis Motor Speedway, but here are quick recaps from all seven events:
Indy Lights Presented by Cooper Tires (RESULTS)
Sean Rayhall emerged as a first-time winner in the second of two Indy Lights Presented by Cooper Tires races on the Indianapolis Motor Speedway road course, in what was a popular triumph for both the young American and Enzo Potolicchio's 8Star Motorsports team.
Rayhall got the lead at the start and emerged ahead of a first corner mess that sent Carlin's Ed Jones into a spin after contact with fellow championship contender Jack Harvey.
Jones eventually rebounded to fourth after falling to last place and ended ahead of Harvey, whose car went into "limp mode" on the final lap while running second. Harvey fell to fifth. Spencer Pigot, the third member of the championship battle, endured a nightmare weekend and was first out Saturday after contact with another driver left him with a broken left suspension, beached in a gravel trap.
Behind Rayhall, RC Enerson finished second, posting a career-best, while Max Chilton added another podium finish in third.
The Indy Lights races, with Friday's Round 6 won by Jack Harvey shown in highlights and the full Round 7 the featured race, will air this Thursday, May 14, at 1 a.m. ET on NBCSN. Kevin Lee and Anders Krohn will host, with Katie Hargitt in pit lane.
Pro Mazda Championship Presented by Cooper Tires (RESULTS)
Andretti Autosport's Weiron Tan (Thursday), Juncos Racing's Timothe Buret (Friday) and Team Pelfrey's Santiago Urrutia (Saturday) won the three races of Pro Mazda's lone scheduled triple header this year. Tan and Urrutia took their second wins of the season while Buret was a first-time winner in-between.
Tan won the postponed race from NOLA Motorsports Park in April, which gridded based on NOLA's qualifying order. Buret led home Florian Latorre in Friday's race; Latorre rebounded after a scary, but slow-ish, rollover accident in Thursday's race that meant his Cape Motorsports with Wayne Taylor Racing crew needed to work through the night to get the car prepared.
Urrutia seized momentum on Saturday and rounded out the trio of wins; the Uruguayan driver leads the points standings.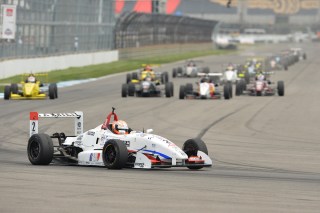 Cooper Tires USF2000 Championship Powered by Mazda (RESULTS)
Cape Motorsports with Wayne Taylor Racing driver Nico Jamin took an authoritative step in the USF2000 championship battle with a double race win at IMS, albeit in two contrasting ways.
In Friday's Round 7, Jamin started first, briefly fell back to fifth, then recovered to the lead courtesy of a last-lap pass on fellow title rival Jake Eidson. Jamin's teammate Aaron Telitz led most of the race but was caught out by a mid-race restart, where he was one of several drivers to go in too deep into Turn 1 and lost several positions; alas, he rebounded to third at the finish.
Saturday's Round 8 saw Eidson in trouble early, needing a front wing change after contact in the Turns 1/2 complex. Telitz felt a car hit him up the back, only realizing post-race it was Eidson. Jamin led a more straightforward Cape 1-2 up front, with Australia's Anthony Martin coming home P3. Eidson finished 12th, which was three or four spots better than it looked like he would after some last lap drama for three other cars. Keep that in mind if it comes down to a three or four-point margin around title time in September.
NEXT UP
Indy Lights races its biggest race of the year, the Freedom 100, on Friday, May 22 (coverage will be on NBCSN as part of Carb Day coverage). Meanwhile both Pro Mazda and USF2000 will be racing at Lucas Oil Raceway outside Indianapolis on Saturday, May 23.