NBCSN Verizon IndyCar Series analyst Townsend Bell will be writing a series of blogs for NBCSports.com this month. Here's his first entry, filed after the car reveal of the No. 24 Robert Graham Special Chevrolet for Dreyer & Reinbold – Kingdom Racing and his first full day of practice on Monday, May 11.
—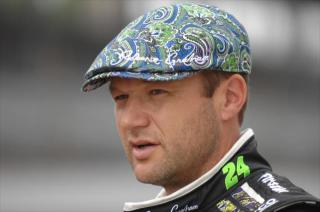 Hi everyone, this is Townsend Bell from the "Greatest Racing Facility in the World," the Indianapolis Motor Speedway.
I have exchanged my NBC Sports announcer sports coat for my wild-looking Robert Graham driving uniform this month as I return to the Indianapolis 500 as a competitor.
Now, my regular job is driving a race car in the TUDOR United Sports Car Championship for Scuderia Corsa with my partner Bill Sweedler in a Ferrari in the GT Daytona class. In fact, we finished fourth a week ago at Mazda Raceway Laguna Seca and currently rank second in the GTD point standings. But I then flew directly to Indianapolis to get ready for the "Greatest Spectacle in Racing."
It's always a thrill to return to the Indianapolis Motor Speedway and the biggest race in the world. Last year, we were running with second with 20 laps to go and we had a suspension failure late in the race. So I truly believe we can produce another strong run in the Indy 500. Working with the Dreyer & Reinbold – Kingdom Racing team is exciting because this race is all the team concentrates for the entire year. And Indy is my only Verizon IndyCar Series of the year too.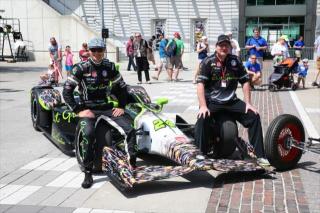 Dennis Reinbold's team has been strong in recent years too with a fourth with driver Oriol Servia and a ninth last year with a rookie, Sage Karam. This team's pit stops are always quick and the team has solid experience on running well at IMS.
Bringing Robert Graham back as a partner is a tremendous plus for the team as well as Royal Purple. I think you can see that the Robert Graham Special has the most unique paint scheme in this year's Indy 500 field. I know that the fans will enjoy the scheme too. The car looks great and we want it to be fast too. Our goal is put No. 24 Robert Graham Special in victory on May 24.
And speaking of the No. 24, this year, we are saluting a Hoosier favorite and IMS legend, Jeff Gordon. We have had Jeff's blessing on using his No. 24 script and our car's cockpit is adorned with a montage of Jeff's victories at the Brickyard 400. Wouldn't that be something if Jeff's No. 24 gets back to the winner's circle at IMS? That is our plan.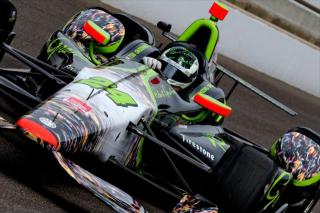 On Monday, I took to the famed 2.5-mile oval for the first time since last May 25 in the 98th Indy 500 as we had the first day of practice runs for the 500.
We really didn't have any issues today as the crew did a great job preparing the Robert Graham Special for me. I want to thank Davey Hamilton for shaking down the car at the test on May 3 while I was racing at Laguna Seca. The driver (Bell) now has a few kinks to work out here at Indy but it feels so good to come back to the Speedway. Compared to what I race in the sports cars, this feels like a rocket ship.
The car is not much was different despite the new "Body Kits" from Chevrolet. In 2015, the Verizon IndyCar Series added the new body kits from Chevy and Honda and we'll see how development program works the best as this race is the first for the Speedway kits. The car felt similar to last year's Dallara chassis except that gusts of wind were coming across the front straightaway from the tunnels of the main grandstand. That did affect my car at times. In fact, I thought the car was broken at one time due to the wind bouncing the car around. It was an interesting experience but I'm glad I felt it today.
Overall, it was a very good first day and I think we can improve on it.
This week, we have two-time Indy 500 champion Al Unser Jr. is serving as my spotter in turn three. It is an honor to have Al helping us this week. Whatever tidbit of information I can take from a legend like Al is a benefit at Indy. It's great to have him help us this week.
Thanks very much for reading our columns this month from Indy and we'll have another you soon.
Follow @TownsendBell
Follow @DRRIndyCar
Follow @RobertGrahamNYC