James Hinchcliffe's No. 5 Arrow/Lucas Oil Schmidt Peterson Honda will take on a slightly different look this month of May.
Hinch is going bold with gold.
The previously all-black car now will have a heavy dose of gold on the car, from the nose up to the cockpit and then on both sides of the engine cover. Gold is also posted on the flow conditioners in front of the sidepods.
Hinchcliffe's new look was revealed on Monday for the first day of practice this week.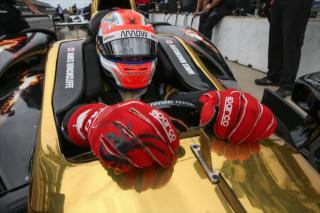 It gives the Schmidt Peterson Motorsports team three very memorable liveries for the month of May.
James Jakes' No. 7 Mediatech Advertising Honda stands out with its silver and aqua mix; meanwhile Conor Daly's No. 43 Smithfield Foods Honda is, officially, the "Fueled by Bacon special."